Adventure for dementia: sign up to the ARUK Explorer virtual hiking challenge and help fund Alzheimer's research
Ordnance Survey, Garmin and Alzheimer's Research UK want walkers to wander far and wide throughout autumn, to raise money for dementia research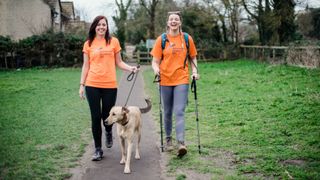 (Image credit: Alex Wallace)
The national mapping agency for Great Britain, Ordnance Survey, is teaming up with the country's biggest dementia charity, Alzheimer's Research UK, and Garmin to encourage walkers to pull on their boots and rise to a challenge this autumn: to hike as far as possible throughout September (which is World Alzheimer's Month) and October.
Participants in the ARUK Explorer challenge are asked to seek sponsorship for their efforts, and to walk as far as they can between 1 September and 31 October. And this year there's no set circuit or specific location; you can wander wherever you want to go, so long as you record your route.
Whether you walk from one side of the country to the other, take on one of the nation's long distance paths, hike the equivalent of London to Cardiff (180 miles) or simply set a target of trekking a certain distance, every mile will make a difference if it is converted into a donation to help combat the debilitating disease, which affects one in three people.
The challenge follows in the footsteps of the charity's successful 2019 ARUK Explorer trek, which took place in the Peak District last year and raised £58,000 for the cause. This year, two events had been organised – one in the Peak District and another in Cambridge – but both had to be cancelled due to the Covid-19 pandemic.
The challenge will still march on, but because of the circumstances this year's ARUK Explorer will be a virtual one, with participants all making up their own routes and then rambling them separately, or with a walking buddy or group, instead of converging en masse to hike in their hundreds in one location.
The charity are also staging a trio of other virtual sporting challenges – Running Down Dementia, Cycling Down Dementia and Swimming Down Dementia, all of which allow participants to set their own routes (and if you're really up for it, you can take on the Treble Challenge, which combines all three). So far, these challenges have collectively raised over £2million for dementia research.
"Like all charities across the UK, we have seen a drop in income as a result of COVID-19," says Julia Sobik, Head of Sporting Events at Alzheimer's Research UK. "But the pandemic has also highlighted the continued urgent need to support dementia research.
"More people with dementia have died from COVID-19 in England and Wales than those with any other pre-existing condition. In fact, a quarter of COVID-19 deaths have been people with dementia.
"One in three people born today will go on to develop dementia in their lifetime – but every step taken and every pound raised in the ARUK Explorer virtual challenge has the power to help change this through research.
"Whether you walk in trainers, walking boots, with walking poles, or with your four-legged friend, by taking on the challenge you will be helping to bring about the first life-changing treatment for dementia."
Ordnance Survey are offering two months free membership to people who sign up to the challenge, so they can find new routes and stay motivated throughout the autumn. In addition, the tech company Garmin – famed for handheld GPS units beloved by many hikers and smartwatches that record walking, running and cycling adventures – are doing exclusive prize draws throughout the lifespan of the campaign.
When you sign up to the ARUK Explorer virtual hike challenge, you create your own supporter page where people can see your progress and pledge sponsorship. You can connect tracking apps such as Strava or MapMyFitness to this supporter page, to track and record your hikes, or you can manually add walks.
So, why not sign up, get out a map or log on to Ordnance Survey's site, where you can get access to highly detailed cartography covering the entire British Isles, plot a path and start planning? If you secure some sponsorship you can help Alzheimer's Research UK make great strides towards a life-changing treatment for dementia.
All the latest inspiration, tips and guides to help you plan your next Advnture!
Author of Caving, Canyoning, Coasteering…, a recently released book about all kinds of outdoor adventures around Britain, Pat has spent 20 years pursuing stories involving boots, bikes, boats, beers and bruises. En route he's canoed Canada's Yukon River, climbed Mont Blanc and Kilimanjaro, skied and mountain biked through the Norwegian Alps, run an ultra across the roof of Mauritius, and set short-lived records for trail-running Australia's highest peaks and New Zealand's Great Walks. He's authored walking guides to Devon and Dorset, and once wrote a whole book about Toilets for Lonely Planet. Follow Pat's escapades on Strava here and instagram here.