Best hiking technology: great gadgets you need in the great outdoors
The best hiking technology helps you explore more, record your adventures and stay safe in even the wildest of environments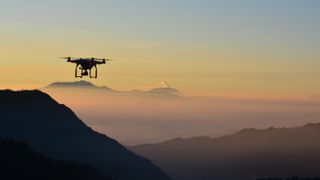 (Image credit: Getty)
The best hiking technology has kept pace with the tech boom of the past decade or so. It has revolutionized the way we plan, undertake, document and celebrate outdoor adventures. For many, modern technology – everything from smartwatches and GPS units to GoPros and Instagram – has become an integral part of the journey.
When we talk about hiking technology here, we're talking gadgets. Yes, there have been huge leaps in the technology behind the best hiking boots, the best tents, the best trail running shoes and many other outdoor essentials. But below, we focus on the best gadgets for enhancing your experience of the great outdoors.
Hiking technology is a bit of a double-edged sword. Never in history has it been harder to escape the humdrum of online life, even on an off-grid expedition (if you're not careful, you'll find yourself accidentally replying to work emails while wild camping atop a remote summit). But, simultaneously, adventures have never been so safe, well-planned and simple to record in glorious high definition.
Ultimately, if you can avoid the pitfalls, hiking technology can significantly enhance your outdoor experiences. Just like the best camping tech, it can boost your confidence, increase safety, improve efficiency and amplify the fun. So there's no need to be a Luddite – instead, embrace modern technology and become a 21st-century adventurer with our top four guide to the best hiking technology.
The best hiking technology: smartphones and apps
There one piece of hiking technology that most of us have and is today firmly rooted in our hiking essentials. More than any other device, your smartphone is the most versatile and multi-functional item of trail tech out there. Take pictures, record video, call or text in an emergency, check the weather, navigate, share your images with friends and followers, book last-minute accommodation – you name it, you can do it.
Perhaps the best of all these functions is a smart phone's GPS capabilities. With apps such as komoot, OS Maps or Viewranger, you can plot routes, track your journeys and pinpoint your location – it's an all-in-one navigation solution. You can download 1:25,000 Ordnance Survey maps to your phone, so they load even if you don't have reception; and with a power pack such as the Anker PowerCore 20100, or even a solar charger, you'll never run out of battery.
So, what wins in the battle of map and compass vs GPS. Well, it is best practice to carry paper maps alongside your phone, but all being well you might never use them. Aside from map apps, there are a myriad of other exciting and useful apps for adventures: PeakFinder uses augmented reality technology to ingeniously let you identify mountain peaks on the horizon, while British Hills cleverly enables you to log your hill-climbing exploits.
And then, of course, let's not forget the Spotify and Netflix apps – combine them with a pair of rugged Jaybird Vista outdoor headphones and you have an entertainment system in your pocket. Long train and plane journeys, or wet nights in a tent, will no longer be so boring.
The best hiking technology: smartwatches
If you don't fancy constantly reaching into your pocket to grab your phone, but you still want to digitally track your progress, the answer is a smartwatch. Commonly used for higher intensity adventures, such as running or mountain biking, smartwatches give you an insight into your workout: pace, distance, steps, ascent, heart rate, calories burnt – whatever you want to know, it'll be there are your fingertips (well, your wrist, but you know what we mean).
The data might just motivate you to go longer and faster, bagging that new PB and increasing your physical fitness. But it's not all just about fitness tracking. Premium smartwatches also feature a compass, GPS to track your location, and an altimeter to measure elevation, thus transforming your timepiece into a handy navigation and survival tool if needed. There are loads of competing brands in the market, but Garmin – who make the fantastic Forerunner, Instinct and Fenix series of watches – and Finnish brand Suunto (manufacturers of the perennially popular Ambit range, plus the Traverse and Spartan, among others) are two well-respected options.
The best hiking technology: drones and GoPros
For the budding landscape photographer and would-be outdoor film-maker, modern hiking technology is a godsend. Creating premium-quality content during your adventures has never been easier, thanks to constant improvements in camera tech. Equipment is now not only light enough to carry anywhere (up a mountain, on a long-distance trek or across a continent in your bike panniers), but it's also sufficiently advanced to capture crisp, professional standard HD or 4K footage.
Exceptionally popular innovations of the last decade include action cameras and drones. GoPro is the market leader in action cameras, such as the Hero 8. They are ultra-light, waterproof and incredibly versatile mini cameras, best known for being strapped to a helmet to create high-octane, point-of-view imagery of skiing, hiking, kayaking, downhill biking, bungee jumping or whatever epic adventure you're taking on. In terms of drones – flying, helicopter-like cameras that take aerial footage – the DJI Mavic Air 2 will enable you to capture envy-inducing, awe-inspiring video that will send your social media likes through the roof.
The best hiking technology: GPS devices
A handy piece of hiking technology if you're going on a particularly remote and hardcore adventure (or if you worry about the dangers of off-grid expeditions) is a GPS device that's more advanced than your smart phone. One superb option – for peace of mind and as a safety net if anything goes wrong – is the Garmin inReach Mini. It has three key purposes.
Firstly, it acts as a personal locator beacon (PLB) with an SOS button – in a life-threatening situation you can simply press the button (it works without mobile reception) and the device will immediately notify search and rescue organizations of your exact location.
Secondly, if you take out an optional subscription, it acts as a live tracking device, recording your movements and plotting your route on a live map, which friends and family can view online.
Thirdly, it enables you to send pre-set messages for free to your nearest and dearest, such as "At camp, safe and well, love you". Similar devices are available from Spot, who make the Spot X two-way satellite messenger, and ACR Electronics.
All the latest inspiration, tips and guides to help you plan your next Advnture!
James is passionate about hill-walking, wild camping and peak-bagging, and describes himself as a 'self-taught adventurer' – which is a polite way of saying he gets lost a lot (he once walked for two days in the wrong direction on the GR20 hike in Corsica). The first part of his three-year mission to climb 1,001 mountains across the UK and Ireland (including all 446 'Nuttalls' in England and Wales, the 273 Irish 'Vandeleur-Lynams', and Scotland's 282 'Munros') is recounted in the book Mountain Man: 446 Mountains. Six Months. One Record-Breaking Adventure.