"It got dark and hard to breathe": hiker describes close encounter with Kyrgyzstan avalanche
"We're very happy to be alive," says Brit whose stunning avalanche video went viral earlier this week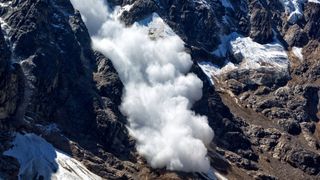 (Image credit: Getty)
A British hiker whose spectacular video of an avalanche in Kyrgyzstan went viral earlier this week has recalled the emotions he went through as it became clear the fast-moving mass of snow was heading his way.
Speaking to the BBC, 27-year-old Harry Shimmin described how what began as excitement and wonder turned to fear, as the distant avalanche raced towards him. He said it developed "so much faster" and "spread so much further" than he anticipated.
He managed to capture the event on his phone – images that have since been shared around the world – before taking shelter, as the onrushing avalanche engulfed him.
"I jumped into a hole to take cover," he said. "The snow started pouring overhead and it got dark and it got hard to breathe. Fortunately, it only lasted a few seconds. I was only covered by an inch or two of white powder and slush."
'Once I dived down in that shelter it got really dark and quite hard to breathe'The British traveller Harry Shimmin tells #BBCBreakfast about being caught up in an avalanche in Kyrgyzstan, and capturing the dramatic scenes on his phone 🗻https://t.co/5Vnvs6ixvu pic.twitter.com/oC24cHXr4uJuly 13, 2022
Shimmin had been hiking as part of an organised trek in Kyrgyzstan's Tian Shan range and had separated from the rest of the group to explore a nearby peak. When he found his way back to them, he was relieved to find that the party were all unharmed, including his friends Sarah Allen and Katie Christian.
The group continued along their planned route only to find that it had been in the path of the avalanche. At that moment, it dawned on them how lucky they all had been.
"The path we were supposed to take was directly in the way of the main body of the avalanche," Mr Shimmin said. "Everyone was very emotional" and "very happy to be alive."
Katie Christian added: "That was where the main ice fall was and there was absolutely no cover there. It destroyed the footpath and destroyed the bridge. We were really lucky."
Tian Shan range
The Tian Shan range is one of the least explored high mountain ranges in the world. There are many unclimbed peaks, which makes it popular with those looking to experience the thrill of a first ascent.
Like any mountain range, exploration here is not without its dangers, with avalanche risk being one of the principal hazards. In 2004, over a dozen mountaineers were killed by an avalanche on Khan Tengri, the region's most iconic peak.
It's thought that more than 150 people are killed worldwide by avalanches every year. Around nine of out ten avalanche accidents are triggered by human activity and are therefore avoidable. Almost all avalanches occur on slopes that are angled between 30 and 45 degrees and the risk is at its greatest in the day after heavy snowfall.
Many mountain regions have dedicated avalanche forecast services, so always check before you set out. If in doubt, choose a different route.
All the latest inspiration, tips and guides to help you plan your next Advnture!
Alex is a freelance adventure writer and mountain leader with an insatiable passion for the mountains. A Cumbrian born and bred, his native English Lake District has a special place in his heart, though he is at least equally happy in North Wales, the Scottish Highlands or the European Alps. Through his hiking, mountaineering, climbing and trail running adventures, Alex aims to inspire others to get outdoors. He is currently President of the London Mountaineering Club, training to become a winter mountain leader, looking to finally finish bagging all the Wainwright fells of the Lake District and hoping to scale more Alpine 4000ers when circumstances allow. Find out more at www.alexfoxfield.com