Hungry homeless eating canal fish
A group of homeless people have been keep themselves alive by eating coarse fish.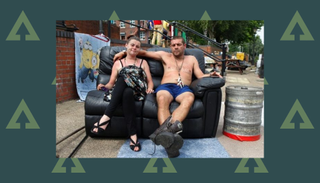 (Image credit: Angler's Mail)
Welcome to Advnture, the new home of AnglersMail.co.uk
The trio set-up on the Bridgewater Canal in Eccles, Greater Manchester, and are trying to feed themselves by eating any fish they can catch.
First thing on the menu was a roach which they slapped on the BBQ but they are hoping for bigger fish, and have planted vegetables to go with their catches.
Stuart Potts, his girlfriend Georgia Twemlow, and a friend known as 'Russian John' are homeless so set-up a make-shift camp.
Stuart, a 35-year-old dad-of-four who was evicted from his social housing flat, said: "I chose this spot because it's in my home town, it's close to church, and it's near the doctor's.
"I want everyone to have a nice home. Everyone says there's enough fish in the sea – and I know for sure there's enough land and houses for everyone to live in but there are still people starving while the supermarkets there are bins brimming with food."
Stuart continued: "We're dropping bread in and we hope that will attract the little fish. And then those little fish will bring in the pike, then we'll eat.
"I can totally Ray Mears it. Hopefully I'll be able to feed myself and anyone else who needs it," he boasted.
The fishing is run by mighty Warrington AA and is available on a season ticket for £25 for adults and £5 juniors.
Club employee Linda Lythgoe commented: "If our bailiffs had seen them fishing they would have told them to stop and I would have expected the EA to take enforcement action.
"Hopefully anyone not an angling expert expecting to live off the fish they caught would soon go hungry."
At the time of going to Press, the Environment Agency had not responded to requests for information about any action they might be taking.
All the latest inspiration, tips and guides to help you plan your next Advnture!