Carp anglers mourn death of UK giants
The biggest-ever UK common carp, tipped to break the overall British record, has died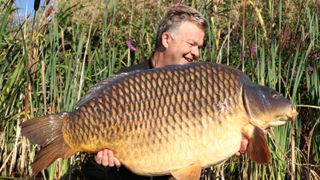 (Image credit: Angler's Mail)
Welcome to Advnture, the new home of AnglersMail.co.uk
Tarka passed away at Rob Hales' ten-acre syndicate water The Avenue, in Shropshire.
Rob himself landed the fish at its highest ever weight, 65 lb 2 oz, in September 2018.
The venue also produced an unofficial British record carp, a mirror called Big Rig, caught at 71 lb 4 oz by Robby Harrison in October 2016. It wasn't accepted as a record at the time, as it had been reared in a stock pond to a big weight before being stocked. It died a few months later.
Rob said: "Unfortunately, we have sadly lost the UK's biggest ever common, Tarka. He reached the huge weight of 65 lb 2 oz.
"There were numerous anglers lucky enough to catch him in the past, and it has been amazing to follow the magnificent journey of his growth. No doubt The Avenue will produce another bigger fish in the future, with its amazing stock, but Tarka will be dearly missed.
"I set up The Avenue to be a big fish water, and as well as Tarka, we did produce Big Rig, the largest ever UK specimen.
"There will be lots of other big fish coming through, as the water has a great head of 50s, with 15 fish above that mark and 55 over 40 lb.
"To keep the growth rate up for the bigger fish, we do remove the smaller carp, and have already taken out 70 small ones and will continue to monitor that," added Rob.
Venue ace Craig McEvoy, who has landed eight 50s from the venue in the past year, thinks the water is just getting better.
Craig said: "I never managed to catch Tarka, but he was a great fish. The water has an awful lot of 50s, and quite a few of them will go over 60 lb in the future.
"The common, Ellie, that I caught earlier this year at 56 lb 4 oz could definitely hit the 60 lb barrier soon," he added.
The current British record carp is Dean Fletcher's Wasing Estate giant mirror of 68 lb 1 oz, caught in 2016, but that fish, The Parrot, died a year later.
Meanwhile, another very well-known 60-pounder, The Chertsey Mirror, has also passed away.
The mega carp resided in 12-acre Chertsey Lake, in Surrey, formerly run by CEMEX Angling, before becoming a syndicate venue and then no fishing at all.
It never went above 62 lb 4 oz when caught by many anglers, including noted aces Terry Hearn, Ben Hamilton and Simon Bater.
Local carper Paul Singleton said: "The Chertsey Mirror, believed to have entered the lake during floods from the adjacent Thorpe Park complex, was caught at over 60 lb prior to the great CEMEX sale.
"When the lake fell into private hands, although some fishing did continue, the fish lived out its final few years in relative peace and quiet. RIP big lad."
All the latest inspiration, tips and guides to help you plan your next Advnture!
Running from 1964 until 2020, Angler's Mail was the UK's leading weekly magazine devoted to coarse fishing, telling readers everything they needed to know about which fish to catch, where to catch them, and what kit they needed to do it. Now, loads of the magazine's expert advice can be found on Advnture.com, as a helpful resource for angling newcomers and experts alike.