Equip celebrate becoming Climate Neutral with free online webinar
By Emily Woodhouse published
Glaciers of the Alps will reflect on climate change through the photographs of Bernd Ritschel and launch photo competition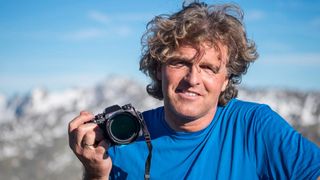 (Image credit: Bernd Ritschel)
Equip (parent company of Rab and Lowe Alpine) are celebrating their new status as a Climate Neutral Company with a free online webinar. Renowned European mountaineering and outdoor photographer Bernd Ritschel will be presenting 'Glaciers of the Alps' on 18 February 2021.
As a mountaineer and photographer, Lowe Alpine and Rab ambassador Bernd Ritschel has borne witness to the beauty of the mountains, and to their fragility, for more than 30 years; Bernd's reflections on the process of creating those images highlights the impacts of climate change and the need for immediate action more than ever before.
Make the most of your views with the best binoculars you can buy
Outdoor photography tips: how to take great photos with a smartphone
Compact camera vs smartphone: which is best for taking outdoor photos?
The event, which also marks Equip's commitment to reach Net Zero by 2030, will take place in both English and German. The English speaking webinar (opens in new tab) will take place on 18 February at 8pm GMT and German speaking (opens in new tab) at 6pm CET. Both will be streamed as Facebook live events.
"As a community that spends every spare moment in the mountains, we see the consequences of climate change in the landscapes we explore," says Equip. "We've crimped the smallest of holds, felt the texture of the rock under our feet, stargazed on clear, cold nights, the outdoors, it's in our DNA. Our love and respect for the nature is real, not theoretical – the mountains are in our blood. As a company, as a brand, as employees we have always strived to do the right thing in how we live our lives and therefore we have decided to act, and to act now.
"But halting and reversing the impacts of climate change isn't something we can do alone. We need to act together. To raise awareness for this, Bernd's slide show will kick-off a photo competition among our community, focusing on their memories of the mountains and glaciers, as well as a call for commitments to help preserve these spectacular locations for future generations." Competition winners will be selected by Bernd and the Equip team, plus will be publicly shown in an exhibition.
All the latest inspiration, tips and guides to help you plan your next Advnture!
Thank you for signing up to Advnture. You will receive a verification email shortly.
There was a problem. Please refresh the page and try again.