Best binoculars: marvel at nature, watch the skies and get the most from your next outdoor adventure
By Matt Swaine
Find the best binoculars, whether you want to watch wildlife, explore the universe or savour the view from your next mountain summit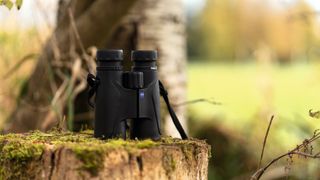 (Image credit: Matt Swaine)
Using your best binoculars to take in a stunning view is high on everyone's list of 'Reasons to go outdoors'. And if you want to heighten that sense of discovery, you'll need to invest in a quality pair of binoculars. 
Want to get into bird watching? Then binoculars that offer wide angle views and good image stability will allow you to zoom in on waders on a distant seashore or track peregrines bombing through a twisting murmuration of winter starlings. 
Want to gaze into the heavens? Then high magnification and large light-gathering lenses will drop you onto the Moon's surface and reveal planets, stars and nebula invisible to the naked eye. 
And whether you're at sea, wild camping, climbing or multi-day trekking, an all-purpose pair of the best binoculars that are light, robust and can slip into a jacket pocket will boost your enjoyment and sense of adventure.
We have selected some of the best binoculars available within a reasonable price range. Performance is exceptional and even the cheapest pair here are guaranteed to deepen your appreciation of the natural world – you can learn how to use binoculars and get the most out of your purchase in Advnture's handy guide. 
To select the right binoculars for you, simply identify what you want to spend and focus on what you want to do with them. 
In our opinion, the Kowa BD32-8XD were the stand-out pair that excelled on every level, closely followed by the Zeiss Terra ED 8x32, but these are the more expensive models. The Celestron Skymaster are best for looking at the night sky, and are available for exceptionally good price, while the Opticron Explorer are superbly adapted for taking on general adventures. 
We've tried to help you match your requirements to the specific design attributes of each of the pairs below. Much depends on your personal preference so, if you can, go to a dealer and try them out for yourself. 
The best binoculars you can buy
Redesigned binoculars that will meet the needs of any aspiring bird watcher
RRP: $189.95 (US)/£209 (UK) | Size: 167mm length; 129mm width/6.6inch length; 5.1inch width | Weight: 650g/23oz | Magnification: 8 | Objective diameter: 42mm | Field of view at 1000m: 119m | Close focusing distance: 4m/13.2ft
Impressive image quality at this price point
Exceptional comfort and ease of use
More expensive models offer a slightly better image quality
Not so good for close up viewing of butterflies and invertebrates
There's a high-end feel to Nikon's redesigned Prostaff range: excellent balance and the slightly tapered barrels are an ergonomic delight. The focus wheel moves smoothly, so it's easy to fine tune the image and move quickly from long range to something that catches your eye in the foreground. The image it delivers is sharp and clear, with minimal distortion or chromatic aberration. 
As a general pair of do-anything, adventure binoculars these are an excellent option. If you plan on getting more serious about birding, then you might want to invest a little more, but most people would be hard pressed to notice the difference. These represent an excellent mix of value and performance at this price point and they were a joy to use.
Great image quality, easy to use and ideal for nature watching
RRP: $179 (US)/£200 (UK) | Size: 142mm length; 128mm width/5.6inch length; 5inch width | Weight: 705g/24.9oz | Magnification: 8 | Objective diameter: 42mm | Field of view at 1000m: 129m | Close focusing distance: 2m/6.6ft
Good for general nature watching
Deliver superb colour in good light conditions
Don't feel as high-end and slightly heavier than others
Struggled to get sharp mid-range focus in lower light
The 8x42 range is a sweet spot for birdwatching: the magnification isn't so large that you need a tripod to stabilise the image and the 42mm objective lens allows plenty of light in. This gets a boost thanks to the ED glass lenses that, Celestron say, delivers brighter, sharper images and 'eliminates chromatic aberration'. That means you get natural clear colours that all appear in focus across the spectrum. The field of view is impressive, and you'll appreciate this pair's ability to focus at a close range of 2m, especially if you are interested in bees, butterflies and other invertebrates. 
They are slightly heavier than other on test, though, so you might be less inclined to pop them in a rucksack on a multi-day trip. They are however a serious pair of nature-watching binoculars at a very competitive price.
Lightweight binoculars that deliver impressive wide-angle viewing
RRP: $329 (USA)/£219 (UK) | Size: 120mm length; 116mm width/ 4.7inch length; 4.6inch width | Weight: 440g/15.5oz | Magnification: 8 | Objective diameter: 32mm | Field of view at 1000m: 136m | Close focusing distance: 2.5m/8.2ft
Impressive wide-angle viewing and great image
Small, light and easy to pack on any adventure
Smaller objective lens won't gather as much light
Not sufficiently close focussing for butterflies etc
Most of my nature watching comes in the middle of long bike rides, walks or multi-day trips, and these binoculars are perfect for that kind of use. They are light, compact and easy to justify throwing in a rucksack or bike pannier just in case. 
Smaller objective lenses should mean they don't perform as well in lower light conditions, but we were very impressed when we tested these alongside three larger lens binoculars. As the sun was going down, watching a climber tackle routes in the Avon Gorge, the Opticrons produced clear, bright images good focus across the colour range. 
With the widest field of view in this test they make it easier to track a bird in flight or to spot interesting behaviour in a larger flock. They compare favourably with the most expensive models in this test and these were the pair I kept coming back to during the test.
Superb entry-level binoculars that are ideal for young birders
RRP: $149 (US)/£100 (UK) | Size: 160mm length; 114mm width/ 6.3in length; 4.5in width | Weight: 470g/16.6oz | Magnification: 6 | Objective diameter: 30mm | Field of view at 1000m: 119m | Close focusing distance: 2m/6.6ft
Great value for money
Excellent image quality and performance
Slightly narrower field of vision
Carry bag and extras don't have high-end feel
These are porro prism binoculars (see 'how to buy section' below) and while they might look slightly old fashioned, there are some distinct advantages. Because light takes a simpler route from the objective lens to your eyeball, there is less technology required inside to deliver the same image quality. That means you potentially get the same performance as a pair that cost far more. 
These Kowa YFs are really impressive. They deliver a bright, sharp image with good colour and very little sense of fuzziness at the edge. The field of view is wide enough for them to work as a primary pair of bird-watching binoculars and they offer excellent close focus. They are great for smaller hands, and perfect for young birders who want their first pair of bins. If you're buying on a budget, these are robust, light, easy to pack, sit neatly in a waterproof jacket pocket and are ready for action when you need them. So not just for kids and beginners, these are among the best binoculars for anyone at this price point. 
High-end feel to these binoculars that represent exceptional value for money
RRP: $269 (USA)/£229 (UK) | Size: 148mm length; 127mm width/ 5.8in length; 5in width | Weight: 705g/24.86oz | Magnification: 8 | Objective diameter: 42mm | Field of view at 1000m: 133m | Close focusing distance: 2m/6.6ft
Exceptional performance at this price point
High-end carry case and accessories
Very slightly softening at edge of image
Heavier than some so might not be ideal for adventure use
Testing these binoculars was a joy. I spent one morning watching a juvenile kestrel on my local patch. It's a rocky scramble up onto the viewing point, so I slung these over my shoulder in their robust carry case, leaving my hands free to clamber to the top. Wide-angle views made it easy to track the bird as it practiced hunting in the scree. When it came to rest in a tree opposite, I could pick out the subtle shift in faun and chestnut browns and its blue-grey head and tail feathers, thanks to its crisp image and the natural colours that these binoculars produce. 
If your aspirations tend towards serious bird and nature watching, then I would highly recommend you try these for yourself. They look and feel exceptionally good and the focus wheel, while a little firmer than others, adds to the feel of a well-constructed pair of binoculars that promise a lifetime of use.
Bushnell Prime 8x42
A very capable pair of binoculars that deliver good value and impressive image
RRP: $140 (USA)/£162 (UK) | Size: 132mm length; 130mm width/5.2in length; 5.4in width | Weight: 660g/23.3oz | Magnification: 8 | Objective diameter: 42mm | Field of view at 1000m: 117m | Close focusing distance: 3m/10ft
Very robust and good for general nature watching
Image is impressive at this price point
Eye adjusters felt very stiff
Lack of real close focus may be a problem for some
Every pair of binoculars in this test represent great value and performance and these are no exception. The image quality is good and they would meet the needs of most users, so if you are looking for a pair of binoculars at this price point then these are an excellent investment. What's more, they are designed to be impressively robust. Bushnell is a US brand that specialises in sports optics for hunting, fishing and wildlife watching.
These come with a hydrophobic coating to deal with dust, oil and water and a lifetime 'ironclad' guarantee. You can apparently immerse them in three foot of water for up to 30 minutes. They are tough, but didn't have the quality feel of other binoculars and the eyecups didn't twist as easily as we would have liked. But if you're looking for the guarantee of bomb-proof performance and great value for money then these should be on your shortlist. 
Zeiss Terra ED 8x32
Excellent performance designed to meet aspirations of serious nature enthusiasts
RRP: $400 (USA)/£375 (UK) | Size: 125mm length; 117mm width 4.9in length; 4.6in width | Weight: 510g/17.9oz | Magnification: 8 | Objective diameter: 32mm | Field of view at 1000m: 135m | Close focusing distance: 1.6m/5.3ft
Exceptional image quality for serious birders
Superb design and easy to use and focus
Image not quite as bright as expected at this price point
Objective lens protectors were easily lost
Of all the pairs in this test, these binoculars are mostly likely to get appreciative nods from other birders. They represent a significant step up in outlay, and casual users may not notice a great deal of difference from pairs like the Nikon or Hawke, but if your aspirations match this price point, then these (and the Kowa BDs) are where you should be looking. Small differences in performance will represent a good return on your investment over many years of use.
These felt really good to hold and the large focus wheel made it easy to adjust as we followed birds zipping across the sky. There's very little sense of distortion at the edge of the image and you get bright, natural colours that allow you to really appreciate the action. We tested these in a range of conditions and while they are undoubtedly impressive, they did not quite deliver the brightness of image that we expected in lower light conditions.  
Celestron Skymaster 15x70
Affordable binoculars that promise to unlock the wonders of our solar system
RRP: $95 (US)/£89.99 (UK) | Size: 280mm length; 220mm width 11in length; 8.7in width | Weight: 1361g/48oz | Magnification: 15 | Objective diameter: 70mm | Field of view at 1000m: 77m | Close focusing distance: 13m/43ft
A great way to explore and marvel at the universe
At this price every home should have a pair
Heavy and bulky, so not made for hiking trips
Not ideal for nature watching, but good for big views
These binoculars wouldn't look out of place on the set of a WW2 naval epic, being used by a lookout scanning the ocean for U-Boats. The whopping 70mm objective light is designed to gather light, while the 15 times magnification promises impressive views of the lunar surface, Jupiter, cloud nebula and even a hint of the rings of Saturn. Point them into a seemingly clear section of the sky and stars start to appear that aren't visible with the naked eye.
At this price point a pair of binoculars are probably a better bet than a telescope. They gather more light and because you're using two eyes, you get a more 3D view. Hand-held you will struggle to prevent image wobble, so you need to either balance your elbows on a wall or use the tripod adaptor to get the stability required. But at this price, we think everyone should have a pair of these: they are guaranteed to enhance your enjoyment and understanding of the night sky.
Kowa BD32-8XD
Serious binoculars that deliver bright, crisp image and our "best in test"
RRP: $399 (US)/£369 (UK) | Size: 122mm length; 118.5mm width 4.8in length; 4.6in width | Weight: 560g/19.75oz | Magnification: 8 | Objective diameter: 32mm | Field of view at 1000m: 131m | Close focusing distance: 1.5m/4.9ft
Exceptionally close focus: ideal for butterflies
The brightest image on offer in this test
Not ideal for general adventure use
Casual users may not notice a big difference in general conditions
There are two brands that sit at the upper price limit we have set for this test and they are both worth serious consideration, if your budget and wildlife aspirations allow. While Zeiss represents the best of German manufacturing, Kowa delivers Japanese optical excellence. The smooth glide of the focus wheel lets you know you have stepped up a price point and the design puts you in the aesthetic territory of more expensive brands. But far more important is the quality of image, and neither pair will disappoint.
Both models are a step up from others in this test that serious birder will value. But these just edged it in terms of clarity and brightness of image in a range of conditions. We tested the 8x32 pair to give a direct comparison to the Zeiss Terra ED 8x32. You might prefer to opt for the larger objective lens of the Kowa BD8x42 or greater magnification of the BD10x42. All perform exceptionally well and represent our best in test.  
Bushnell Equinox Z2, 3x30
Make your first nocturnal wildlife film with these high tech monoculars
RRP: $310 (US)/£394 (UK) | Size: 164mm length; 82mm width/6.54in length; 3.2in width | Weight: 420g/14.8oz | Magnification: 3 | Objective diameter: 30mm | Field view at 1000m: 138m | Close focusing distance: 2.5m/8.2ft (estimated)
Night vision allows you to capture nocturnal wildlife
Able to send stills and video to a device
Pricey and probably too restricted in use for most
Needs batteries and no rechargeable option provided
These are relatively expensive and are clearly designed for a very different purpose to others in this test. Whether your adventures take you out on wild camping trips or you want to know what's roaming around at night in your back garden or local patch, these are worth consideration. They don't have the magnification of others in this test, but these monoculars use infrared sensors to deliver an effective night vision range of up to 200 yards (182 meters). What's more, you can capture the action as the Z2 allows you to record video at 1080p HD and then upload images and videos using Wi-Fi or leads. 
Film during the day to deliver colour images on the screen, which switches to black and white at night for sharper clarity and contrast. A fun option that could have serious application for those with an interest in nocturnal wildlife.
Choosing the best binoculars for you
Binoculars are an exceptionally personal purchase. What feels right for one person may not work for another. What delivers a good image for one person may not work quite as well for you. So there is no substitute for getting your hands on a pair of binoculars before you buy.
To help you narrow down your choice there are two questions to ask yourself when looking for the best binoculars: what is your budget and what do you want to use your binoculars for? Here's what you need to know to help you make that decision.
Roof or porro prism?
There are two types of binoculars in this test: the traditional porro prism binoculars that have an 'M' shape to them, and the more modern roof prism binoculars that seem to be just a tube where the light travels directly from one end to the other. 
The truth is very different: roof prism binoculars require high quality prisms and lenses to send the light on a much more complicated path from the objective lens to the eye. 
So while these more fashionable binoculars are often more compact and sleeker in design, the porro prism alternatives should not be overlooked. Less technology inside and a less complicated path for the light to follow, means they offer better image quality and brightness for your money.
Magnification and brightness
The two numbers that come with your binoculars give you the magnification and size of the objective lens (the one at the opposite end to your eye). We think that the sweet spot for most nature watching is a pair of 8x42 binoculars. Larger magnification can make it harder to deliver a stable image with a pair of handheld binoculars. A x10 magnification is probably fine for most people, but don't go over this unless you intend to use them with a tripod. 
The larger the objective lens the more light can get in. So all things being equal, a 42mm lens will deliver a brighter image in lower light conditions than a 32mm lens.
Brightness
BUT… not all things are equal, which is why manufacturers will shout about the technology inside their binoculars that allow them to bounce light around to deliver a brighter, sharper image. Many manufacturers offer a number for 'relative brightness' but this is really just based on the size of the objective lens. In reality, the quality of glass and manufacturing as well as the technology used will deliver very different results.
The birds or the bees?
For bird watching, we think that a pair of binoculars around the 8x32, 8x42 mark are ideal, although a pair of 10x32 or 10x42 are also worth considering. A wide angle (larger objective lens) is useful to catch the action in flocks of birds or to find and then track fast moving species. Binoculars that deliver natural colours will help if you need to ID tricky species. If you have an interest in butterflies, bees and dragonflies, then look for a pair that offer a close focus of 2m or less.
Glasses wearers
Some people will need to wear glasses while they use their binoculars. If, like me, you're near-sighted and require glasses for reading this will be less of a problem.
Eye relief is the distance a binocular can be held away from the eye while still giving you the full field of view. If you use glasses then you need to look for a pair that have an eye relief of 16mm or more. Test them out with your glasses on if possible.
Adventure-ready binoculars
Smaller binoculars are easier to slip into a jacket pocket and carry on longer multi-day trips. If you are doing something more adventurous than carrying your binoculars from a car to a bird hide, then they need to be robust and durable. A lifetime or long guarantee is a good indication of the manufacturer's faith in their product. I have had binoculars replaced in the past, so it's worth looking for this extra security.
Waterproof and rain resistant
Even general bird watchers need to know that their binoculars can cope with rain and wet weather. A solid construction and anti-fogging is important. If you're planning long walks in rainy conditions, then a quality carry case and lens protectors are helpful.
All the latest inspiration, tips and guides to help you plan your next Advnture!
Thank you for signing up to Advnture. You will receive a verification email shortly.
There was a problem. Please refresh the page and try again.