Outdoor photography tips: how to take great photos with a smartphone
You don't need a fancy camera when you're out in nature. Here's how to take great photos with a smartphone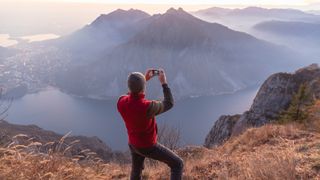 (Image credit: Getty)
Taking photographs is second nature to most of us these days – you always have your smartphone handy, and it's equipped with a good-quality camera, so you happily snap away when you're out and about and a good vista presents itself, or you encounter wildlife, or reach the summit of a peak.
But a little bit of knowledge will go a long way towards turning a shaky snap into a stunning image. Here we explain how to take great photos with a smartphone. Following are a few top outdoor photography tips that will help you maximise your potential for capturing the visual glory of natural landscapes when you're out exploring local trails and green spaces.
The tech
With the evolution of smartphone camera technology, you no longer need to carry a separate DSLR camera with interchangeable lenses to take stunning photographs. These days, most phone cameras can even cope with technically difficult scenarios to capture images in low light.
Use natural light where possible
Think about how you can position yourself to make the most of available light, even when the weather may not appear that appealing. Photographers famously enjoy shooting nature during the 'golden hour' – a period of time, about an hour before sunrise and sunset, when the sun is lower in the sky and the light is perfect. With the changing seasons the vast array of colours that can be captured varies greatly, yet using the light peeking through the tree canopy against the dramatic changing sky just after dawn or shortly before dusk will definitely make your images pop. A moody sky (often associated with unsettled, potentially rainy weather) with some sunlight peeking through, can be the best weather conditions to score naturally dramatic shots. Set your alarm and grab your phone as you head out on your morning walk and see what you can capture.
Hold the camera steady using available spaces
You don't need to carry a tripod to ensure images are sharp and non-blurred. Think about what could double up as a stable surface to steady yourself or rest your phone on, such as a flat rock, or a fence post, or an edge on a stone wall. A stable and flat surface is ideal for capturing images that take longer to compose, such as images in low light, or when you're photographing a subject that is moving quickly. Don't be afraid to crouch down low and use your knee to help provide some stability while you're shooting, with your body crouched to act as a shield against the elements to get the perfect shot.
Control the camera exposure
If your images keep appearing too dark, or conversely overly bright and washed out, they're probably simply under or over exposed. To fix this, tap on the small square focusing box, hold your finger down on the square and drag it either downwards to decrease the exposure, or upwards to increase the exposure. Remember, details such as highlights can't be 'added' back in during editing – so a slightly underexposed (darker) image will have more information in the image and can be edited later to achieve more depth and contrast.
Frame your shot and choose the focal point
Often the scene or subject you want to shoot will have multiple focal points. Think about how the image is framed – using subjects in sharp focus in the foreground, for example, could add a sense of depth. It can be a good idea to use colourful leaves and plants in the foreground for this purpose. Experiment with placing your subject in the midground, with a dramatic landscape in the background. Mix this up and alter the focus to be on the midground, or on the background, and see how this affects the visual quality of the photograph.
Creative composition
With smartphone technology, unlimited shots mean there's no wrong method – just an infinite number of ways to capture a subject. Could it be captured with a lot of negative space, to add an evocative sense of distance and emptiness, for example a single item against a blank sky? Or could it be photographed cropped in very close, filling the frame and giving a sense of intimacy, or a microscopic awareness of detail? Be creative, and see if you can discover natural frames – such as looking up through a canopy of leaves in a woods from the forest floor. Or seek out the visually pleasing recurring patterns that naturally occur in the outdoors, like lichen and mosses growing on a dry stone wall that can help lead the eye to another subject.
Stick with it
Last but not least, practice your outdoor photography skills as often as you can. This may require a bit of determination, creativity and exploration – so you need to learn to love it. The weather may be unpredictable, which can make setting up shots tricky, but using your phone can help you capture nature off guard, and lead to some dramatic and gorgeous outdoor photography when the light can create some unexpected outcomes.
All the latest inspiration, tips and guides to help you plan your next Advnture!
A former brand ambassador for Merrell and current Ordnance Survey #GetOutside Champion, Jessie Leong's lifelong outdoor odyssey began with Duke of Edinburgh's Award walks in the Peak District. This segued into long hill hikes in the Yorkshire Dales, multi-day treks in the Lake District, scrambles in North Wales and adventures scaling alpine pinnacles. When not walking, she can be found rock climbing, wild swimming, cycling, photographing, filmmaking, writing and modelling. Jessie's most recent claim to fame is playing a Miss World contestant in the 2020 feature film Misbehaviour.