Experts say mountain biking isn't just fun, it can boost your mental health, too
New research reveals the unique mental health benefits of riding trails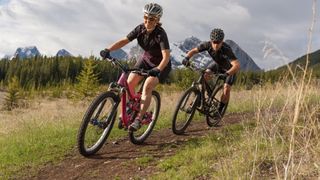 (Image credit: Getty Images)
If you enjoy mountain biking, you'll already know the joy it brings. But now experts have confirmed the mental health benefits of going for a spin on the trails.
Research by Edinburgh Napier University demonstrates the rewards of using mountain biking, whether its cycling country trails, downhill routes or bikepacking, as a way to connect with nature and bring a boost to mental well-being.
The qualitative study by the Scottish academics is based on a Trail Therapy programme that has been run for a year by a team from Developing Mountain Biking in Scotland (DMBinS).
Billed as a "social prescription", the project has aimed to share the joys and obtainable challenges of mountain biking with individuals who have an existing mental health diagnosis.
The programme is designed to help riders grow in confidence, improve social interactions, establish skills of self-regulation and accelerate their road to wellbeing.
Results of mountain bike therapy research
The participants of the mountain biking research were assessed through interviews. The outcome of the qualitative evaluation revealed a greater insight to the unique combination of physical, psychological social and natural challenges that are inherent within an MTB therapy approach.
These interrelated challenges have been found to shape the riders' experiences on the programme and sit at the centre of what makes it effective.
Dr Christine Fox, the DMBinS Mountain Bike Health Programme Manager, explains further. She says: "We can visibly see the difference in participants on our Trail Therapy programme. This research from Edinburgh Napier University confirms that the programme has an impact on improving the health and wellbeing of those involved.
"Mountain biking connects us with nature in a unique way that combines physical challenge, positive risk taking, skill development, and unique opportunities for therapeutic experiences."
Dr Lesley Ingram-Sills, a member of the team from the university, said: "The evaluation describes themes that emerged through an analysis process and uses the voices of the riders and their own words to express their experiences.
"Overall, those involved with the trail therapy programme were enthusiastic to share their experiences and reflected on their involvement in an extremely positive way.
"The stories and narratives that emerged from the analysis largely emphasised a holistic impact of the programme on riders' overall wellbeing and skill development, underpinned by three main interrelated characteristics; challenge (physical, psychosocial, and exposure to the natural environment), MTB experiences, and support."
The Trail Therapy programme is currently run in areas where we it has been possible to source local or regional funding, although the plan is to extend the reach of the initiative.
Trail Therapy is funded by Trek, Nature Scot, Scottish Government and donations from the Scottish MTB Health Fund.
All the latest inspiration, tips and guides to help you plan your next Advnture!
Fiona Russell is a widely published adventure journalist and blogger, who is better known as Fiona Outdoors. She is based in Scotland and is an all-round outdoors enthusiast with favourite activities including trail running, mountain walking, mountain biking, road cycling, triathlon and skiing, both downhill and back country. Her target for 2021 is to finish the final nine summits in her first round of all 282 Munros, the Scottish mountains of more than 3,000ft high. Aside from being outdoors, Fiona's biggest aim is to inspire others to enjoy the great outdoors, especially through her writing. She is also rarely seen without a running skort! Find out more at Fiona Outdoors.