Flash flood closes Zion National Park
The flash flood swept through the park on Tuesday afternoon, sending water and mud through the park's east and west entrances and forcing the evacuation of visitors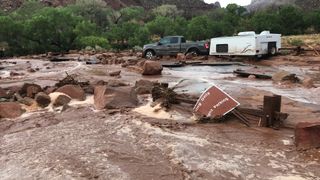 (Image credit: Zion National PArk)
A flash flood on Tuesday afternoon has forced Zion National Park to close temporarily to visitors. The park received over an inch of rainfall in an hour, resulting in heavy flooding and mudslides that left more than a foot of muddy debris on the park's main thoroughfare. An active technical search and rescue operation is underway and State Route 9 has been closed at the town of Rockville until further notice. According to a news release from the National Parks Service, the park will remain closed throughout today, but the park's shuttle services will remain in operation to evacuate visitors to the Zion Canyon Visitor Center.
Twitter user Ben Wong posted footage of the flooding taken by his sister, Sabrina Wong, showing a raging torrent of mud and floodwater.
@ZionNPS @NationalParkFdn This is CRAZY! My mom and sister are stuck in the middle of this flood. pic.twitter.com/R0VkEwBCc2June 29, 2021
According to the National Weather Service, more heavy rainfall is forecast for the area on Wednesday. The Utah Division of Emergency Management has advised people in the area to go to higher ground to escape flooding and to avoid attempting to walk or drive through rivers of streams.
With the significant flash flooding occurring in southern Utah, here is a sobering statistic. Remember the life-saving protective action for floods: Turn Around, Don't Drown. https://t.co/WAuBgjDBym pic.twitter.com/no40LHK3EiJune 30, 2021
In 2015, seven hikers died during a flash flood in one of the park's narrow slot canyons, whose unique geology makes them particularly dangerous and prone to flooding during heavy rainfall. Following Tuesday's flash flood, no injuries or deaths have been reported. All narrows and canyons inside the park are also closed until further notice.
Updates to follow.
All the latest inspiration, tips and guides to help you plan your next Advnture!
Former Advnture editor Kieran is a climber, mountaineer, and author who divides his time between the Italian Alps, the US, and his native Scotland.
He has climbed a handful of 6000ers in the Himalayas, 4000ers in the Alps, 14ers in the US, and loves nothing more than a good long-distance wander in the wilderness. He climbs when he should be writing, writes when he should be sleeping, has fun always.
Kieran is the author of 'Climbing the Walls', an exploration of the mental health benefits of climbing, mountaineering, and the great outdoors.