Why do so many people die at Angel's Landing?
After 14 deaths in 20 years, we ask why so many people die at Angels Landing, the "bucket list" hiking trail in Utah's Zion National Park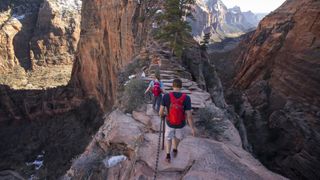 (Image credit: Jordan Siemens)
Angel's Landing is the most popular hike in Utah's Zion National Park, its death-defying ascent making it a bucket list item for many of the park's millions of annual visitors. It's also the Park's most deadly hike, with 14 deaths reported since the year 2000. We set out to answer the question, why do so many people die at Angel's Landing?
What is Angel's Landing?
Angel's Landing is a 1,488ft tall rock formation occupying the Big Bend of Zion Canyon and is one of the most famous landmarks in Zion and indeed the world, and rightly so. This precarious trail takes you up a hair-raising narrow rock fin covering 1500ft in elevation gain in only 2.5 miles of climbing. The trail is strenuous and often single file, making it a popular feat with thrill seekers, and at the top you are treated to views that most would be willing to hike days for.
The first ascent of Angels Landing was reported in the Washington County News in 1924, at which time the landing was dubbed the "Temple of Aeolus". In 1926, a trail was carved into the solid rock on the spine – the fin-like summit ridge – after the construction of Walter's Wiggles, a series of 21 switchbacks that connect the spine to the West Rim Trail.
On the Yosemite Decimal System scale, the hike is given a rating of 3 (moderate, but exposed scrambling), which puts it in company with many other popular hikes around the globe – Scotland's Aonach Eagach Ridge, the Sawtooth on Colorado's Mt Evans, Crib Goch on Snowdon, or any of a hundred or so hikes in the Italian Dolomites – where recorded deaths are low by comparison.
Angel's Landing hike
Why is Angel's Landing so dangerous?
In the last 21 years, 14 people have died on Angel's Landing. According to the US National Parks Service, the greatest dangers faced by hikers on any trip are encountered on the drive to and from the trailhead. The wilds, after all, are home to far fewer hazards than your average road or freeway, and unless you are either particularly careless or strolling through bear country smothered in honey, the odds of making it back home in one piece are stacked in your favor. This being so, when one trail begins posting inordinately high death rates, our curiosity is piqued.
Far from an indulgence of any fascination with the macabre, our wish in creating this post is to alert would-be Angels Landing summiteers to the trail's dangers and bring attention to a worrying trend that threatens to impact the safety of trails far beyond this small corner of southwest Utah.
Is Angel's Landing too crowded?
Almost 4.5 million people visited Zion National Park in 2019 and it's estimated that up to 1,000 people per day take on the Angels Landing hike in peak season. For any landmark, that's a lot of foot traffic. For one where visitation requires a scramble up and along a narrow ridge with a 1000-foot drop on either side, occasional fatalities seem less of a surprise and more of an inevitability.
The law of probability alone dictates that any trail hiked by hundreds of thousands of people every year is likely to see its fair share of accidents. However, while on most trails an errant step, slip, or stumble may result in a grazed knee, bloodied hand, sprained ankle, and/or a touch of embarrassment, Angels Landing's slim margins for error and vertical drops mean that the consequences of the slightest mistake are graver by far.
The trickiest section of the Angels Landing hike begins at Scout Lookout, the saddle that connects the West Rim Trail to the 0.5-mile ridge walk that constitutes the Angels Landing Trail proper. From here, hikers still have 500 feet of ascent before reaching the summit, and things soon take a turn for the airy and scary. While the subsequent ridge is well protected by fixed chains, in places the trail narrows to no more than a few feet wide, creating bottlenecks and traffic jams sometimes 50-100 people deep. And among those waiting in line, alas, there are always likely to be at least a few whose patience falls short of the proverbial saintliness and who try to hurry other hikers along or skip by them, thereby putting themselves and others at risk of a tumble.
Is Angel's Landing too accessible?
While the Angels Landing hike is no Everest, a side-by-side comparison of how accessible each peak is can tell us a lot about why Angels Landing receives so many visitors, and perhaps why the number of recorded deaths has been so high over recent years.
Climbing the world's highest mountain requires jumping through a few sizable pre-emptive hoops. For starters, you'll need a wad or two cash – current permit fees on the Nepali side are not much less than $20,000 and other expenses (guides, porters, oxygen, transportation) can set you back as much again. Secondly, you'll need a very understanding boss and/or spouse – climbing Everest entails blocking around 60 days out of your schedule at a minimum. Thirdly, as of 2019, Everest aspirants are only granted a permit by the Nepalese authorities if they have already climbed at least one Nepalese peak of more than 21,235 feet (6,500 meters). You'll also have to submit a certificate of health and fitness and be accompanied by a trained Nepalese guide.
And Angels Landing? Other than the park entrance fee and enough gas in the tank to see you to the top, until recently you needed nothing at all. However, Zion introduced a lottery system in April 2022 to help control overcrowding, so hopefully there'll be fewer accidents caused by overcrowding in future.
While one of the principal beauties of hiking is its inclusiveness and lack of bureaucracy, a little red tape is sometimes necessary to keep everyone safe. The new system at Angels Landing allocates permits via two lotteries. If you want to hike tomorrow you can enter the daily lottery to secure a spot on the trail at a specific time, or if you'd like to plan your adventure in advance you can enter the seasonal lottery to snag a space on a particular date.
Having a set quota for permits means some people may miss out, but it controls the flow of people, and should reduce both time spent queuing and potentially dangerous bottlenecks.
Is social media to blame?
Blake McWillis of Utah's Epic One Adventures guiding agency told us that it's hard to underestimate the role of social media and peer pressure in the trail's surge in both popularity and deadliness.
"Social media has played a very big part in the increase of visitation to Zion in general. If you look at historical visitation numbers, even up to 2010, the park was getting under 3 million visitors per year. When Utah's Mighty 5 Campaign began around 2012 we saw a definite increase in visitors to the parks. In addition to that, this is when social networks really exploded, and I think it was a combination of the two that really drove the numbers up and made Zion the fourth most visited national park in the entire national park system and increased traffic on trails like Angels Landing.
"You get a lot of people doing it who aren't capable or might not ordinarily have chosen to do it, whether that's because of peer pressure or because their group wants to do it and they don't want to be left behind. With those that fall, it ultimately comes down to being careless and not paying attention. And I think hubris comes into it."
This claim is backed up by a simple Google or Instagram search, where a quick perusal of the results will reveal no shortage of snaps featuring hikers performing handstands and yoga poses on the edge of the cliff, and at least a few thousand pairs of feet dangling in the ether some 1,000 feet above the nearest landing spot.
Therein lies at least part of the problem.
The internet has a tendency to normalize the abnormal and extreme by dint of exposure, to defuse the (often healthy) fear surrounding the unknown by familiarizing us with it from a safe distance. While in some contexts this may be beneficial, in the case of derring-do and ventures into extreme terrain, it can border on criminal negligence.
Influencers and attention-seekers posing on the edge of perilous cliffs in a bid to bank a few 'likes' are – inadvertently, perhaps – providing the "inspo" for countless followers and fellow attention-seekers to do likewise, or at the very least venture into hazardous terrain without adequate experience, know-how, or caution.
Do weather conditions play a role?
As with any trail, what the weather's up to can impact how safe Angels Landing is for hiking. The red Navajo Sandstone rock in Zion National Park is renowned for providing excellent friction, but the passage of millions of feet over the years has polished some sections of the trail to a slick and slippery shine, something that can make it particularly precarious following rainfall. The chains are also harder to grasp when wet.
However, as McWillis explains, conditions underfoot aren't the only issue.
"If you're doing it in the summer, you're going to experience a lot of heat exposure, especially later in the day, so be sure to bring plenty of water, a sun hat, sunglasses, and something for your neck. That's just as important because heatstroke is something the park deals with quite a bit." Given that two of the main symptoms of heatstroke are dizziness and confusion, neither of which are conducive to safe travel on knife-blade ridges, we're apt to agree.
Is Angel's Landing really that dangerous?
All of the above is the bad news. The good news, as McWillis states, is that "of the many people who do the Angels Landing hike, it's a very small percentage who have an accident."
Because the park has not yet implemented a permit system, the exact figure of Angels Landing summiteers is unknown. Even if working with a moderate estimate of 150,000 summiteers per year, however, the death toll would stand well below the 0.0001% mark over the last decade. Not only are these very good odds for survival, they also make Angels Landing a far safer venture than the headlines would have it appear and far less deadly than other popular National Park trails like the Mist Trail on Yosemite's Half Dome, Colorado's Longs Peak, or the Grand Canyon's Bright Angel Trail, all of which have a similar Yosemite Decimal System rating.
How to hike the Angels Landing Trail safely
Planning a trip to Angels Landing? Here are a few tips to help you stay safe:
Get a permit: the National Park Service carries out regular permit inspections, and you won't be allowed to start unless you have one. You can enter the two lotteries for permits online
Wear appropriate footwear: either a pair of hiking boots or your best hiking shoes (not sneakers or sandals)
Don't bring the kids: the exposure on the route can spook even the most cool-headed adults, and many guiding agencies in the area will not take families with young kids (under 12)
Go early in the day: this will help you avoid the worst of the crowds and the afternoon heat
Avoid when icy: unless you have mountaineering experience and plan on using crampons or microspikes and an ice axe, attempting the route in icy conditions is not wise
Go in the shoulder season: the park is busiest from April to October, so March and early November are better times to visit for quieter trails
Practice patience: attempting to skip the line at the bottlenecks will take you perilously close to the edge and place the chains out of reach
Skip the on-the-edge selfies: lives are more important than likes
Go home: if the trail ahead is looking crowded or you're feeling tired, heat-stricken, or at all uneasy about taking on the spine, the safest course of action is to do an about-turn, return to the valley, and go enjoy one of the dozens of other outstanding trails the park has to offer
All the latest inspiration, tips and guides to help you plan your next Advnture!
Former Advnture editor Kieran is a climber, mountaineer, and author who divides his time between the Italian Alps, the US, and his native Scotland.
He has climbed a handful of 6000ers in the Himalayas, 4000ers in the Alps, 14ers in the US, and loves nothing more than a good long-distance wander in the wilderness. He climbs when he should be writing, writes when he should be sleeping, has fun always.
Kieran is the author of 'Climbing the Walls', an exploration of the mental health benefits of climbing, mountaineering, and the great outdoors.