Mother of 'Free Solo' climber becomes oldest woman to climb El Capitan
By Julia Clarke
Alex Honnold's 70-year-old mother just climbed El Capitan for the second time, becoming the oldest woman to do so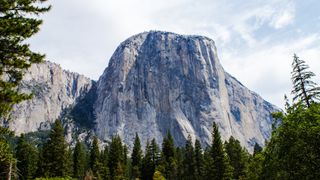 (Image credit: Amanda A / FOAP)
The mother of Alex Honnold, the record-breaking 'Free Solo' free climber, has made history for the second time as the oldest woman to climb El Capitan.
Dierdre Wolownick previously set this record in 2017 at the age of 66, which she wrote about in her book The Sharp End of Life: A Mother's Story, and last month broke her own record aged 70.
Wolownick took up climbing 10 years ago to strengthen her relationship with her son, who in 2017 became the first to climb El Capitan, 3,000ft granite cliff face in Yosemite National Park, without ropes or protective gear. That same year, he took her up El Cap for the first time via the Lurking Fear route. Though known as the easiest route on the rock, the class 5.13 route involves 19 pitches and typically takes four days to complete. Wolownick, however, managed it in well under a day.
"Alex didn't think I could do it… But that night, at 2am, after 13 hours up and 6 down, I became the oldest woman to climb El Capitan," she recalled on am.
The two are frequently seen climbing and hiking around Yosemite.
In October 2021, Wolownick, decided to tackle the mammoth slab again, this time with ten friends for her 70th birthday. The group ascended via the East Ledges Descent Route, the typical descent route for climbers who hike down the steep face until they can continue no further on foot, then rappel down. In reverse, the Descent Route makes for a gruelling climb according to Wolonick.
"The granite slabs that lead you up that last third stretch for what seems like miles. Impossible to protect with rope or any other way. Just walk steeply uphill, endlessly, grabbing whatever tiny edges you can find," she wrote, explaining that while a foot injury made the climb even more treacherous, it was psychological factors that posed the biggest obstacle.
"My writer's imagination could see exactly what would happen if I stumbled… I'd roll down slab after slab, breaking parts of me at every bump of rock, until I reached the edge. Then I'd sail out over the Valley to plummet down 3,200 feet to the Valley floor."
But all ended well, and according to the LA Times, the group reached the summit in time for sunset where they enjoyed cupcakes and wine in celebration. Wolownick says she's still recovering from the feat.
"Climbing El Cap at 70 takes its toll, physically, mentally, emotionally. I'm not 'down' yet. Not sure I ever will be, completely."
Julia Clarke is a staff writer for Adventure.com. She is an author, mountain enthusiast and yoga teacher who loves heading uphill on foot, ski, bike and belay. She recently returned to her hometown of Glasgow, Scotland after 20 years living in the USA, 11 of which were spent in the rocky mountains of Vail, Colorado where she owned a boutique yoga studio and explored the west's famous peaks and rivers. She is a champion for enjoying the outdoors sustainably as well as maintaining balance through rest and meditation, which she explores in her book Restorative Yoga for Beginners, a beginner's path to healing with deep relaxation. She enjoys writing about the outdoors, yoga, wellness and travel. In her previous lives, she has also been a radio presenter, music promoter, university teacher and winemaker.
All the latest inspiration, tips and guides to help you plan your next Advnture!
Thank you for signing up to Advnture. You will receive a verification email shortly.
There was a problem. Please refresh the page and try again.