Best hikes in Yosemite National Park: visit one of the most spectacular places on earth
By Julia Clarke
The best hikes in Yosemite National Park lead you under stunning waterfalls, over massive granite cliffs and into the shade giant sequoia trees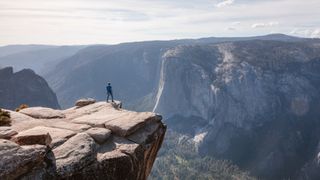 (Image credit: Matteo Colombo)
First protected in 1864, Yosemite's place as one of the most famous national parks in the US is rightfully earned. Yosemite Valley cuts 3,500ft deep into the earth and is walled by massive granite summits like El Capitan and Half Dome. The glacier carved valley creates some of the longest and most stunning waterfalls you will ever see cascading over the edge of steep granite cliffs. Its 1200 acres are also  home to pine trees, tranquil lakes, colorful wildflower meadows and sun dappled giant sequoia groves. It is a playground for campers, hikers, bikers, runners and of course, rock climbers and a must-see for anyone who loves nature. Incredibly, all of this is just a four hour drive from San Francisco, or just over an hour from Fresno, home to an international airport.
Yosemite sits on the western slope of the Sierra Nevada mountain range in California, so it boasts plentiful high country, but most of the park's main attractions lie deep in two valleys carved out by Tuolumne River, which leads to the gorgeous Tuolumne meadow at the foot of the El Capital, and the Merced River which forms Yosemite Valley. Its tributaries are responsible for plunging falls like Yosemite and Bridalveil.
Yosemite Valley was home to the Ahwahnechee tribe before the gold rush brought European settlers in droves. Many of those pioneers started tourism outlets in the valley, while others like John Muir, who came to the valley to herd sheep, fought for the area to be protected – a request which was granted by congress in 1890.
Yosemite is open to visitors year-round barring severe weather conditions in the winter, but the best time to visit is in the spring when the snow runoff makes for thundering waterfalls. Weekends get very crowded so if you can avoid them and go during the week, do. In the autumn, the waterfalls will be less spectacular but the upside is there will be less bugs around, and naturally the summer months are the busiest. Driving into Yosemite will literally take your breath away, even if you've visited many times before, so plan to pull off at a designated viewpoint and breathe in the view upon arrival.
Though you really can't go wrong with any hike in Yosemite, we've compiled a list of the best hikes in Yosemite National Park that will cover a lot of ground – though you can easily do all of these in just four or five days in the park. You'll want your best hiking boots, day pack and walking poles to enjoy these stunning trails. 
Yosemite Falls 
Distance: 7.6 miles
Difficulty: Challenging
Yosemite Falls is one of the tallest waterfalls in the entire world, tumbling 2,425ft from a tributary of the Merced River over the high walls of Yosemite Valley. If you only have time for one waterfall hike, this one comes highly recommended. The Falls is actually a set of three waterfalls forming a cascade of mist and near-constant rainbows that can be seen from vantage points all over the park. The lower falls are wheelchair accessible and the middle cascades offer a great spot to turn around for a shorter hike or pause for lunch. The hike all the way to Upper Yosemite Falls is a strenuous stair stepper, but you'll be cooled by the mist from the falls and be able to photograph the falls and Half Dome in one shot. The upper falls make for a challenging hike so don't plan on doing much else on this day as your legs will be tired afterwards.
Bridalveil Fall
Distance: 0.5 miles
Difficulty: Easy
At a mere 620ft, Bridalveil Fall may be smaller than other waterfalls in the valley, but it is absolutely stunning and because it is such a short hike, you can easily pair it with another hike on the same day. Bridalveil Fall is often the first waterfall you see as you drive into Yosemite Valley. The Ahwahnechee believed it to be a spirit protector of the valley and that inhaling the mist from the falls would increase your chances of marriage. The falls itself form a threadlike, wispy mist that on a breezy day look like a bride's veil. The path to the falls is paved making it an easy but picturesque stop.
The Mist Trail 
Distance: 7.2 miles
Difficulty: Challenging
Yosemite's signature hike is absolute splendor. The rocky Mist Trail takes you up alongside the mighty Merced River as it roars over granite ledges to form both Nevada and Vernal Falls. This hike is unique in that it brings you so close to the falls that you'll want waterproof gear for the section passing by the bottom of Vernal Falls, which is about 1.5 miles in. On a hot day, you can just pack a rain jacket and put it on when you reach the falls where you'll almost definitely find yourself hiking through a rainbow. After this section there's a single file only section cut into the rock face that requires focus and holding on to the ropes. 
It's worth it to keep going to get to the top of Vernal Falls, where you can relax on giant rock slabs and watch the water tumbling out of view. You can turn around here for a fabulous three-mile hike, or keep going to Nevada Falls which is about two more  miles in and makes for a strenuous day hike. The crowds after Vernal Falls thin out considerably and Nevada Falls is another magnificent Yosemite standout that is worth the steps. 
You can return the way you came, but we recommend joining the John Muir Trail to make a loop offering a quieter return through the forest and different views of the Falls as well as Liberty Cap.
Mirror Lake Loop 
Distance: 5 miles
Difficulty: Moderate
Mirror Lake loop offers a less strenuous hike that's perfect for when your legs need a rest from climbing to all those waterfalls. Though it's less of a physical challenge, it offers an equally stunning vista. The hike takes you along Tenaya Creek and around the lake and offers a true nature walk feel with abundant flora and fauna. Mirror Lake is the last remnant of a glacial lake that once filled the entire valley. Surrounded by pine and wildflower meadows, it sits in Tenaya Canyon between North Dome and Half Dome and on a still day, it offers near-perfect reflections of the surrounding cliffs.
Tuolumne Grove of Giant Sequoias 
Distance: 2.5 miles
Difficulty: Moderate
After a couple of days, you'll probably want to escape the hustle and bustle of the valley a little and there's no better place to do that than under the shade of the giant sequoias. Tuolumne Grove is home to nearly two dozen giant sequoias, a species of redwoods which are the biggest trees in the world. Getting to the grove involves a ten-mile winding scenic drive – you'll definitely want to stop at the viewpoints for photo ops on the way – and by the time you arrive, you'll be at almost 6,000ft above sea level. Enjoy the cooler air here as you hike downhill from the parking lot into the grove and then take your time to feel the powerful presence of these immense trees. Giant sequoias are an endangered species to tread lightly. This is an incredibly peaceful place to enjoy a quiet walk and a picnic.
Julia Clarke is a staff writer for Adventure.com. She is an author, mountain enthusiast and yoga teacher who loves heading uphill on foot, ski, bike and belay. She recently returned to her hometown of Glasgow, Scotland after 20 years living in the USA, 11 of which were spent in the rocky mountains of Vail, Colorado where she owned a boutique yoga studio and explored the west's famous peaks and rivers. She is a champion for enjoying the outdoors sustainably as well as maintaining balance through rest and meditation, which she explores in her book Restorative Yoga for Beginners, a beginner's path to healing with deep relaxation. She enjoys writing about the outdoors, yoga, wellness and travel. In her previous lives, she has also been a radio presenter, music promoter, university teacher and winemaker.
All the latest inspiration, tips and guides to help you plan your next Advnture!
Thank you for signing up to Advnture. You will receive a verification email shortly.
There was a problem. Please refresh the page and try again.