Friday 5: New FKT holder Graham Connolly
The Scottish Ultra runner answers our quick-fire questions after setting a record time for the Cape Wrath Trail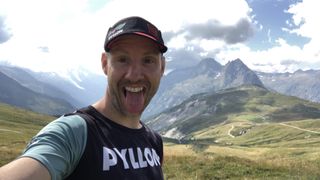 (Image credit: Graham Connolly)
Graham Connolly recently ran the remote Scottish 230-mile Cape Wrath Trail with his friend and coach Paul Giblin. They finished the supported run in under four days and set a new Fastest Known Time (FKT).
Paul is the founder of Pyllon Ultra and Graham is part of the tight knit coached and racing team.
Graham says: "Don't be fooled by the word 'trail'. There is no trail on the Cape Wrath Trail. I 'child drew' a line on a map with a crayon one day and someone thought it was a good idea.
"Once my body is less broken I will be starting to prepare (again!) for the Montane Spine Race in January. I was in for 2020, but like the rest of the year it got cancelled."
Graham took up ultra running seven years ago to fill the gap left by cage fighting and mixed martial arts. He says he needed purpose and direction. The dad-of-two, with another on the way, has since won several races and been on a few podiums but for him the best part of ultra-running is the adventures outside of racing.
He says: "My highlights have been attempting to run a double 96-mile West Highland Way in under 24 hours and the 864km Scottish National Trail in under 100 hours with the Pyllon Racing Team as part of a charity event."
His team also runs "Pyllon Endeavour" once a year to raise funds for the mental health charity SAMH and to raise awareness of mental health.
Graham, who fixes submarines for a living, adds: "I have a bee in my bonnet at the moment about getting off the hamster wheel of chasing wins and podiums and getting back to ultra running being an adventure.
"I want it to be a test of how far down the hole I can go and how much I can take, rather than how many pats on the back can I get for perceived success. It's a bit of a Barkley hangover and it is the why behind attempting the Cape Wrath FKT and entering the Spine."
If you could only keep one item out of all your outdoor gear, which would you keep and why?
This is easy to answer. It's my Pyllon Ultra Buff. I got it at the first Pyllon Experience weekend, which was a really turning point for me after going through a bit of a dark patch. It turns out people are quite cool and hanging out with them is pretty cool, too.
What's your pet peeve in the outdoors/adventure space?
This is probably going to ruffle a few feathers here but it's dogs. Sorry, dog lovers. If your dog can't walk past someone without jumping all over them, keep it on a lead, especially if it is the size of a small horse or looks like it would beat a bear in a fight.
And don't even get me started on people not picking up dog poo or leaving it in a little bag hanging somewhere for the non-existent dog bag poo picker uppers.
If you could be instantly transported to the start of any adventure, what would it be, where and why?
The Barkley Marathons (opens in new tab). Running. Supporting. Doing the dishes. Woudn't matter. I was lucky enough to get to the park in 2019 while supporting Paul Giblin. I could sit here all day and write about how much it meant to me and what a wonderful experience it was.
We're sitting round a campfire. Tell us a funny or entertaining story about one of your adventures.
I spent three months on a submarine preparing for The Highland Fling race. It was my second ultra. The cliché about not using anything new on race day has become a cliché for a reason.
I spent most of the time training on cold coffee and almonds. My brother kindly organised my drop bags for the Fling with Tailwind and Honey Stingers, as I only got back two days before the race. This cool new stuff sounded the bomb.
It proved to be the case literally because my stomach gave in every 20 to 30 minutes for about 18 miles from just before Balmaha to just after Inversnaid. It was horrendous. I'm still traumatised by it.
For context, I finished 259th in 11 hours and 9 minutes. The next time I ran it I was sixth in 7 hours and 56 minutes. Not to give Tailwind a bad rep though. I use it most weekends now and during races with no problems. I'm a fan.
Is there any gear that's on your shopping list at the moment?
Between my Cape Wrath and Spine prep I think I have at least three of everything ever made for ultra runners. Seriously, if you ever fancy The Spine Race I would start by getting a part-time job. My brother has just bought the full get up for open water swimming so no doubt I'll be following suit shortly. I have little brother syndrome.
All the latest inspiration, tips and guides to help you plan your next Advnture!
Fiona Russell is a widely published adventure journalist and blogger, who is better known as Fiona Outdoors. She is based in Scotland and is an all-round outdoors enthusiast with favourite activities including trail running, mountain walking, mountain biking, road cycling, triathlon and skiing, both downhill and back country. Her target for 2021 is to finish the final nine summits in her first round of all 282 Munros, the Scottish mountains of more than 3,000ft high. Aside from being outdoors, Fiona's biggest aim is to inspire others to enjoy the great outdoors, especially through her writing. She is also rarely seen without a running skort! Find out more at Fiona Outdoors (opens in new tab).