Friday 5: Ultra runner Jason Kelly
The Scottish athlete answers our questions in this quick fire interview series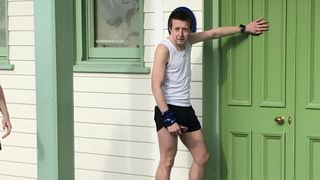 (Image credit: Jason Kelly)
Jason Kelly, 25, has recently set a new record time for the 70km Deeside Way in Scotland.
The Aberdeenshire athlete started running when he was two stones overweight. By 2018, he was seeing success with some local race podiums and wins but he mainly focused on road racing and the shorter distances.
In late 2019, he had his first focused attempt at an ultra. He entered the Foxtrail Nocturnal Ultra, which is a six-hour timed night race around a 5km trail loop in Scotland. He won in a new course record having run 16 laps (80km).
IN March 202, he won the D33 Ultra and also took second places in the iconic Lairig Ghru mountain marathon, the Bennachie Ultra and the Speyside Way Ultra.
His latest record run saw him set a time of 4:45:46 for the Deeside Way.
If you could only keep one item out of all your outdoor gear, which would you keep and why?
This is a tough one. I work in a running shop so I get to test out a lot of running-specific kit. I'd probably have to say my Salomon Advanced Skin 5 Set running pack.
I use this for run-commuting almost every day and also any time I'm out in the hills so it has seen a lot of use and has been superb since its first outing.
What's your pet peeve in the outdoors/adventure space?
People trying to tell me that running is bad for my knees/joints/whatever else. Even if it were true, it's a very odd thing to feel that you need to say to a complete stranger.
I remember one occasion when I was running in the Cairngorms and I was running really well up the southern climb to Carn a'Mhaim when I passed a couple of guys out walking. They looked to be maybe in their early sixties.
I gave them a polite "good morning!" as I passed and one replied with: "Be careful, those knees will need to last you a lifetime."
Why would you say that?
And that is before even getting into the nitty-gritty about how it is factually untrue. There have been absolutely no respected, peer-reviewed studies that suggest that running is damaging in the long-term to your knees.
There have however been many that conclude that later-life knee problems are far more prevalent in those who have never been runners than in those who have. It shouldn't bother me, but it's a very ignorant comment to make.
If you could be instantly transported to the start of any adventure, what would it be, where and why?
It would probably be something like the start line of the Western States 100 mile race in the US. That's such an iconic ultra and I must have watched about 100 different short films about it on YouTube.
It is definitely on my bucket list to go and try and be relatively competitive there at some point in my running career.
Or I would like to be at the start line of the West Highland Way race. It may not be as exotic but it's no less iconic to me and if there was one race in Scotland that'd I'd really love to win some day, that would be it.
We're sitting round a campfire. Tell us a funny or entertaining story about one of your adventures.
One moment that sticks in my mind is in 2019 when I was part of the crew for my friend who was racing the Hardmoors 200 mile trail race.
It must have been about 150 miles into the race. He hadn't slept for about 45 hours – and we hadn't slept for about 45 hours – and we were waiting for him at this tiny layby at the side of a remote road in the middle of nowhere, in pretty terrible weather and in the pitch black at around 3am.
After a while, he appeared out of the darkness and informed us that he has just spent the last hour hallucinating various Disney characters appearing out of the woods in front of him, but that other than that he is feeling pretty good.
He then grabbed a fresh soft flask of water, crossed the road and disappeared back into the fog. I remember just standing there for a while afterwards thinking "what the hell are we all doing with our lives?!".
He went on to win the race!
There is another story from when I was about 12 years old and hiking up Lochnagar with my dad.
Early on there is a stream that you have to either wade through or rock-hop across. We decided to try to pick our way over the rocks and my dad warned: "Be careful, some of the rocks are quite slippery."
He then immediately slipped and landed flat on his back in the stream. He got up and declared: "See, I told you!" and promptly fell in again.
I still remind him of that to this day.
Is there any gear that's on your shopping list at the moment?
Always! I'm an absolute running gear fanatic. The new Nike Vaporfly Next% 2 shoes are being released this week so I'll be straight online to grab a pair of those.
There's also some really nice new Adidas Terrex clothing that has just released that looks brilliant.
On a slightly bigger scale, I'm looking to get myself a TentBox Lite roof tent for my car soon so I can get away for some multi-day mountain runs in Scotland this summer.
All the latest inspiration, tips and guides to help you plan your next Advnture!
Fiona Russell is a widely published adventure journalist and blogger, who is better known as Fiona Outdoors. She is based in Scotland and is an all-round outdoors enthusiast with favourite activities including trail running, mountain walking, mountain biking, road cycling, triathlon and skiing, both downhill and back country. Her target for 2021 is to finish the final nine summits in her first round of all 282 Munros, the Scottish mountains of more than 3,000ft high. Aside from being outdoors, Fiona's biggest aim is to inspire others to enjoy the great outdoors, especially through her writing. She is also rarely seen without a running skort! Find out more at Fiona Outdoors.