Hikers complete the longest straight line between two roads
Quirky challenge sees friends following a single bearing for four days through wild terrain of Scottish Highlands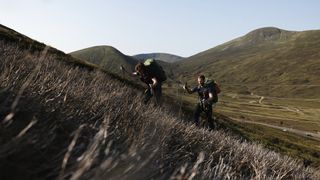 (Image credit: Johny Cook)
Two adventurers have become the first to complete a wild and challenging journey on the "longest straight line in Britain without crossing a road".
Calum Maclean and Jenny Graham, hiked, climbed, scrambled and waded the route from the A9 to the A939 in the Scottish Highlands.
They did not veer from a bearing of 67 degrees – in an east-northeast direction – for four days non-stop. They wild camped each night wherever they stopped.
The route took them through the heart of the Cairngorms National Park. There were no paths or trails to follow and the pair had to negotiate whatever came their way, including steep hills, mountain summits, forests, crags, gullies, river crossings, streams, bogs, peat hags and many miles of thick heather.
They finished the 78.55km journey – with a total ascent of 5706 metres – on Monday evening.
What is the longest straight line in Britain?
It was in 2018 that the route of the longest linear walk in Britain without crossing a road was first plotted. Map makers Ordnance Survey (OS) were intrigued by a question posed on Twitter.
Roger Dalton (@100in7) wrote: "What (and where) is the longest distance you can walk in a straight line in England/Wales/Scotland without crossing a road (defined as a paved surface for vehicular use)."
Intrigued, OS experts set about trying to find the straightest lines between tarmac roads in Scotland, England and Wales.
In Scotland, the longest linear walk without crossing a road is from the A9, just north of the Drumochter Pass, to the A939, south of Corgarff.
They concluded the exact straight line distance was 71.5km (44.43 miles ) with a total ascent of around 5394m (17,700ft).
The highest point is the summit of Beinn a'Bhuird at 1197m (3927ft). It is the 11th highest mountain in the UK. Other mountains on the route include Beinn Bhrotain and Ben Avon.
In Wales, the longest straight walk without encountering a road is 22.2km and runs along the south of the Cambrian Mountains.
For England, the longest straight walk is in the North Pennines to the east of the Lake District. The straight line is 29.8km.
At the time of plotting the line, an OS expert commented: "I wouldn't recommend anyone do it unless they are very conversant with a map and compass. It is not following known tracks or paths and it looks like there may well be several scrambles along the way, too."
What is it like to walk the longest straight line?
Calum, 32, of Aberfeldy, Perthshire, and Jenny , 42, of Inverness, are thought to be the first to complete an end-to-end journey of Britain's longest linear walk without encountering a road.
There are reports of a couple of previous attempts but each was aborted.
The pair set out on Friday August 27 at 9.16am. They finished at 9.12pm on Monday August 30. It took 83 hours and 56 minutes in total.
Calum, a broadcaster and presenter, said: "Walking in a straight line did feel very unnatural. I had a mix of feelings, from monotonous and depressing to really joyful. Overall, it was quite gruelling.
"But, then, when we reached the summits and got the opportunity to gaze back from where we'd come, it was a real feeling of satisfaction.
"We could draw a line with our eyes, which linked the heather below our feet to the river in the glen below, the deep hidden gullies, rocks on far off hills and beyond into the distance.
"In those moments, I think the purpose of walking a straight line became a bit clearer."
Jenny, a round-world record-breaking cyclist, said: "Walking in a straight line sounds like the simplest of all adventures but it turned out to be the most complex navigation of any trip I've been on.
"However, completing the route and sticking as close to the line as possible while exploring the national park in such a unique fashion was pretty special."
The project was supported by EXPED UK (Expedition Equipment) and outdoor clothing sponsor was Montane.
Chris Gordon, of EXPED UK, said: "What seems on paper to be such a simple idea, following a constant straight line, when taken to an environment like the Cairngorms and followed as exactly as Jenny and Calum have across mountain tops, rivers and crags makes for a truly inspiring adventure and a remarkable achievement.
"In addition, the expedition proves, if it was ever in doubt, that we can find truly wild and exciting journeys on our own small island."
Highs and lows on the longest straight line
The pair reported that it is much harder than they imagined to keep a straight line on unpredictable terrain.
Jenny said: "It's really tricky to stop yourself veering from the bearing on rough ground. You think you know what a straight line is but then you look at the GPS and realise you don't.
"You also have to let go of everything that is in your head. Sometimes this means not doing what appear to be the most sensible when looking at the terrain."
Calum added: "We tried following a compass bearing but it wasn't that accurate. Then we followed a line on our GPS devices, which was better but still difficult.
"Even a small gully is hard when you have to go in a straight line. Common sense says go round it, but we were determined to stick to the straight line."
They were surprised by how slow their progress was. Jenny said: "We walked in a straight line for 11 hours and we covered just 10 miles on day one. They were the toughest 10 miles of my life.
"On day two, it took us 13 hours to do 13 miles. That's a mile an hour. It was so tough on all the heather and with so many steep ups and downs."
Calum revealed that when walking through peat hags on the first day they were reduced to a speed of "just 3km per hour. That is so slow!"
Many miles of deep heather-covered hills, mountains and moorland made the challenge even more arduous. Jenny said: "At some points I was crawling up heather on my hands and knees."
Calum added: "I was cursing every bit of heather on day two. But also the terrain was incredibly monotonous at times. It was a real slog."
Numerous crags on the route gave Calum and Jenny cause for concern. Calum said: "We knew there would be many crags on the straight line and we were worried about what we would come across. There were huge slabs on some descents and they were wet with water running over them.
"A few times we attempted to down climb but it was too risky and so we had to slightly detour off the line. This only happened a few times though, thankfully."
One of the hardest sections came at the end of the longest straight line on day four. Calum said: "The line just stopped but we weren't at a road. It stopped at a track.
"We looked at the map and we had to make it through a thick forest to get to the A939. This was one of the toughest parts of the entire line.
"We actually did a few kilometres more than OS had suggested for the route because we needed to make it to the road."
There were plenty of highs, too, on the longest straight line route in Britain. On day one, Calum, a keen wild swimmer, was delighted by the discovery of a hidden waterfall.
As the pair came to the high hill pass of the Lairig Ghru on day three, they were treated to "amazing views". Calum said: "There was a temperature inversion and the view was amazing. It was very uplifting."
They also enjoyed days of sunshine and "the best blaeberries; so sweet and juicy."
Jenny concluded: "It was such a cool experience, doing something that others have not and reaching places I had never visited despite thinking that I knew the Cairngorms so well."
Summit Fever Media intend to premiere a 20-minute film of the longest line project at Kendal Mountain Festival 2021 in November.
All the latest inspiration, tips and guides to help you plan your next Advnture!
Fiona Russell is a widely published adventure journalist and blogger, who is better known as Fiona Outdoors. She is based in Scotland and is an all-round outdoors enthusiast with favourite activities including trail running, mountain walking, mountain biking, road cycling, triathlon and skiing, both downhill and back country. Her target for 2021 is to finish the final nine summits in her first round of all 282 Munros, the Scottish mountains of more than 3,000ft high. Aside from being outdoors, Fiona's biggest aim is to inspire others to enjoy the great outdoors, especially through her writing. She is also rarely seen without a running skort! Find out more at Fiona Outdoors.