Best trail running shorts: for training on technical terrain and racing on rough stuff
By Pat Kinsella
We test the best trail running shorts, taking them off road in all weathers, tackling unpredictable conditions and challenging landscapes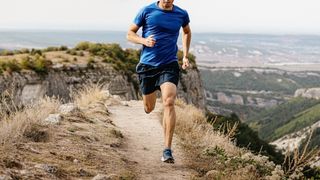 (Image credit: Getty)
The best trail running shorts are not just any old athletics shorts. When you go running on trails – whether you're following footpaths through forests and across fields, or taking on a technical single track in alpine conditions on the flanks of towering peaks – you need the best gear you can get. After all, if you've splashed out on the best trail running shoes, it'd be daft not to wear some shorts that have been specifically designed for tackling rough terrain as well. 
The best trail-running shorts (and the best women's running shorts and skorts) need to offer storage, support and protection where it's required, and facilitate freedom of movement when it's needed most – for tackling obstacle-strewn trails, and steep ascents and descents. 
We have been busy trail testing the best men's trail  running shorts currently available for running on a range of terrain. The Dynafit Vert 2s and Rab Talus stand out as great lightweight options, while the Salomon Agile 2-in-1, Inov-8 Race Elite, Montane Razor and Columbia Montrail Titan shorts are excellent all-rounders.
The Gore R7s are arguably the best on test, but come with a premium price tag to match, while the Evadict Baggies are extraordinarily good value for such a well-featured garment. Shorts by Gym+Coffee and BAM are less technical, but offer great comfort and work well as crossover options for those who exercise on and off the trails.
The all-round best trail running shorts
Salomon Agile 2-in-1 shorts
Well-made shorts specifically designed for running long distances off road
RRP: $50 (US) / £45 (UK) | Inseam length: 21cm / 8in | Sizes available: S-2XL | Weight (large): 181g / 6.4oz | Materials: Outer short: Polyester (100%) / Inner short Polyester (84%) and elastane (16%) | Colors: Black / Wrought Iron / Olive Night / Night Sky
Super supportive inner
Zipped back pocket
Pocket space limited
These trail running shorts from French running specialists Salomon feature an excellent integrated inner tight, which offers superb support and prevents (or lessens the chances of) the wearer suffering chafing in the cruelest areas. The inner is reasonably breathable and the outer material has mesh along the upper thigh to help with venting and airflow. The main material is very lightweight and dries out quickly after getting wet. The waist is elasticated, with a draw cord for extra security. 
The small back pocket, which zips shut so you can place things in it with confidence, is located centrally on the rear of the waistband, so the contents don't jiggle around and annoy you when you're in motion. Sadly, there are no other pockets or pouches for stashing gels and so on – a strange omission. 
Available in a range of colors, some with patterns, the Agile 2-in-1 shorts have reflective details on the sides and front, for security when running in places where there are vehicles after dark, but an extra high-vis flourish on the rear would have been a nice touch.
Montane Razor Running Shorts
Lightweight mountain-fit men's running shorts with a mesh inner
RRP: £45 (UK) | Inseam length: 18cm / 7in | Sizes available: XS-XL | Weight (large): 115g / 4.1oz | Materials: Shell: Polyester (88%) & Elastane (12%); Inner: Polyester (96%) & Elastane (4%) | Colors: Black / Flag red
Lightweight & quick drying
Reflective details
Zipped pocket
Breathable mesh inner
Lack of gel pouches
Waist tie very short
Designed for mountain running, but entirely suitable for all sorts of trail running escapades, Montane Razor Running Shorts are smartly made with a relaxed fit to allow for plenty of freedom of movement. There's a breathable and supportive 'Apex-Dry' mesh inner to keep everything where it should be, and the shorts are treated with Polygiene permanent odor control. 
There's one modest-sized zipped pocket, located centrally on the rear of the waist band, where you can stash car keys. A second, much smaller, secret pouch is found on the inside of the shorts, just to the right of the waist tie – it's not really clear what this is for, it's too small for most gels, but you could just about get a house key in there. Sadly, there are no other gel pouches. 
Made from quick-drying 'Aeroflyte QD' fabric the Razor outer short has reflective features front and rear, which is a nice addition for those times when you find yourself running on the road or along lanes in the dark with vehicles around. 
Inov-8 Race Elite 7-inch Shorts 2.0
Well featured off-road running shorts with a very supportive and dynamic liner
RRP: $75 (US) / £65 (UK) | Inseam length: : 18cm / 7in | Sizes available: XS-XL | Weight (large): 153g / 5.4oz | Materials: Outer short: Polyester (100%) / Inner short: Polyester (63%) and elastane (37%) | Colors: Black
Supportive inner liner
Zipped rear pocket
Reflective elements
Relatively expensive
Only available in black
There is a superb – substantial, but breathable and moisture-wicking – inner on this particular entry in our list of the best trail running shorts, which extends further down the thigh than the outer shell and works well to prevent chafing. The outer is lightweight and features mesh panels along the thigh to help with venting and airflow. It has also been treated with a water-resistant DWR finish on the outer fabric, which helps keep you dry (but if they do get soaked, they dry quickly). 
There is a larger element of elastane (37%) in these shorts than any others on test, and they are very stretchy for leaping over obstacles on the trail and tackling steep and technical slopes. They feature a wide waistband, which keeps them firmly in place even beneath a hydration pack, but there is a ribbon-style draw cord too, for extra tightening if required. 
There is just one pocket, but it is intelligently located in the centre of the rear waistband. It zips shut, so you can place things in there without fear of losing them mid run, and there's a cord for looping around car keys for extra security in case you forget to do the zip up. Unfortunately, there are no additional pouches for gels, which many runners would like. 
The front-located logo and a couple of side stripes are reflective, for safety when running where there are vehicles in poor light, but an extra reflective flourish on the back would have made them more effective in this regard. 
Best lightweight trail running shorts
Gore R7 2in1 Shorts
Premium-performance lightweight running shorts, with excellent features
RRP: $120 (US) / £100 (UK) | Inseam length: 25cm / 9.8in | Sizes available: S-XXL | Weight (large): 117g / 4.1oz | Colors: Orbit Blue & fFreball / Scuba & Sphere Blue / Black
Supportive tight-style inner
Three pockets, one zipped
Lightweight & comfortable
Technically advanced
Cool colorways
Pricey
The slim-fit cut and design of these shorts means they fit snuggly, while still allowing plenty of freedom of movement, but there's very little excess fabric flapping around and annoying you. The material mix is intelligent, with enough elastane to provide all the stretch and dynamic range you could need on even the most technical trails, while keeping the overall weight low and the performance levels high – with good breathability, moisture-wicking and rapid drying capability. 
The inseam length is long, but there's a large split on the leg, which helps facilitate high knee raising to overcome obstacles on the trails, and the seams are all flat, which increases comfort levels. Storage is good, with a centrally located zipped pocket on the rear of the waistband – for the really must-not-lose stuff – flanked by a brace of mesh pouches for gels and jellies. The elasticated waistband is wide and comfortable, and it's backed up by a draw cord with rubber tips to avoid it getting lost. 
The colorways are a bit more exciting than some of the other shorts on test, and there are reflective elements for safety on lanes and roads once the sun sets on the trails. These are seriously excellent shorts, but you would seriously expect that for the less-than-lightweight price tag. 
Dynafit Vert 2 M Shorts
Nimble, tight-fitting featherweight shorts made for minimalist runners who want to travel very light and fast
RRP: £75 (US) / £60 (UK) | Inseam length: 9cm / 3.5in | Sizes available: S-XXL | Weight (large): 99g / 3.5oz | Materials: Shell: Polyester (100%); Inner: Polyester (88%) & Elastane (12%) | Colors: Asphalt / Black / Methyl Blue
Breathable inner
Ultra light
Dynamic shell
Excellent storage
Tight sizing
Fairly pricey
The most skimpy and gram-shaving trail running shorts we had on test, the flyweight Dynafit Vert 2s are so economical with their usage of material that a UK Large is considered a Medium in the US – and buyers need to be aware of this. Our tester – always comfortable in standard 'Large' running gear – found the Large in the Vert 2s borderline uncomfortably tight, so it's worth considering going up a size if you don't like your shorts to be too restrictive. 
Strangely, although clearly built for speed, the storage capacity on the Vert 2s is among the most generous on test, with a zipped pocket centrally positioned on the rear of the waistband, flanked by two large mesh pouches which can take much more than one gel each. This actually makes more sense that it first seems, as the extra carry capacity means runners can take on longer distances without wearing a race belt or loading up a heavy hydration pack – you could conceivably stash enough fuel in these shorts to do big runs in good conditions, without any pack, so long as you had a handheld water bottle to refill in streams. 
There is a good supportive and highly breathable mesh inner, and the short shell outer is made with 'Dynatastic', an ultralight, moisture-wicking stretchy material, with a large split on the leg to further facilitate full freedom of movement. There are high vis reflective touches on the back of the shorts, and the waistband is broad and comfortable, with a draw cord as a back-up. 
Rab Talus Shorts
Shorts for summer summit sprints and hot days on the trails
RRP: £50 | Inseam length: 22cm / 9in | Sizes available: S-XL | Weight (large): 109g / 3.8oz | Materials: Polymide (86%), Elastane (14%) | Colors: Beluga / Azure / Acid Yellow
Lightweight
Dynamic design with lots of stretch
No lining
Few pockets
The Talus shorts are part of the Rab Skyline range of running gear designed for the mountains. These built-for-speed shorts are made with super lightweight 'Matrix' single-weave fabric, which has plenty of stretch capability and allows you to move freely when ascending and descending steep slopes, and leap over obstacles on technical trails. Lifting your leg and raising your knee high mid stride is made even easier by the split vent, and a stitch-free bonded hem means there's little to no friction. It also dries extremely quickly if you get caught in a storm. 
There is a rear-facing, relatively small zipped pocket for essentials on the right hip (angled to avoid annoying bounce while you're in motion) and a discreet gel pouch on the left hip. The logo on the front and an arrow pattern on the rear are both reflective, as a safety feature for running in the dark when there are vehicles around. 
The major downside of these shorts is the lack of a liner, which means you need to combine them with technical underwear/leggings, which won't be so quick drying or breathable, or throw caution (and support) to the wind and go commando. The waist is firmly elasticated, and there's a drawcord for further adjustment
Best budget running shorts
Evadict Men's Trail Running Baggy Shorts
Low-price, high-performance, comprehensively featured trail running shorts that offer loads of value
RRP: $25 (US) / £20 (UK) | Inseam length: 15cm / 6in | Sizes available: S-2XL | Weight (large): 146g / 5.1oz | Materials: Shell: Polyester (100%); Inner: Polyester (90%) & Elastane (10%) | Colors: Black / Grey Patterned
Excellent value
Mesh brief inner
Lots of pockets for carry capacity
Reflective details
Relatively heavy
Shell not as stretchy as others on test
For the low price tag, these shorts offer a lot of performance and value. They're constructed with a lightweight, quick-drying, baggy outer shell and a supportive mesh inner brief to restrict unwanted movement while you're running. The loose-fit outer means you can raise your legs high while tackling technical terrain, although the material mix used is less dynamic than other trail running shorts reviewed. 
The outer features a mesh gusset between the legs, which is good for venting and airflow. The carry capacity of these shorts is the best on test, with two zipped pockets (both centrally positioned, one on the front and one on the rear) for stashing important things, and several mesh pouches for gels on longer runs. There's also an unusual and quite large pouch on the front – over the top of the zipped pocket – which could be used for carrying all sorts of things (although we think that the brand's claim that it will hold a wind jacket is a little ambitious). 
All the extra zips and materials come with a small weight penalty (vastly increased, of course, if you actually load all those pockets full of treats, sweets and gear), but the wide elasticated waistband (backed-up by a decent-length draw cord) spreads the load and provides security. There are reflective details on the front and rear of these shorts, so drivers can see you when you're running on roads and lanes after dark. 
Best versatile running shorts
Columbia Montrail Men's Titan Ultra II Shorts
Highly featured, well-designed and versatile performance shorts for running on the rough stuff
RRP: $60 (US) / £45 (UK) | Inseam length: 13cm / 5in | Sizes available: S-XXL | Weight (large): 208g / 7.4oz | Materials: Shell: Polyester (86%) & Elastane (14%); Inner: Polyester (81%) & Elastane (19%) | Colors: Black
Supportive tights-style inner
Zipped pocket and gel pouches
Reflective features
Comfortable
Heavier than others on test
Limited colorways
These multi-use shorts are excellent for trail running – whether you're training or racing – and can also be worn while fast packing or hiking in warmer months. They boast a zipped pocket (for important things), centrally located on the rear waistband, plus two mesh pouches on either side, which are great for carrying gels. 
The elasticated waistband is broad and comfortable, and there is a draw cord for extra security and adjustment. The inseam length of the shell layer is quite short (offering plenty of freedom of movement) while the tights-style inner extends much further down the thigh, offering support and protection. 
The dynamic elastane content is split between the shell and the inner layer, and tackling technical terrain is no issue in the Titan IIs, because you can raise your legs as high as your flexibility will allow, without the material restricting you. The breathable, moisture-wicking inner has been given an antimicrobial treatment (with an active biocidal substance called pyrithione zinc) to inhibit bacterial growth, and the lightweight, quick-drying outer shell has a mesh strip along the thigh for venting and air flow. There are reflective flourishes on the front and back of these shorts, for safety when running on lanes and roads after dark, but the color choice is limited. 
Gym+Coffee Pace Shorts
Nicely detailed trail and gym shorts for runners who like to keep in good all-round shape
RRP: $52 (US) / £35 (UK) / €40 (EU) | Inseam length: 23cm / 9in | Sizes available: XS-XXXL | Weight (large): 145g / 5.1oz | Materials: Nylon (88%), Elastane (12%) | Colors: Blue / Black / Grey
Comfortable and ultra stretchy 
Two zipped pockets
Generous range of sizing
No inner
Colorway prone to showing dirt
Designed in Ireland, there's a clue in the brand name that these shorts are as much designed for gym monkeys as they are for trail bunnies, but as a crossover, crossfit garment for people who like to lift weights, do planks and leg it along single-track paths, these are a great option. 
They're extremely comfortable, have two zipped pockets for keeping things secure, are made from super stretchy material and feature a split leg to facilitate plenty of movement while running. There is no inner, but you can either wear performance underwear or go commando – the cut and length is sufficient to protect most men's modesty. The waistband is particularly substantial, but there is a tie cord as well. 
BAM Standon Bamboo Athletic shorts for men
Comfortable cross-over bamboo shorts for running and many other activities
RRP: £40 (UK) | Inseam length: 23cm / 9in | Sizes available: S-XXL | Weight (large): 344g / 12.1oz | Materials: Bamboo Viscose (67%), Organic Cotton (27%) & Elastane (6%) | Colors: Black / Charcoal Marl
Environmentally friendly
Supremely comfortable
Naturally odor resistant 
Breathable 
Moisture wicking
Warm
No inner
Heavy
Take a long time to dry
Easily the most comfortable shorts on test, the next-to-skin caress of the majority bamboo double-knit material used in this garment is sensational, but it's not all about the touchy feel factor here – bamboo viscose is also a performance fabric. It breathes well, wicks moisture away from the body and keeps bacteria and bad smells at bay, even after repeated use. 
Along with the other main ingredient in these shorts, cotton, it's also grown instead of being artificially made, and it will biodegrade at the end of its active life. It is, however, heavier than the synthetic materials used in the other shorts on test, and if it gets wet that becomes much more of an issue – it will take much longer to dry, and the bamboo/cotton mix is no good for keeping you warm when wet. 
These shorts are not specifically intended for trail running, but in dry conditions, they do offer an interesting and comfortable option. There's no liner, but you don't necessarily need one, or you can wear performance underwear. These shorts feature two zipped hand pockets, on either side, and they can just as easily be worn as a hiking short, or for climbing, as a running garment. 
What to think about when buying the best trail running shorts
For an ostensibly simple garment, there is a lot of variation to be found in the materials used and features included in the wide range of trail running shorts available these days. So if you seriously want to get into trail running, finding the right ones for you is as important as finding the best running gloves and trail running sunglasses.
Trails vary enormously, as do personal preferences, but all running shorts need to be breathable, and the ability to wick and deflect moisture is invaluable, as is the capacity to quickly dry out after a drenching. 
Materials
The best trail running shorts are made from materials that are lightweight, breathable, moisture-wicking and quick to dry. You will also want a dynamic fabric, which will move and stretch with you as you run. Synthetic materials such as poly-based fabrics are, frankly, terrible for the environment, so look for recycled content and alternative options such as bamboo.
Length
Typically quoted in inches, the inseam length of a pair of shorts is the measurement between the bottom of the leg and the seam at the base of the crotch. The most common lengths are 5, 7 and 9 inches. This one really comes down to personal preference, but if you run regularly in areas where hazards such as nettles and brambles are commonplace, you might want a longer short. Mid summer, a shorter leg is nice. Look for stretch in the material and features such as splits to facilitate a full range of leg movement, so you can raise your knees to get over trail obstacles. 
Liner or no liner?
Shorts with no liner give you some flexibility on how you want to wear them (with technical undies, or commando), which means you can go superlight if that's your preference. You can also get more runs between washes if you don underwear beneath your shorts, and the main (more expensive) garment will last longer as a result. But many people prefer an integrated liner, either made of mesh (very breathable, but less robust and supportive) or a tights-style inner, which will offer loads of support and protection, but can run warm. The latter kind of liner also offers excellent protection against the dread of chafing, which has prematurely and painfully ended many a runner's race or training session. 
Baggy or tight?
Most of the best trail running shorts are more substantial and less tight than road running or track shorts, because they need to be able to deal with a greater range of conditions and offer the wearer more protection from flora and fauna. That said, you don't want too much excess material flapping around, as it can become annoying, slow you down and snag on trees and brambles. Baggier garments offer more range of movement,  but good design and use of dynamic modern materials mean that you can have a slim-fit short that still offers ample freedom. The combination of a stretchy inner and a looser lightweight outer is a combination preferred by many trail runners. 
Pockets
Far more than road runners, trail scamperers will want to take stuff with them on their run, from a phone to take scenic summit selfies to gels, jellies and other snacks to keep them going. At least one pocket with a zip is highly desirable, so you can safely stash your car/house keys. Mesh pouches for gels are a good too, offering options without adding much weight to the short. 
Writer, editor and enthusiast of anything involving boots, bikes, boats, beers and bruises, Pat has spent 20 years pursuing adventure stories. En route he's canoed Canada's Yukon River, climbed Mont Blanc and Kilimanjaro, skied and mountain biked through the Norwegian Alps, run an ultra across the roof of Mauritius, and set short-lived records for trail-running Australia's highest peaks and New Zealand's Great Walks. He's authored walking guides to Devon and Dorset, and once wrote a whole book about Toilets for Lonely Planet. Follow Pat's escapades here.
All the latest inspiration, tips and guides to help you plan your next Advnture!
Thank you for signing up to Advnture. You will receive a verification email shortly.
There was a problem. Please refresh the page and try again.