A European adventure cycling first as women riders take on 700km challenge
By Julia Clarke
A group of women riders will ride the Torino-Nice Rally route in the first-ever bikepacking challenge for women in Europe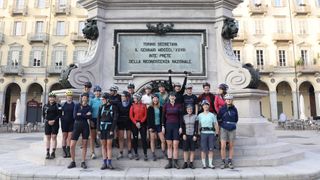 (Image credit: Komoot)
A group of over 20 women are set to undertake a daunting 700km bikepacking challenge that is thought to be a first for women cyclists. The challenge, which is only open to women, will see the cyclists tackling the winding and arduous route from Torino in northern Italy to Nice in southern France, passing through the Queyras and Mercantour national parks and the Ligurian, Cottian and Maritime Alps on the way.
The group of women from seven different countries sets off on September 24 in the first bikepacking challenge exclusively for women in Europe. The challenge is self-supporting, meaning the riders can ride solo or as a group, and can eat and sleep wherever they choose. The challenge is sponsored by route planning app komoot, and it was conceived of by world-renowned endurance cyclist Lael Wilcox. Wilcox won the Trans Am Bike Race which crosses the US from west to east in 2016 and is a champion for promoting women's adventure cycling.
"I've been told that it's impossible for women to ride long distances, to climb mountains, to ride through the remote countryside. Yet I've done all of these things and so have many women that are joining on this week-long adventure. I'm very motivated to show that women are extremely capable in the world of ultra-distance cycling and this event is a way for us to connect with each other and to share our stories and our passion for adventure cycling," said Wilcox.
Like backpacking on two wheels, bikepackers ride with bags that fit neatly around the frame of the bike, giving cyclists the freedom to ride long distances with a load but in the easiest way possible. Gaby Thompson, Global Community Manager komoot said the company has noticed a remarkable increase in tracked bikepacking tours among its community of users – many of these from female cyclists.
"We want adventure cycling to be accessible to everyone, to transcend genders and nationalities. The experience of riding the Torino-Nice Routhe in a group of women will be history in the making that in and of itself!" said Thompson.
Women's komoot Torino-Nice Rally Route
Julia Clarke is a staff writer for Adventure.com. She is an author, mountain enthusiast and yoga teacher who loves heading uphill on foot, ski, bike and belay. She recently returned to her hometown of Glasgow, Scotland after 20 years living in the USA, 11 of which were spent in the rocky mountains of Vail, Colorado where she owned a boutique yoga studio and explored the west's famous peaks and rivers. She is a champion for enjoying the outdoors sustainably as well as maintaining balance through rest and meditation, which she explores in her book Restorative Yoga for Beginners, a beginner's path to healing with deep relaxation. She enjoys writing about the outdoors, yoga, wellness and travel. In her previous lives, she has also been a radio presenter, music promoter, university teacher and winemaker.
All the latest inspiration, tips and guides to help you plan your next Advnture!
Thank you for signing up to Advnture. You will receive a verification email shortly.
There was a problem. Please refresh the page and try again.