What is backpacking? We shine a light on the popular pursuit and its various forms
What is backpacking? We consider how (and if) backpacking differs from hiking and trekking, and delve into the many forms it can take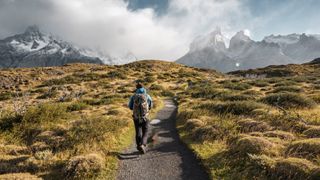 (Image credit: Getty)
What is backpacking? The clue is almost certainly in the name. But just because I set out from the comforts of my home carrying some form of backpack on my shoulders doesn't mean I'm backpacking. If that were true, every kid who hops on the school bus would be backpacking, so there's more to it than that…
Backpacking can be taken to mean the act of travelling – not necessarily on foot – to new parts of the world with all your provisions and staying in relatively cheap accommodation. However, this definition of backpacking isn't really what we're concerned with here. What we're interested in this feature in is the hardy brother of hiking, trekking and mountaineering. We're delving into the pursuit of backpacking that entails beaten-up hiking boots, soaring mountains, crinkled topographical maps, spectacular wild camps and memories to last a lifetime.
What is backpacking?
This form of backpacking is the one where you set off on foot into the wilderness, carrying everything you need to be self-sufficient for at least a couple of days. Typically, this would include all your clothing, your food and drink, your one-person tent or 2-person tent – or alternative shelter (such as a camping tarp) – and your sleeping system. The appeal for many is the glorious sense of adventure and a return to life's bare essentials. Backpackers discover the kind of natural wonder hidden from roads, away from the tourist trails and out the reach of the day hiker. There's luxury in simplicity. "The richest person isn't the one that has the most, but the one who needs the least," so goes the famous saying.
You will need a mixture of the hiking essentials as well as many items on a standard camping checklist when you head out on a backpacking expedition. Part of the fun is in the planning, working out your food requirements, calculating how much fuel to take and working out your optimum route through the backcountry.
How is backpacking different from trekking?
So how does backpacking differ from trekking? A trek is an arduous and challenging journey, often over difficult terrain – hence 'trekking' poles – and usually lasts for many days, weeks or even years. Therefore, it's safe to assume that a self-sufficient trekking journey is also a backpacking journey. It might be argued that a backpacking trip doesn't necessarily have to be as strenuous as a trek, though many classic backpacking expeditions are. On the other hand, many of the world's greatest treks don't demand the same self-sufficiency as a backpacking journey. On a trek, you might stay in comfortable accommodation, have porters or mules who carry your equipment and have chefs who cook your meals every night. In short, while a trek is usually a challenging expedition, backpacking in its purest form always demands self-sufficiency.
Types of backpacking: multi-day hiking
Probably the most normal way for people to experience the highs and lows of backpacking is on a multi-day hiking trip. Starting from the trailhead, on the edge of civilisation, you haul your pack onto your shoulders and stride out into the wild. Regardless of the length of the expedition, this kind of approach usually starts and finishes at the same point, often embarking on a circuit of a mountain range or region. Beginners may just head out for one night, cook up a camping meal, enjoy a wild sleep and return to normality the next day. More experienced hikers revel in testing themselves on longer escapes from the everyday world.
Types of backpacking: thru-hiking
As pleasant as a circuit of a region is, there's something undeniably special about a linear journey across vast swathes of wild land. A thru-hike is an end-to-end long-distance trail that can take days, weeks or even months to complete. The great thru-hikes represent journeys of a lifetime and rites of passage for serious backpackers. Quintessential thru-hikes in the States include the incredible Pacific Crest Trail and spectacular Appalachian Trial. The term originated in American but could just as easily be applied to classic European routes like Scotland's rugged Cape Wrath Trail, Sweeden's remote Kungsleden or the evocative Camino de Santiago in Spain.
Types of backpacking: mountaineering expeditions
The most extreme form of backpacking is probably a mountaineering expedition. If you ever manage to conquer the summit of a Himalayan giant, congratulations. However, if you do this with the support of the legendary Sherpas, you won't have done with a pure backpacking approach. As has been stated already, it is the self-sufficient nature of backpacking that sets it apart from other forms of adventure. A backpacking approach to mountaineering entails you and your team carrying everything you need to survive. In short, it's the most challenging approach there is.
What is backpacking? New variants...
As outdoor gear becomes lighter and more and more innovative, new twists on the pursuit of backpacking are being born all the time. Fastpacking is a combination of ultralight backpacking and self-supported trail running. It usually implies carrying all the gear you need to stay out for at least one overnight, though some athletes are smashing long-distance records by adopting this approach over weeks and weeks.
Bikepacking is rapidly growing in popularity and merges backpacking with mountain biking, enabling you to delve deep into the wilderness at speed. As well as the storage provided by your backpack, dry bags can be lashed below your bike seat and cinched to your handlebars, meaning you can carry quite a bit on your trusty two-wheeled steed. Sticking with the alternative transportation theme, packrafting is also becoming more and more popular. With a highly portable inflatable raft and a tent in your pack, you can hike and paddle your way to awesome wild camping sites.
All the latest inspiration, tips and guides to help you plan your next Advnture!
Alex is a freelance adventure writer and mountain leader with an insatiable passion for the mountains. A Cumbrian born and bred, his native English Lake District has a special place in his heart, though he is at least equally happy in North Wales, the Scottish Highlands or the European Alps. Through his hiking, mountaineering, climbing and trail running adventures, Alex aims to inspire others to get outdoors. He is currently President of the London Mountaineering Club, training to become a winter mountain leader, looking to finally finish bagging all the Wainwright fells of the Lake District and hoping to scale more Alpine 4000ers when circumstances allow. Find out more at www.alexfoxfield.com