National parks boost US economy by over $28 billion
Visitor spending in communities in and surrounding national parks boosted the nation's economy by a whopping $28.6 billion in 2020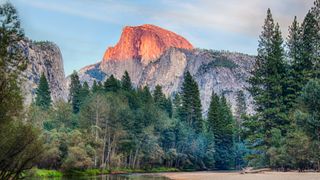 (Image credit: Getty)
2020 was a year in which the positives were few and far between, but an announcement made yesterday by the US National Park Service revealed that sustained outdoor activity nationwide during the pandemic resulted in some cause for celebration on the financial front.
The announcement stated that visitor spending in communities near 423 national park sites in 2020 resulted in a $28.6-billion boost to the nation's economy and also supported a total of 234,000 jobs in hospitality, recreation, and transportation.

According to the report, which was prepared by economists from the U.S. Geological Survey and National Park Service, around 237 million visitors spent $14.5 billion in communities within 60 miles of a national park. The states recording the largest spending contributions by visitors were California ($1.7 billion), North Carolina ($1.35 billion), and Virginia ($1.09 billion).
National Park Service Deputy Director Shawn Benge stated: "The pandemic reminds us all of the importance of the outdoors not only to our economy, but also to our health and wellness. We are excited to welcome visitors back outdoors as weather warms and more people are fully vaccinated against COVID-19. We are expecting high visitation this summer and encourage visitors to explore our website as they plan their trips."
The report prepared by the National Park Service and the U.S. Geological Survey, 2020 National Park Visitor Spending Effects, includes an interesting interactive tool that gives you access to more detailed information about economic contributions to the national economy in 2020, including employment, visitor spending, labor income, value added, and economic output, as well as statistics on the sectors of the economy directly affected by spending in and around national parks.
All the latest inspiration, tips and guides to help you plan your next Advnture!
Former Advnture editor Kieran is a climber, mountaineer, and author who divides his time between the Italian Alps, the US, and his native Scotland.
He has climbed a handful of 6000ers in the Himalayas, 4000ers in the Alps, 14ers in the US, and loves nothing more than a good long-distance wander in the wilderness. He climbs when he should be writing, writes when he should be sleeping, has fun always.
Kieran is the author of 'Climbing the Walls', an exploration of the mental health benefits of climbing, mountaineering, and the great outdoors.