New River Gorge National Park: America's Newest National Park
New River Gorge National Park is the first national park in West Virginia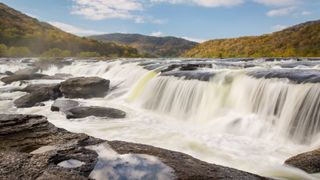 (Image credit: Bill Swindaman (Getty))
America's newest national park is already becoming a popular destination.
New River Gorge National Park and Preserve became the 63rd U.S. National Park on Dec. 27, 2020 and so far this spring it has attracted a lot of visitors, according to an article on CNN.com. Spreading across more than 72,000 acres of wooded hills, deep ravines, and Appalachian plateau in rural West Virginia, New River Gorge has always offered sweeping views of centuries-old oak and maple forest that stretch for miles along steep sandstone cliffs.
Along with its rugged topography, a wide range of outdoor activities have made it a pandemic-era destination of choice for many springtime travelers and adventure-seekers, especially so now that it has become a National Park.
"These mountains are some of the oldest in the world, and despite its name, the New River is ancient," says Lizzie Watts, superintendent of New River Gorge National Park and Preserve.
Watts says traffic on the park's website is up 90 percent year on year, and state tourism officials predict at least 20 percent more visitors in 2021 than the record 1.4 million who came in 2019.
"We've certainly seen that as far as reservations and phone calls," says Jerry Cook, co-owner of ACE Adventure Resort. "Because of where West Virginia is, it's within a day's drive of 60 percent of the U.S. population, but it's kind of unknown because it's so forested."
Cook says he's starting to get interest from as far away as Chicago, New York and even overseas.
"I think the community has been hoping and waiting for something to replace the extraction business," he adds. "West Virginia was pretty much discovered because of its giant timber and coal, which fed the Industrial Revolution. Now that coal in this county is just about out, they are looking for the next big thing."
Estimates vary widely, but the New is at least 3 million years old. It could have formed up to 320 million years ago.
"As it travels north, it really cuts away at the mountains," Watts says, "so you get to see the geology here that you don't in a lot of other places." There are also 1,500 plants and animals that call this 53-mile-long river corridor home, she added.
Trails carve around the vast hillsides of the New River Gorge, delivering hikers, trail runners and mountain bikers to some of West Virginia's most scenic vistas. Its sandstone cliffs make for world-class rock climbing. The whitewater rapids in the river below provide some of the wildest rafting on the east coast.
New River Gorge National Park and Preserve has about 115 miles (185 km) of peaceful forest trails with superb overlooks and historic sites. The trails consist of park service trails that are marked and maintained, trails within lands administered by state parks, and undeveloped trails and abandoned roads. The most popular routes so far are the Endless Wall Trail, Kaymoor Miner's Trail, Long Point Trail and Grandview Rim Trail.
There are numerous waterfalls to explore in the Glade Creek and Sandstone Brooks areas, plus the old coal-mining ghost towns of Thurmond and Nuttalburg, the latter of which includes the remnants of a huge conveyor belt system that transported coal from the mines in the hillsides to the railroad that meandered along the river below.
New River Gorge has 1,400 established climbing routes, many of which lie along the Endless Wall. Made up of the robust Nuttall sandstone, which is 98 percent quartz, these cliffs are extremely reliable and offer climbs ranging from 30 to 120 feet (approximately 9 to 36 meters) in height — the majority of which are geared toward advanced and expert climbers.
The image many people have of the New River Gorge is its famous steel bridge, which links the towns of Fayetteville and Lansing as it spans the gorge. Upon completion in 1977, the 3,030-foot-long, 876-foot-tall (923 meters long, 267 meters tall) pass became both the highest and longest single-span arch bridge in the world.
While others have since eclipsed it, the New River Gorge Bridge is still an impressive site, no matter if you're walking across it or hiking below it. The Bridge Walk offers guided tours where engineering buffs and avid photographers can slip into a harness (fastened to a safety cable) and walk across the massive steel structure along a catwalk 25 feet below the daily traffic.
All the latest inspiration, tips and guides to help you plan your next Advnture!
Brian is an award-winning journalist, photographer and podcaster who has written for Runner's World, The Times, Outside, Men's Journal, Trail Runner, Triathlete and Red Bulletin. He's also the author of several books, including Kicksology: The Hype, Science, Culture and Cool of Running Shoes. He lives in Boulder, Colorado, and loves to run, bike, hike, camp, ski and climb mountains. He has wear-tested more than 1,500 pairs of running shoes, completed four Ironman triathlons, as well as numerous marathons and ultra-distance running races.