Neville Fickling, pike star, challenges electric lure ban
The former pike record holder challenge's the Environment Agency's eMinnow ban.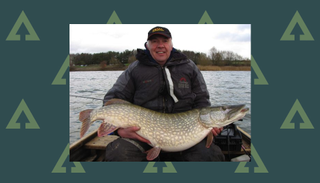 (Image credit: Angler's Mail)
Welcome to Advnture, the new home of AnglersMail.co.uk
The Cannadian-made battery operated lure mimics the action of a fish and could be used in place of a livebait, but as revealed in a recent issue, was declared to be illegal by the EA.
But Neville Fickling, who held the pike record back in February 1985 with a fish of 41 lb 6 oz from Norfolk's River Thurne, thinks the EA couldn't prosecute.
Neville, who owns Lincolnshire's The Tackle Shop, said: "I was surprised at the quoted response regarding electric lures from an EA spokesman in page 5 of the June 20 issue.
"While the use of lights and unlicensed electro fishing equipment is obviously a no no in our attempts to catch fish, much of the legislation in the Salmon and Freshwaters Fish Act was designed to protect salmon."
Neville Fickling continued: "I hardly think that an electric livebait falls into the category of a prohibited instrument and I don't think livebaiting has ever been a recommended method for salmon.
"If you take the EA viewpoint to its ultimate conclusion then surely electric bite alarms and bait boats should be prohibited?
"While I'm not suggesting deliberately flouting the law, I would suggest that anyone who wants to use an eMinnow challenges the EA about this," concluded Neville Fickling.
Despite calls for the EA to totally clarify the legal position of this lure as well as electronic devices like bait boats and bite alarms, the EA again came back with a vague response.
A statement said: "Current legislation states 'no person shall use in or near any waters…. any electrical device, with intent thereby to take or destroy fish.' This applies to all species of fish covered by the Salmon and Freshwater Fisheries Act 1975 (as amended)."
All the latest inspiration, tips and guides to help you plan your next Advnture!