Nicky Spinks: Surprise medal in one of world's toughest ultra running races
54-year-old runner finishes on podium after second attempt at 300km mountain challenge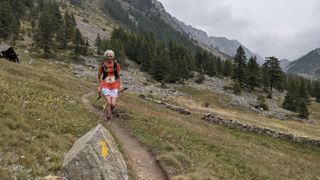 (Image credit: Sarah McCormack)
Runner Nicky Spinks has revealed her "surprise" at winning a medal in one of the world's toughest ultra distance races.
The 54-year-old ran into third place in the endurance event, the 330km Tor des Geants, which includes more than 24,000m of ascent in the Italian Alps.
She ran what is believed to be the fastest time of any British female athlete.
After finishing the race in Courmayeur, Nicky, an inov-8 ambassador, said: "I am very surprised with my third place.
"I had hoped that I could better my time from 2019 and maybe get a vet category prize but with everything that had gone on, to even get to the race, I would have been very happy to complete.It was amazing to be third."
Nicky said: "This time I found the hills easier to begin with and I was also more familiar with the course."
Five hours faster – and third place for Nicky Spinks
It was the Yorkshire farmer's second attempt at the race, where runners decide when they will rest, eat and sleep. Last time, Nicky was 11th.
This month, Nicky ran five hours faster to make the podium in the female race in 101 hours and 16 minutes.
In first place was Silvia Trigueros, from Spain, who enjoyed her third consecutive win in 89:57. Melissa Paganelli, from Italy, finished second in 93:35.
In the men's race, Italian runner Franco Collé (Italy) won in 66:43, while Jonas Russi, from Switzerland, was runner up in 69:03. French athlete Petter Restorp, originally from Sweden, took third in 76:36.
Tor des Geants highs and lows
Nicky has many ultra running successes to her name and she has a lot of experience in endurance events. She revealed some of her Tor des Geants strategy.
She missed the first night's sleep and then took one to two hours on subsequent nights. She said: "This year, my rest was more for my feet than my head. Wednesday night was hard though because the Life Base was too noisy and I couldn't sleep.
"After that I felt slow and at 6am I had a 10-minute lie down on the floor of a checkpoint and that was brilliant."
The race is very challenging. Nicky said: "Running at altitude makes it very hard. The race goes to about 2500 metres quite a few times and with three cols being 3200 metres.
"There is the lack of sleep to deal with, darkness, the terrain and tenth altitude on top of this. The race is very hard overall."
The heat made the Tor des Geants even tougher in 2021. Nicky said: "The first couple of days were hot.
"On one climb to 3200m, I could feel my legs swelling up, or so it felt, and they were really heavy. This worried me but I had to keep telling myself it was the heat and I'd feel better when it got dark or on Tuesday when showers were forecast.
"My eating also suffers when I'm too hot and I was trying to eat but I didn't eat enough."
While the ultra race was a big challenge, Nicky enjoyed some highlights. She said she felt strong on the hills and the views, especially those with cloud inversions were stunning.
Finding out she was in third place was another good moment. Nicky said: "It was a high point to be told I was third but I also knew I had to start trying a lot harder then."
Find out more about Tor des Geants.
All the latest inspiration, tips and guides to help you plan your next Advnture!
Fiona Russell is a widely published adventure journalist and blogger, who is better known as Fiona Outdoors. She is based in Scotland and is an all-round outdoors enthusiast with favourite activities including trail running, mountain walking, mountain biking, road cycling, triathlon and skiing, both downhill and back country. Her target for 2021 is to finish the final nine summits in her first round of all 282 Munros, the Scottish mountains of more than 3,000ft high. Aside from being outdoors, Fiona's biggest aim is to inspire others to enjoy the great outdoors, especially through her writing. She is also rarely seen without a running skort! Find out more at Fiona Outdoors.