Ultra runner sets impressive new 'most mountains in 24 hours' record
At 54, Nicky Spinks has reclaimed her previous best – and ran minutes quicker than another top hill runner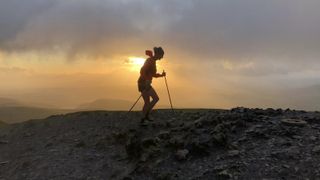 (Image credit: Damian Hall)
An ultra runner has reclaimed her record for reaching the greatest number of summits in 24 hours.
Nicky Spinks, a 54-year-old breast cancer survivor, ran to 65 peaks of at least 2000ft altitude in 23 hours and 45 minutes.
Her women's Lake District 24-Hour feat extended to more than 80 miles and included a total elevation of 34,776ft.
Spinks' previous record of 64 peaks in the Lake District in the UK, which she set in 2011, had been beaten last year by another top ultra runner Carol Morgan.
This time, Spinks ran the same number of peaks as Carol but 12 minutes quicker.
She said: "I am massively happy. I'm very proud that 10 years on I can still succeed at something like this."
What is the Lake District 24-hour record?
The aim of the Lake District 24-Hour challenge is to start and finish at the same location – in this case Braithwaite – while trying to tick off as many mountain summits of 2000ft of more in the time frame of 24 hours.
A new men's record was set in July 2020, when Kim Collison reached 78 peaks.
Nicky Spinks on the Lake District 24-Hour
For Spinks, it was the final peak, Grisedale, in her Lake District 24-Hour round that has plagued her for a decade. The inov-8 ambassador said: "I held the record of 64 peaks until last year when Carol added a peak to the 24-hour challenge.
"When I achieved the first record I didn't have the confidence to add an extra peak and it had bugged me ever since."
It was only on the final leg of her 2021 bid on August 15 that she became confident she would set a new record time.
Spinks explained: "It wasn't until climbing Grisedale, the last peak, that I calculated I had 50 minutes to do a 30-minute split.
"I knew then that unless I had an awful fall on the slippery rocks that it would be in the bag."
Spinks had hoped she might be able to add more peaks to the 24-hour record but the weather conditions were not conducive.
Training, support – and rice pudding
Spinks, a running coach, had been forced to abort another record attempt in May this year due to poor weather.
She then spent the next couple of months improving her hill running fitness, which many observers would say is already very strong; Spinks is celebrated as a trailblazing woman.
Spinks has numerous ultra running successes to her name including setting women's records for major UK fell-running challenges such as the Ramsay Round in Scotland, the Bob Graham Round in England and the Paddy Buckley Round in Wales. She also completed the first double Ramsay Round in 2018.
During the August 14-15 Lakes 24-hour bid, Nicky enjoyed the support of friends, including Jasmin Paris, who recently achieved a record-breaking 24-hour run to 29 3000ft peaks and ultra runner Damian Hall.
Other highlights included a fantastic sunrise and "listening to the chat of the other runners who supported me," she said.
The greatest challenge was eating enough and feeling nauseous. Nicky said: "As usual, the challenge came down to the eating. I tried very hard to eat a lot and I managed to do very well but I ended up going off a lot of foods and I completely threw up at one point."
She reports that it was rice pudding that came to her rescue.
Her training included speed and hill reps and running at tempo, with the aim of feeling more comfortable while sticking to a pace to complete the record challenge.
Spinks said: "I needed to feel that running fast was normal and doable, whatever the circumstances. I also gave myself a three-week taper."
To put her achievement into perspective, the women's Lake District 24-hour record is equivalent to the same ascent as the UTMB in ascent but 20 miles shorter and a lot rougher underfoot.
In 2005, Spinks was diagnosed with breast cancer and had a mastectomy in 2012.
All the latest inspiration, tips and guides to help you plan your next Advnture!
Fiona Russell is a widely published adventure journalist and blogger, who is better known as Fiona Outdoors. She is based in Scotland and is an all-round outdoors enthusiast with favourite activities including trail running, mountain walking, mountain biking, road cycling, triathlon and skiing, both downhill and back country. Her target for 2021 is to finish the final nine summits in her first round of all 282 Munros, the Scottish mountains of more than 3,000ft high. Aside from being outdoors, Fiona's biggest aim is to inspire others to enjoy the great outdoors, especially through her writing. She is also rarely seen without a running skort! Find out more at Fiona Outdoors.