Pacific Crest Trail permits to be issued for 2021 season
The Pacific Crest Trail Association (PCTA) and the United States Department of Agriculture (USDA) Forest Service announce they'll be issuing permits for the 2021 season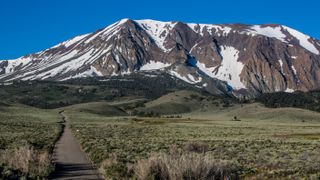 (Image credit: Getty Images)
Permits for the popular Pacific Crest Trail on America's west coast return for the 2021 season, it has been announced. Authorised by the USDA, continuous, single trips of at least 500 miles will be valid for permit applications. This allows access to federal and state lands across California, Oregon and Washington, the states through which the trail passes.
After the release of permits was postponed late last year, applications will now open January 19 at 10:30am PST. Permits are issued on a first-come, first-served basis, and are free of charge.
Permits should only be obtained if you are intending to hike 500+ miles in a single, continuous journey. If you are planning to hike a shorter series of sections of the route at intermittent periods, hikers must apply for permits from agencies that manage those sections of the trail.
The PCT passes through five National Monuments, five State Park units, six National Parks, seven Bureau of Land Management field offices, 25 National Forest units and 48 federal wilderness areas. Each section has their own requirements, so before venturing to these places, it is crucial you check what you need.
There will be 50 Northbound permits issued per day between March 1 and May 31. This trail starts on the Mexican-American border. Conversely, there will be 15 Southbound permits issued per day between June 15 and September 15. This trail starts inside America, near to the Canadian border.
The difference in permit dates between the Northbound route and the Southbound route reflect the seasonal temperatures, and therefore how popular each route is at those times of the year. An unlimited number of people are allowed along the route outside of the permit season, because there is less traffic on the trail.
Due to the popularity of the routes during the permit season, if for any reason you cannot use the permit, it is strongly encouraged that the permit is cancelled to allow another person the opportunity to travel the route.
However, warnings have been issued by the PCTA due to the ongoing pandemic. With the trail crossing the states of California, Oregon and Washington, the "permit is only valid if you follow the terms of the permit, and all laws, rules and regulations". If 'stay at home' orders are issued within certain states, the permit will be subject to those restrictions and must be adhered to. Closures and cancellations are also warned by the PCTA, so hikers have been told to delay their journeys if possible.
All the latest inspiration, tips and guides to help you plan your next Advnture!