Slow Ways: the project connecting Great Britain on foot
A network of walking routes connecting over 2500 towns and cities is being developed in Great Britain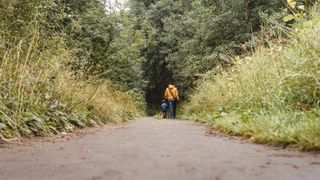 (Image credit: Getty)
The idea of setting out from your door to go on a long journey by foot seems like a quaint one. The kind of thing people did before they invented cars, because they didn't have any other way. Or what your Great-Uncle Bert had to do to get to school (barefoot, from his cardboard box in the middle of the road) when he was a lad. Perhaps it even conjures images of a Lord of the Rings type journey, where the act of setting off from your front door gets you swept up in an epic quest to save the world. Either way, travelling a few miles on foot to get somewhere is certainly not considered "normal" nowadays. All roads may lead to Rome, but no one would expect you to walk there.
Personally, I've always found that realisation very inspiring. The road or path from my front door can take me anywhere in the world, be it to Rome or Kyrgyzstan. Every house on every path or road is reachable on foot somehow. The point of roads, after all, is to connect us – isn't it? And as they say, anywhere is in walking distance if you have the time.
Now, the Slow Ways campaign hopes to make it both simpler and easier to walk across Great Britain. In an attempt to iron out the mass of public footpaths, they have identified a huge network of routes between some 2500 primary settlements, from one tip of the island to the other. So yes – this is not about pretty weekend strolls, although you could probably use the routes that way. The main aim is to connect towns and cities on foot in the most direct and useful way possible. In a way that you might actually want to walk from A to B, rather than following Google Maps' directions down the M1.
The Slow Ways project is still in the developmental stage. Hundreds of volunteers have worked together over 2020 to identify routes that connect primary settlements, in such a way that "one million people live within just 500 metres of a Slow Way". The next stage is for people to test out the identified routes – over 7000 of them! "That means checking over 100,000km of routes, the equivalent of walking 2.5 times around the equator," says the Slow Ways website. "This sounds like a big job, but shared between 10,000 volunteers – individuals, established groups, new groups and collaborators – we'd need to walk an average of just 10km each."
If you'd like to volunteer to test a route, you can sign up on the Slow Ways website, or find out more about the project. Slow Ways was started by Dan Raven-Ellison.
All the latest inspiration, tips and guides to help you plan your next Advnture!
An adventure writer based on Dartmoor, England, Emily is an active member of Mountain Rescue and a summer Mountain Leader, but loves all things adventure – before her third birthday she had lived on three continents. Founder of Intrepid magazine, she works to help break stereotypes about women in the outdoors. Her expeditions have included walking all Dartmoor's 119 tors in a single two-week outing, cycling to Switzerland and back, and riding the Rhine from source to sea.