Trail-blazing speed attempt at running Britain's biggest long-distance path underway
For the first known time, a female runner is setting out solo to establish a Fastest Known Time on the 630-mile South West Coast Path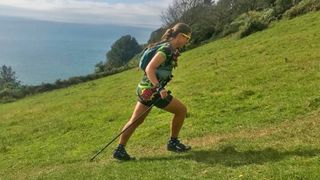 (Image credit: Sian Longthorpe)
On 6 September, writer and runner Leah Atherton embarked on a history-making attempt to set a new fastest known time (FKT) on Britain's biggest long-distance trail, the 630-mile (1,008km) South West Coast Path (SWCP).
Having started at the trailhead in Studland, Dorset, Leah will run an average of 50 miles a day, aiming to finish in Minehead, Somerset, 12 to 14 days later. She will have a support crew with a campervan, but this is the first solo attempt at an FKT on the SWCP by a woman.
The trail is a spectacular, rollercoaster of a route that hugs the hills and cliffs of England's south west peninsular, clinging to the coastline of Dorset, Devon, Cornwall and Somerset along the way. It's beautiful. And pretty intimidating – especially if you're attempting it in one go, and even more so if you're running. Let alone racing against the clock.
The current FKT on the route – an extraordinary 10 days, 15 hours and 18 minutes – was set by Damian Hall in 2016. The fastest known female time is 14 days, 14 hours and 44 minutes, which was achieved by Julie Gardener, who ran the trail with Mark Townsend in 2013. It is this latter time that Leah is looking to beat, with a completion time of 12 days her original target. To do that she is aiming to run a minimum of 50 miles per day.
Leah, who is also known as the Poet on the Run for her trail-inspired wordcraft, spoke to us shortly before setting off. "I am both excited and pant-soilingly terrified," she admitted. Poetically.
A large part of her fear is based on the fact that she knows exactly what she is getting herself into, having already fastpacked the route over 31 days in 2018, in memory of her late father.
Leah's work colleagues are raising funds for the Samaritans while she runs. "Last September I was really struggling with my mental health," she says. "To attempt the path this September, I'm not just asking how much I want the record, I'm asking how much I want to grab hold of life."
You can follow Leah's progress via her tracker – and she very much welcomes company to keep her motivation levels up. "I have a ragtag crew chasing me around the Westcountry in a van, including my fiancé Chris, and a couple of training partners," she told us. "Charlotte Levin is in charge, as she is scarily efficient, and my friend Jon Boissonade is on hand for backup."
"Beyond that, I'm mostly hoping to ask the SW trail community for some company - especially around some of the trickier navigation sections, and to act as my functioning brain cell on the second half of the days.
"My aim is to get it in 12 days or less, so finishing on 16 or 17 September, because if I get the record I want to have that margin. But, there's a buffer in there. Julie's record figures at 40-something miles per day, so I know if I manage to get minimum 50 per day then the record is mine. Also, we have to return the van on the 19th, so it's best the record or bust!"
We know of six other runners (two women and four men) currently eyeing up an FKT attempt on the SWCP. The South West Coast Path Association, the charity in charge of looking after the SWCP, are extremely supportive of running feats along the route, but do ask people to remember that maintaining the path is an epic challenge in itself – and an expensive one too.
"It costs £1,400 per mile per year to maintain a trail," Becky Millington, communications officer for the South West Coast Path Association, explains. "That's £882,000 annually just to keep the South West Coast Path open for everyone to enjoy."
To help keep the SWCP accessible, there are various things you can do, from donating or taking on a fundraising challenge to entering an event that states it is Coast Path Friendly' (which means it gives back to the Trail). For more, see www.southwestcoastpath.org.uk or jump on social and look up #EveryMileMatters
All the latest inspiration, tips and guides to help you plan your next Advnture!
Author of Caving, Canyoning, Coasteering…, a recently released book about all kinds of outdoor adventures around Britain, Pat has spent 20 years pursuing stories involving boots, bikes, boats, beers and bruises. En route he's canoed Canada's Yukon River, climbed Mont Blanc and Kilimanjaro, skied and mountain biked through the Norwegian Alps, run an ultra across the roof of Mauritius, and set short-lived records for trail-running Australia's highest peaks and New Zealand's Great Walks. He's authored walking guides to Devon and Dorset, and once wrote a whole book about Toilets for Lonely Planet. Follow Pat's escapades on Strava here and instagram here.