International Women's Day: Celebrating nine trailblazing women in the outdoors
We mark International Women's Day 2021 with our pick of the most inspiring female runners and walkers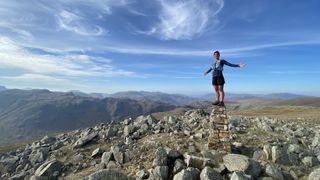 (Image credit: Ben Turner)
Today is International Women's Day – #IWD2021 – and the theme this year is #ChooseToChallenge.
We are joining the campaign by highlighting the women who inspire us and have chosen to challenge themselves.
They are all trailblazing in their own outdoors areas and continue to inspire by challenging themselves or motivating others to spend more time outdoors.
9 trailblazing and inspiring women in the outdoors
Jenny Tough
Jenny Tough is passionate about encouraging more people, especially women and girls, to get outside and challenge their comfort zones. She has championed this by launching a book called Tough Women: Adventure Stories.
She also practises what she preaches and enjoys testing her own limits with endurance and adventure challenges, both racing and solo.
Find out more at Friday 5: Jenny Tough.
Sabrina Verjee
If you are looking for inspiration to take on your next challenge in the outdoors, check out what Sabrina Verjee does in her spare time.
The veterinary surgeon is one of the UK's leading ultra-runner, taking her place on the podiums of some of the UK's toughest endurance races.
She also likes to spend her holidays ticking off challenges, such as becoming the first woman to complete a non-stop round of the 214 Wainwright fells in the Lake District.
She does all this with good humour and humility. Read Friday 5: Sabrina Verjee
Rhiane Fatinikun
Rhiane Fatinikun is the founder of Black Girls Hike and a campaigner for diversity in the outdoors. She recently talked about her delight after Berghaus pledged to sponsor her group's projects, as part of the brand's new diversity, inclusion and mental health campaign.
Black Girls Hike was founded in 2019 with the aim of providing a safe space for black women to explore the outdoors. Rhiane says: "We want to challenge the status quo and encourage black women to reconnect with nature. We do this by hosting nationwide group hikes, outdoor activity days and training events."
.
Zahrah Mahmood
Zahrah Mahmood is a leading figure in driving participation and inclusion for Muslim women in the outdoors.
She is also known on social media as the Hillwalking Hijabi. Zahrah also works with Berghaus on a range of campaigns and product initiatives.
Jasmin Paris
Jasmin Paris not only wins ultra distance running races as a female, she beats the men, too.
In 2019, she was the overall winner of the 268-mile Montane Spine Race – and set a new record for the gruelling event that takes place on the Pennine Way mid-winter.
Jasmin keeps a low profile and is very humble about her achievements, which includes many other race podiums. Yet, to many women in this sport, she is hugely inspiring.
Beth Pascall
Another great long-distance runner, Beth Pascall set a new female fastest time on the Bob Graham Round in the Lake District last year – and recorded the fifth fastest time ever.
The Salomon athlete from the Peak District finished the traverse of 42 Lake District peaks, starting and finishing in Kewsick, in 14:34:26, which is 50 minutes faster than the previous female record set by Jasmin Paris in 2016.
Anna Blackwell
Anna Blackwell is an adventurer, writer, speaker and photographer. Over the last few years she has completed a variety of adventures, including trekking 1000km across the wilderness of Arctic and Northern Scandinavia with just reindeer for company.
She has also kayaked across Europe and walked 1600km across France and Spain solo.
Even when she is indoors, she is thinking about the outdoors and she has also has completed a Masters thesis on how self-supported adventures and expeditions shape resilience.
Read more about Anna in our Friday 5 slot.
Nicky Spinks shows great determination and courage whatever event she takes on
Another legend on the British hill and ultra running scene is Nicky Spinks. The farmer from Yorkshire is 53 and, in 2005, she was diagnosed with breast cancer, then had a mastectomy in 2012.
Nicky has set women's records for the major British fell-running challenges, including the Ramsay Round, the Paddy Buckley Round and the Bob Graham Round.
She also held the women's records for all three Rounds simultaneously until 2016 and she is the holder of the overall record for the double Bob Graham Round and the only person ever to complete doubles of the other two rounds.
She is an impressive role model for women who might think their challenging running days are over after the age of 35.
Gina Begin
The Outdoor Women's Alliance was founded by Gina Begin. It is a non-profit making organisation that aims to support and inspire women worldwide.
The OWA offer a huge number of different programmes that are designed to promote, engage and recognise women who are in adventure sports, lead an outdoor lifestyle or have athletic ability.
All the latest inspiration, tips and guides to help you plan your next Advnture!
Fiona Russell is a widely published adventure journalist and blogger, who is better known as Fiona Outdoors. She is based in Scotland and is an all-round outdoors enthusiast with favourite activities including trail running, mountain walking, mountain biking, road cycling, triathlon and skiing, both downhill and back country. Her target for 2021 is to finish the final nine summits in her first round of all 282 Munros, the Scottish mountains of more than 3,000ft high. Aside from being outdoors, Fiona's biggest aim is to inspire others to enjoy the great outdoors, especially through her writing. She is also rarely seen without a running skort! Find out more at Fiona Outdoors.