Ultra runner sets impressive record one one of UK's toughest and most remote trails
Pawel Cymbalista ran non-stop, solo and unsupported, to complete 230-mile Cape Wrath Trail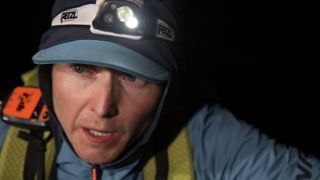 (Image credit: Brad Cain & Kevin Woods)
An ultra runner has set an incredible record on one of the UK's toughest and most rugged trails. Pawel Cymbalista, 35, ran solo and unsupported to complete the remote 230-mile (370km) Cape Wrath Trail in the far north-west of Scotland in 86 hours, 49 minutes and 19 seconds.
The dad-of-two smashed the previous record, set by a pair of supported runners, by almost nine hours, last week.
Cymbalista ran from the Highlands town of Fort William north to Cape Wrath, which is the most north-westerly point of mainland Britain. The total ascent of the non-stop run was 39,000ft (12,000m).
Unsupported means carrying all your own kit and food for the entire challenge and being entirely self-sufficient.
Image 1 of 4
Cape Wrath Trail: a tough run
Cymbalista revealed he faced many tough times, including 20 hours of rain to start with, navigation difficulties, hallucinations due to lack of sleep and multiple blisters, scratches and bruises on his feet.
But thinking about his family and friends kept him going. He was also motivated by his fund-raiser for Lochaber Hope, a charity in Scotland that supports people with mental health. He was collecting money in memory of his late father.
Cymbalista, who is originally from Poland, said: "After several days of many ups and downs, I was pleased I'd managed to defeat my demons. It went to plan and I have another new record."
He described the weather for his Cape Wrath Trail run as "overall pretty good". He added: "While it rained for the first 20 hours, it ended up being dry for the rest of the time and it was an advantage to have long days of light.
"I also really enjoyed the stunning scenery all the way along the route."
However, Cymbalista, who wears Dynafit running shoes, had to battle to keep going at times. He said: "I slept only a total of 95 minutes, in naps, and I suffered with bad hallucinations at one point, seeing what I thought were other runners beside me.
"I had to stop for another nap at the side of the trail and that helped to clear my head."
Navigating the trail, which is not signposted, proved tricky sometimes. Cymbalista said: "I found navigation wasn't easy at night in the dark. I kept praying for a road or a track to follow, rather than so much off-path running."
Just two miles from the finish, the runner struggled to find his way again. He said: "I couldn't see the lighthouse ahead and I was so tired I got lost. I finally picked up the right route and then it was such a relief to see the end and friends. I was so happy to finish."
Record-breaking ultra running in Scotland
Cymbalista, who works as a harvest technician for a seafood company, has set several other impressive ultra running records in the last two years.
In late 2021, he ran the most ascents and descents – seven – of the UK's tallest mountain Ben Nevis in under 24 hours
He has also run solo, unsupported fastest times for the 96-mile West Highland Way, the 73-mile Great Glen Way and the 82-mile East Highland Way.
What is even more amazing is that 10 years ago, Cymbalista was overweight and a heavy smoker and drinker. He said: "I took up running just after I moved to Scotland form Poland in December 2013.
"I weighed 16 stones and I remember how hard it was to run just a short way. That day I also quit smoking and reduced my drinking."
The following March, he joined Lochaber Athletic Club, where he is still a member.
He said: "I could never imagine back then what I would be achieving now."
All the latest inspiration, tips and guides to help you plan your next Advnture!
Fiona Russell is a widely published adventure journalist and blogger, who is better known as Fiona Outdoors. She is based in Scotland and is an all-round outdoors enthusiast with favourite activities including trail running, mountain walking, mountain biking, road cycling, triathlon and skiing, both downhill and back country. Her target for 2021 is to finish the final nine summits in her first round of all 282 Munros, the Scottish mountains of more than 3,000ft high. Aside from being outdoors, Fiona's biggest aim is to inspire others to enjoy the great outdoors, especially through her writing. She is also rarely seen without a running skort! Find out more at Fiona Outdoors.