What does the UK government's roadmap out of lockdown mean for walking, running and camping in England?
By Ryan Dabbs
Here's everything you need to know about exercising and camping as England prepares to leave lockdown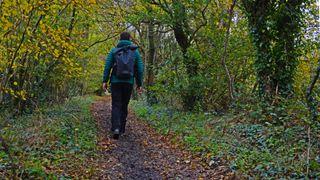 (Image credit: Pat Kinsella)
Boris Johnson's roadmap for lifting lockdown restrictions in England is a four-step process that could see normality resumed as early as June 21. With more vaccines across the nation, and hopefully fewer cases of Covid-19, the roadmap outlined by the government contains some positives. But just what does that mean for walking, running and camping?
The government says it will adhere to four key tests that need to be met at each stage of the four Steps outlined on the roadmap. These include the continued deployment of the vaccination programme, evidence that the vaccines are shown to be effective in reducing deaths and hospitalisations, decreased infection rates, and there are no new variants of Covid that are of concern.
Fortunately, exercise outside is still allowed, though there are still limitations within the roadmap regarding exercise under the current guidance.
But, many people are wondering what regulations there are on exercise. Can you drive somewhere to exercise? Can you travel to a national park for an overnight stay? Below we address those questions and more.
When will I be able to travel outside of my local area?
Step 1 of the UK government's roadmap for England is split into two separate dates – March 8 and March 29. In terms of getting outdoors, the rules largely remain the same.
From March 8, travel for walks should still be kept local, and you're still allowed to meet one other person from outside your household for a walk or a run – that's unchanged. However, the guidance now allows two people from different households to meet outside for recreation, whether it be setting up a picnic, or stopping for a coffee on a park bench.
Three weeks later, on March 29, any amount of people from two separate households can meet outside, or limited to six people if containing more than three separate households. Walks with a larger group of friends of up to six people are therefore allowed, with social distancing maintained.
Outdoor sports facilities will also reopen on this date, as the stay at home ruling ends, although travel local advice will still remain.
Step 2, which will happen no earlier than April 12, will allow domestic overnight stays away from your home. However, these overnight stays are only allowed in self-contained accommodation, meaning that using a nice hotel as a base for your adventures will have to wait.
Camping and caravanning fall under self-contained accommodation, allowed from April 12. Campers and hikers alike pining for their nature fixes can therefore explore the best the picturesque settings the UK has to offer from mid-April, just in time for the warmer spring months.
Exercise being limited to just the outdoors will also change, as indoor leisure centres and gyms will reopen.
Step 3, which will happen no earlier than May 17, will enable walking and running clubs to resume, as groups of 30 people can meet outdoors. Hotels, hostels and B&Bs will also reopen to household groups.
Finally, Step 4 will reportedly remove all legal limits on social contact, with the country more-or-less back to normal. Taking place no earlier than June 21 – assuming the government's conditions are met – Step 4 should hopefully signal the end of a gruelling 15 months for the country.
Hopefully that means the summer months will mean traversing the UK's trails or exploring new walking routes once again.
Trail running and hiking are both allowed throughout the roadmap in England, just with varying degrees of restriction placed on travel, and who you can do it with. Camping will also make a comeback in the spring, hopefully by Step 2 on April 12.
What are the rules in Wales, Scotland and Northern Ireland?
In Wales, four people from a maximum of two households are now allowed to meet outside for exercise, with stay at home travel rules still in place. This could change on March 15, as Wales are yet to release a long term roadmap out of lockdown.
Without any other major changes in rules, Wales' First Minister's Mark Drakeford's message still remains as it was in January.
"It does mean exercise, not socialising." He added it's not "permissible for people to drive somewhere to exercise".
BMC also highlighted the rules, which are still in place, in January: "Exercise can only be carried out directly from your home and done alone or with members of your own household. Driving to a location to exercise, even a short distance, is not allowed by regulations. The only exception to this is for those who need to travel to a suitable location due to a physical or mental health issue as defined by Section 6 of the Equality Act."
The next review of Wales lockdown rules is due around 12 March.
Scotland has also released its plans for leaving lockdown. The Strategic Framework outlines the approach the nation will take, with a phase system similar to England's steps.
However, Scotland's First Minister, Nicola Sturgeon, has said that there will be a focus on "data and not dates". Despite this, the phase system still provides a framework for when social contact and exercise restrictions might be lifted.
It is hoped that on March 15, as part of Phase 2 of the plan, outdoor meetings are allowed between four people from two separate households. At least three weeks later, possibly by April 5, it is hoped that stay at home restrictions could be lifted in Phase 3 of the strategy, allowing people to travel further distances for exercise.
Phase 4's implementation could occur April 26, with a tier system subsequently reintroduced in Scotland. This will initially place the country into tier 3, as local restrictions are maintained.
Tier 3 allows up to six people from two separate households to meet outdoors, while travel is still restricted between areas.
Speaking previously, Sturgeon has said: "The framework will not set out hard and fast dates for the easing of all restrictions, as I indicated last week it's really important at this stage of the pandemic, particularly given everything we learned from our emergence from the first lockdown, that we're driven by data more than we are by dates."
Northern Ireland's First Minister, Arlene Foster, has confirmed that the Northern Ireland Executive will publish the framework for the pathway out of lockdown on March 1.
From March 8, Northern Ireland will permit outdoor gatherings between 10 people from no more than two households, with a full review of all regulations expected March 18. The current lockdown in Northern Ireland is due to end April 1, after its extension in February.
At present, you can exercise by yourself, with the people you live with, within your bubble or (if alone) with one person from another household.
However, you should not travel more than 10 miles from your home to exercise. And if you find there are crowds "which make social distancing difficult", you should find an alternative place to exercise.
All the latest inspiration, tips and guides to help you plan your next Advnture!
Thank you for signing up to Advnture. You will receive a verification email shortly.
There was a problem. Please refresh the page and try again.