Watch the awesome new trailer for Arctic Ascent With Alex Honnold
Mountaineering legend Alex Honnold embarks on an epic quest of unclimbed walls in one of the most remote corners of Greenland, all filmed for National Geographic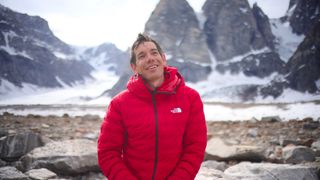 (Image credit: National Geographic)
Celebrated US mountaineer Alex Honnold may have just lost his El Capitan speed record, but we doubt he's too worried. The man who was the subject of the acclaimed documentary movie Free Solo has been taking on a spectacular new challenge in Greenland, and National Geographic went along with him to film it all for a new documentary, Arctic Ascent With Alex Honnold.
The first trailer has just been released and you can watch it below. It looks pretty awesome.
National Geographic will premier Arctic Ascent on 4 February 2024 on Disney+. In the three-part documentary Honnold and his team head to Greenland to climb Ingmikortilaq in hopes of a first ascent.
The series shows Honnold fulfilling a lifelong ambition to climb the most remote and toughest walls of Greenland while also showcasing how climate change is affecting the region. Joining Honnold on his quest are world-class climbers Hazel Findlay and Mikey Schaefer, Dr Heïdi Sevestre, Greenlandic guide Adam Kjeldsen, and renowned adventurer Aldo Kane.
Image 1 of 6
One of Earth's tallest unclimbed natural monoliths, the 3,750ft Ingmikortilaq (pronounced Ing-mick-ort-till-lack) is a three-million-year-old granite and gneiss cliff located on a remote peninsula in Greenland's eastern coast. Its name means "the separate one" in Greenlandic and it is situated in an area considered "at ground zero" of the climate crisis.
Born in 1985, in Sacramento, California, Honnold is best known for his death-defying free solo climbs, climbing ruthless rock walls without any safety ropes or equipment. He is the founder of the Honnold Foundation, an environmental nonprofit devoted to fighting climate change by promoting solar energy for a more equitable world.
All the latest inspiration, tips and guides to help you plan your next Advnture!