New Waves of Change film champions sustainable sailing adventures
Join a low-tech surfing adventure with Picture Organic pioneers, part of an ongoing quest to discover and promote sustainable tech for outdoor use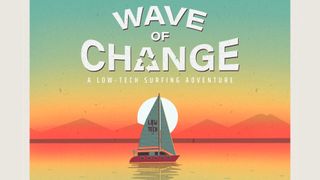 (Image credit: Picture Organic)
A new film is about to be released, charting the adventures of a group of surfers and sustainability pioneers sailing around the world on an odyssey of discovery.
Made in collaboration with environmentally focussed French clothing brand Picture Organic, the film, Wave of Change, will premiere on YouTube at 7PM BST (6pm UTC) on Sunday 27 June.
The 40-minute movie has been written and directed by Picture Organic's Damien Castera, a professional free-surfer, member of the French Exploring Society (SEF) and a passionate advocate for the development of sustainable and affordable technologies.
Co-directed by adventurer, surfer and film-maker Pierre Frechou, it invites viewers to join the eclectic crew of the Nomade des Mers – a catamaran currently sailing around the planet on journey of discovery in search of low-tech innovation. (And great surf.)
Since 2015, Nomade des Mers, a floating laboratory, has been cataloguing and developing low technology all across the world. The project is being overseen by Low-tech Lab, a non-profit collective seeking to discover, share and promote low technologies friendly to both the planet and humankind.
Damien and his crew of environmental explorers (Caroline, Corentin and Guénolé) are searching for low tech solutions to address society's basic needs: food, energy, water, and healthcare.
Low-technology, as contrasted with 'High-tech', includes any technology that is clean, simple, affordable, made locally, has a low environmental impact, can be easily repaired, and typically requires a little bit of creativity to make work.
The beautifully shot film charts a completely self-sufficient surfing adventure in Bahia de Huatulco, Mexico, with the crew using whatever they have to hand to keep them going and engage with the elements. This includes repairing an old surf board with mycelium (the vegetative part of mushrooms), growing food in their biosphere, cooking with a solar oven, raising crickets and even making mushrooms surf... the only rule is to go with the flow of the waves and the wind.
"Aboard the Nomade des Mers, it feels like time and the horizon stretch in sync together," says Damien. "We let the wind push us along at its own pace, using only the Earth's natural forces to navigate. We travel 'with' instead of 'against,' and make do with the ocean currents and weather patterns, setting our heading by imagining what lies beyond the horizon.
"To cook, we use a homemade wood stove. Lighting a fire in the middle of the ocean feels a bit like setting up camp in the trough of a wave. We use kindling gathered at a stopover, use enough coal to cook a meal, protect the fire."
Behind the project are Picture Organic, a snowboard, ski, surf and outdoor clothing brand, whose motto is Ride, Protect & Share. The brand is currently working on a potentially game-changing organic wetsuit (watch this space) and the company's founders – Julien, Jérémy and Vincent – put out the following statement to explain their support of the expedition and film:
"At a time when the textile industry is responsible for 8% of the world's carbon emissions and where the climate crisis has reached its peak, we all have our role to play to make a difference. Since Picture started in 2008, we have always sought to push one step further to minimize our impact on the environment. Our commitment to a sustainable, ethical, and environmentally‑responsible approach covers every aspect of our business, from the supply chain, to manufacturing, to shipping.
"To reduce the consequences doing business has on both the climate and people, we need to wipe out our dependence on fossil fuels. Curbing our impact on the environment and limiting growth, changing conventional production models, and promoting reasonable consumption are all key pillars of this evolution.
"Okay, great, but alone we are just a drop in the bucket. This is where B-Corp certification has meaning: using business and our influence as a force for good. We need to galvanize as many people as possible from our community – partners, and stakeholders in the outdoor and apparel industries - to participate in the energy transition and in removing carbon from the global economy.
"Fighting climate change through our passion for boardsports and great outdoors, this is our mission."
All the latest inspiration, tips and guides to help you plan your next Advnture!
Author of Caving, Canyoning, Coasteering…, a recently released book about all kinds of outdoor adventures around Britain, Pat has spent 20 years pursuing stories involving boots, bikes, boats, beers and bruises. En route he's canoed Canada's Yukon River, climbed Mont Blanc and Kilimanjaro, skied and mountain biked through the Norwegian Alps, run an ultra across the roof of Mauritius, and set short-lived records for trail-running Australia's highest peaks and New Zealand's Great Walks. He's authored walking guides to Devon and Dorset, and once wrote a whole book about Toilets for Lonely Planet. Follow Pat's escapades on Strava here and instagram here.