Yellowstone National Park attractions threatened by effects of climate change, study reveals
Visitors to Yellowstone National Park can expect higher temperatures, fewer wildlife sightings, and fewer eruptions, potentially, from the park's world-famous geysers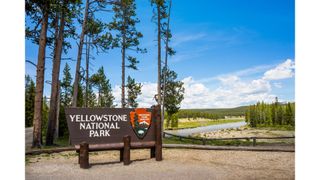 (Image credit: Getty )
Researchers from the US Geological Survey and University of Wyoming have revealed how higher average temperatures and less snow will impact Yellowstone National Park's wildlife and world-famous geysers.
And it isn't good news for visitors keen to witness the park's array of wildlife and unique geothermal attractions…
The report, which is entitled Greater Yellowstone Climate Assessment, analyzed the extent and anticipated impact of climate change in the Greater Yellowstone System, an area ten times larger than the national park itself. It showed that the area has experienced an average temperature increase of 2.3°F since 1950 and could see increases of 5-10°F in future if current emissions projections prove to be accurate. In the same time period, annual snowfall in the Greater Yellowstone Area (GYA) has decreased by almost 2 feet.
The consequences of the above were laid bare by Yellowstone National Park Superintendent, Cam Sholly:
"Warmer temperatures have already led to decreased snowpack at elevations ranging from 5000 to 7000 ft, drier conditions conducive to fire, widespread die-offs of mature whitebark pine trees, invasive species outbreaks, and changes in the timing and rate of snowmelt are affecting fish spawning and the health of aquatic systems. Grassland habitats are altering bison migratory patterns, and rising temperatures are affecting food availability for songbirds."
Sholly also warned that the impacts of climate change are not exclusively environmental. "Every year," he said, "millions of visitors from across the world come to Yellowstone to see the park's awe-inspiring landscapes and wildlife and spend hundreds of millions in local economies. The communities within the GYA are experiencing rapid growth as people move to the region to enjoy the amenities. Climate impacts throughout the GYA, if not addressed, will directly affect the strength of local and regional economies as resource values and use change across the region."
The study also casts doubt on whether or not one of Yellowstone's most popular features – Old Faithful geyser – will continue to be quite so "faithful" in future. The geyser, named for the predictability of its eruptions, was revealed by another USGS study to have ceased erupting during a period of drought in the western United States during a hundred-year period in the 13th and 14th centuries. If rising temperatures and declining snow levels lead to a similar drought, researchers fear, one of the most visited attractions in the entire national park system could erupt less frequently in the future – or perhaps even stop altogether.
Superintendent Sholly concluded:
"To mitigate the impacts, Yellowstone National Park and its partners are developing climate response strategies that better incorporate climate data and projections into planning, operations, and program management efforts. We continue to develop new tools to provide realistic assessments of climate vulnerabilities and coordinate actions needed to better understand and respond to these changes."
All the latest inspiration, tips and guides to help you plan your next Advnture!
Former Advnture editor Kieran is a climber, mountaineer, and author who divides his time between the Italian Alps, the US, and his native Scotland.
He has climbed a handful of 6000ers in the Himalayas, 4000ers in the Alps, 14ers in the US, and loves nothing more than a good long-distance wander in the wilderness. He climbs when he should be writing, writes when he should be sleeping, has fun always.
Kieran is the author of 'Climbing the Walls', an exploration of the mental health benefits of climbing, mountaineering, and the great outdoors.