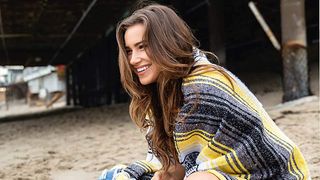 (Image credit: Amazon)
Traditional Mexican blankets are the perfect choice for pursuits you love like yoga, camping, picnics, and the beach. The bright serape design dates back to pre-colonial times and the Chichimeca people.
Still handcrafted by artisans, they are commonly made from recycled acrylic and cotton these days. This makes them lightweight enough to pack on any outdoor adventure but warm enough to keep out the chill when you're around a campfire or watching an outdoor event. The designs are vibrant and will lift any photo. These versatile, durable blankets will soon become an indispensable part of your kit.
Best overall
Soft, durable, and unique
This serape Mexican blanket is made from recycled acrylic and cotton and handwoven by local artisans in Tlaxcala, Mexico on a traditional wooden loom. It makes for a perfect yoga blanket that's super soft, breathable, easy to carry, and twin bed sized. Each blanket is unique and there's a range of vibrant colors to choose from for this blanket that's great for the beach, picnics, and camping.
Best for thickness
Hand-tied tassels and thicker than some
Soft, thick, and available in a range of colors, these Mexican blankets are made by Mexican artisans in Tlaxcala. Each tassel is hand-tied and they are woven from recycled fibers. Perfect for yoga, the beach, picnics, and camping, they can be machine washed on a gentle cycle and tumble dried on low.
Best for softness
Recycled material that gets softer with each wash
Made with around two pounds of 60% recycled acrylic and 40% recycled polyester, these blankets measure 71" x 47". Handcrafted by artisans in Mexico, they get softer with each cold water wash and tumble dry with no heat. Vibrantly colored and unchanged for generations these blankets are light, warm, and durable.
Best for patterns
Tight weave and bright beautiful patterns
These tightly woven Mexican blankets have bright, vivid, and classic serape stripes plus white tassels. Approximately 84" by 62". They can be used as displays, throws, and table covers. Each blanket will have slight variations being authentically handcrafted and patterns may vary although the main color will be as listed.
Bottom line
You'll always be glad to see a Mexican blanket in your camping kit or yoga bag. These versatile, traditional blankets are as at home on the beach as they around the campfire or in the yoga studio. We recommend the Authentic Mexican Blanket. It's a great version of this traditional classic. Made authentically from a good recycled blend of fibers with vibrant colors and plenty of warmth.
We also like the Mexitems Large Authentic Mexican Blanket. These are big, bold, and beautiful and would look good as a throw on your couch or bedspread if you don't want to make use of their warmth and versatility as picnic blankets or to keep warm.
All the latest inspiration, tips and guides to help you plan your next Advnture!
Launched in July 2020, Advnture is the ideal destination for anyone who loves the great outdoors. Whether you're into epic hikes through the wilderness, camping trips with the family, climbing with your friends, or looking for a trail running personal best, our team of experts will point you in the right direction, with top buying advice and in-depth guides to help you get the most of your time in the backcountry.