Best mini-fridge for camping
Take your camping to new levels of luxury with a mini-fridge to keep drinks cool and food fresh. Lightweight and portable, you can use them in your house for an extra cold space all year long.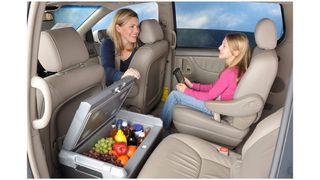 (Image credit: Amazon)
Keeping food and drink cold is one of camping's more difficult challenges. You can't put a price on being able to have an ice-cold drink, milk for your coffee or butter to spread on your bread when you are living outdoors for a weekend or longer. Even more importantly, you might need to take medicine for you or a family member that needs proper refrigeration. Although coolers are an option, if you can access an electrical hook up or your car's 12V cigarette lighter socket, a mini-fridge will keep things colder for longer.
Unlike even a powered cooler, a compressor-based fridge will actively cool food which is very useful if you camp in warm weather. Some portable fridges can even freeze what's inside them. To maintain temperature, fridges with compressors will turn on and off as necessary while thermoelectric units will have a fan, worth considering if the noise could be a problem for you when sleeping. Here are the mini-fridges we'd recommend for camping:
Best overall
Cools down to freezing and built for the road
With a display panel, built-in LED light and internal basket, this compressor refrigerator has all the features you need in a mini-fridge. It can freeze down to -4°F (-20°C) and run in the car on 12/24V DC with a three-stage battery protection system so you can safely start up your vehicle for the drive home after a weekend camping. It's vibration resistant and will run even on a 45° angle so perfect for long road trips or off-road driving.
Best for energy saving
Quiet and can run off USB
This classic four-liter thermo-electric fridge runs on AC and DC power or a USB cord for more flexibility. Use it to store drinks, food and medication when camping. A handy carry handle helps you transport it and the quiet cooling fan won't keep everyone awake. A high capacity cooling chip makes this very energy efficient.
Best performance
Cools its contents down quickly
You can't fail to be impressed by this model's performance. It will cool down to 32°F (18°C) within an hour, -50°F (10°C) within two hours, and -37°F( 3°C) within three hours. The four-liter capacity holds up to six cans or cosmetics, perishable food or medicine. It runs on AC/DC adapters so you can plug into standard wall sockets or your car's 12V cigarette lighter.
Best for capacity
Good cooling from a classic brand
This thermoelectric cooler will keep food and drink up to 40° cooler than the ambient temperature when you're away from home, without the need for ice. Compact enough to fit into most cars, it has a tray to keep the contents organized and comes with an 8-foot power cord and 12V plug so is easily powered by your car or boat outlet.
Bottom line
Although a fridge for camping might seem like a luxury and you're certainly not going to be able to fit one in your backpack, once you've camped with one, it's hard to go back. Back to warm drinks, liquid butter and off milk. Don't forget that portable fridges could come in very handy the rest of the year as a living room drinks cooler or to store cosmetics in. The fridge we'd recommend for most people is the Alpicool CF55 Portable Refrigerator. It performs brilliantly, will cool food right down to freezing and has a compressor that can handle being on the road.
If you want something bigger, the Coleman Cooler will do the job. It's a powered cooler that you can run off your car socket and will deliver nice cold drinks and fresh food for a longer trip.
All the latest inspiration, tips and guides to help you plan your next Advnture!
Launched in July 2020, Advnture is the ideal destination for anyone who loves the great outdoors. Whether you're into epic hikes through the wilderness, camping trips with the family, climbing with your friends, or looking for a trail running personal best, our team of experts will point you in the right direction, with top buying advice and in-depth guides to help you get the most of your time in the backcountry.