Best women's hiking tops 2023: comfortable shirts for hill walking
Our pick of the best women's hiking tops are ideal choices for all-day walking and trekking trails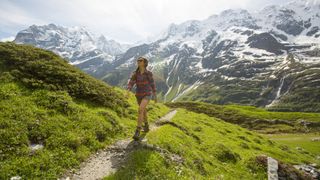 (Image credit: Getty Images)
The best women's hiking tops are not the same breed as the shirts you might sling on to wear to work – the best hiking shirts have handy technical features such as sun protection, insect repellency, antimicrobial treatments or just the magical power to never need ironing.
Lightweight polyester shirts are ideal for hot weather hiking and travel, will wick away sweat and are ideal for wearing both on the trail by day and for a pub dinner by night. Warmer, insulated shirts double up as brilliant mid layers in cooler weather, and there are also eco-friendly hiking shirts available that are made using renewable materials.
There is a surprisingly rich array of good women's hiking shirts on the market – so we've made things easier by testing out and recommending the best. These picks of the best women's hiking tops are comfortable, fit brilliantly and look smart too, so you'll be hiking happily wherever you roam. And you can always match them with the best women's hiking boots and the best women's walking sandals.
The best women's hiking tops
Best women's hiking tops for versatility
1. Craghoppers NosiLife Adventure II shirt
A flattering utility shirt with an added superpower – NosiLife material is treated with permanent insect repellent to keep biters at bay
Specifications
Materials:
Main: 100% polyamide; Trim: 100% polyester
Sizes available:
8 / 10 / 12 / 14 / 16 / 18
Colors:
Desert Sand / Brushed Lilac / Toasted Pecan / Mineral Blue / Seashell Pink / Amalfi Rose / Soft Moss / Soft Pistachio / Sea Salt / Mushroom
Compatibility:
Wear for trails where biting insects may be an issue
Reasons to buy
+
Repels insects
+
Great looks
+
Tough, hardy material
If you're heading to a climate where mosquitoes and other biting nasties may lurk, a hiking shirt impregnated with insect repellent can be a very clever shout. Craghoppers rightly call their NosiLife Adventure II a "travel standard". This smart shirt looks good, feels great to wear and boasts a hidden super power – it's made with Craghoppers' own-brand NosiLife material, which has an insect-repellent treatment woven into fabric to provide permanent protection from mosquitoes and other biting insects. The effect is meant to be permanent – and on test we definitely noticed that Spanish mosquitoes kept well away from our top half (time to buy some matching trousers!).
The Nosilife fabric also feels pleasingly durable and difficult to rip or damage – ideal for more adventurous hikes. The Adventure II also comes in no less than ten smart neutral colorways, and we think they all look surprisingly urban and ready to go from trail to town, although you may need to try a size up to get an unrestrictive fit.
A great linen lookalike, the Kiran is our top pick for style and soft comfort
Specifications
Materials:
Hemp (54%), Tencel (44%), spandex (2%)
Sizes available:
XS / S / M / L / XL / XXL
Colors:
Sand / Black / White
Compatibility:
Ideal for multi-activity trips where you're going from trail to town
Reasons to buy
+
Great comfort
+
Smart looks
+
Eco-friendly materials
Reasons to avoid
-
The paler colors are easy to stain
Sherpa are that rare thing – an outdoors brand that makes adventure-friendly clothing that still looks stylish. We like their jumpers and jackets, inspired by the colors of Nepal, and we were just as impressed by the Kiran shirt on test.
The sand and white colorways of this shirt are the smartest we tested, and we would happily wear them to dinner or even to work as well as for walking and travelling, so you're guaranteed to get good cost-per-wear here. This soft shirt is also one of the comfiest we tried, using a mix of planet-friendly hemp and stretchy spandex to get a great fit that feels lovely against the skin.
The Kiran doesn't need ironing despite its linen-like looks, and even has a hidden security pocket for carrying valuables. Ideal for wearing in the mountains if you're on a walking and cultural holiday where you need just one shirt to take you from trail to temple to tuktuk.
Best women's hiking tops for chilly days
3. Marmot Ridgefield shirt
Snuggle up on cooler hikes in this cosy insulated shirt with smart flannel looks
Specifications
Material:
Heavyweight double-brushed flannel, polyester **Weight:** 600g / 21oz
Sizes available:
S / M / L / XL
Colors:
Beige Check / Green Check
Compatibility:
Pop this shirt-jacket on for cool crisp days outside
Reasons to buy
+
Great comfort
+
Insulated and warm
+
Good coverage
+
Cheerful flannel design
+
Made with post-consumer recycled materials
Reasons to avoid
-
Heavy
-
Too warm for some adventures
We love the flannel-like looks of the Marmot Ridgefield, which stands out from the world of boring (and often various shades of beige) hiking shirts on the market. This design looks great with jeans as well as with walking trousers, and works for wear pretty much anywhere from peak to pub – another hiking shirt that might just make its way into your permanent wardrobe.
This thick and soft-as-anything shirt is lined with Sherpa fleece and adds a real layer of warmth that's similar to popping a fleece on, so it's ideal as a mid-layer in colder weather, but is too insulated for hot summer hikes. Unlike some thicker shirts we've tried out in the past, the Ridgefield still offers great range of movement when you're walking. If you do sweat, Coolmax EcoMade material dries two times faster than cotton, and if the temperature drops, a longer hem helps keep more of your torso warm. The perfect shirt-jacket hybrid for spring and autumn outdoor adventures.
4. Fjällräven Övik Travel Shirt
One shirt to rule them all? The great quality Övik is an excellent all-rounder of an outdoor shirt
Specifications
Materials:
Hemp (55%), polyester (45%) **Weight:** 230g / 8oz
Sizes available:
XXS / XS / S / M / L / XL
Colors:
Raspberry Red / Sage Green / Dusk
Compatibility:
This versatile shirt is happy hiking anywhere you roam
Reasons to buy
+
Great quality
+
Eco-friendly materials
+
Zipped pocket
If quality is top of your list when you're shopping for hiking clothes, look no further than Fjällräven's Övik. The Swedish brand's outdoor offerings always stand out for their use of great, long-lasting materials, and the Övik is no different – this shirt feels lovely to wear and will look good for years of hiking trips to come.
The fabric is a rather magical mix of light weight and breathability while still feeling comfortably solid and durable thanks to a mix of eco-friendly hemp and recycled polyester. Two chest pockets and a very handy zipped security pocket hold smaller valuables, and any of the three colorways will look classic for years to come. We wore the Övik for a week of hiking in the Pyrenees and were impressed with how it proved breathable on baking days and warm and comfortable against the skin when the weather turned – this is a great quiver-of-one outdoor shirt for daily use.
Best women's hiking tops for warm days
5. Patagonia Women's Long-Sleeved Sol Patrol shirt
Keep the sun at bay with the protective – and rather pretty – material of the Sol Patrol
Specifications
Material:
100% recycled polyester
Sizes available:
XS / S / M / L / XL
Compatibility:
Ideal if you're hiking at altitude or out in the sun for prolonged periods
Reasons to buy
+
Good sun protection
+
Easy to care for
+
Zipped pockets
Reasons to avoid
-
Tailored and slim-fitting
Are you on Sol Patrol? If you're careful about keeping your skin protected from the sun when walking, Patagonia's shirt offering will suit you perfectly. The Sol Patrol's denser fabric has a high 50+ UPF rating and is ideal for hot climates, as it's cool, breathable and quick to dry thanks to 100% recycled polyester. That sun protection is also a big help if you're hiking at altitude.
We loved the zipped chest pocket on test – so much easier for storing valuables or stashing your phone than a fiddly buttoned one – and the long sleeves and sturdy collar give further protection from the sun's rays. If you do roll the sleeves up, they are quick and easy to button above your elbows.
The rather pretty turquoise patterned material doesn't need ironing and is dark enough to hide sweat and dirt well while still looking and feeling fresh. The Sol Patrol is on the slim, tailored side, which may not suit everyone – one to try on in person if possible.
6. Royal Robbins Expedition Pro shirt
A highly breathable, easy-to-care-for and surprisingly smart adventure shirt, ideal for warmer days
Specifications
Material:
100% recycled polyester **Weight:** 170g / 6oz
Sizes available:
XS / S / M / L / XL
Colors:
White / Everglade / Asphalt
Compatibility:
Ideal for hikes in hot climates
Reasons to buy
+
Breathable
+
Great fit
+
Hides dirt
+
Recycled material
Reasons to avoid
-
Pricy
-
No insect protection
One of our top tried-and-tested shirts, Royal Robbin's Expedition Pro is nicely cut to fit the female body, looks very smart and – miracle of miracles – doesn't crease or need ironing (or even much washing) even after days of walking and wandering.
The white version is very cooling to wear but the khaki and black are the standout colors here: they hide the inevitable dirt of outdoor adventuring very well.
The Expedition is highly breathable in hot climates, so it's ideal for walking holidays in tropical locations. Multiple vents further help to wick away sweat. A bit of stretch makes the Expedition comfy to wear all day, and it works nicely when worn under a hiking backpack. Worth investing in to wear for many adventures to come, and various other versions of this shirt are available, including a tunic style and some jazzy patterned materials.
7. REI Co-op Sahara Button-Up Long-Sleeve Shirt
Cool, breathable and offering good sun and insect protection, the Sahara is a travel-friendly choice
Specifications
Material:
Nylon (95%), spandex (5%)
Sizes available:
XS / S / M / L / XL
Colors:
Heron Blue / Rust Marsala / Sea Olive / Stellar Grey / White
Compatibility:
Wear in warm weather or strong sun
Reasons to buy
+
Easy to care for
+
Quick-drying
+
Good sun protection
Reasons to avoid
-
Rumpled finish to fabric
As the name suggests, the Sahara is desert-ready and ideal for hot weather and international travel. This soft-to-touch shirt is highly breathable and was one of the quickest-drying fabrics we tested – ideal for wicking away sweat, or for washing on the go if you're travelling light. Once dry, the shirt doesn't need any care or ironing to be ready to pop on again, although it does have a naturally slightly rumpled finish that not everyone will like.
The fabric offers decent sun protection, and while it isn't treated with insect repellent, the weave is dense enough to keep biters at bay. The sleeves were the most rollable we tried, too, and can be buttoned up neatly for a short-sleeve look.
Five neutral, classic colors look smart enough to wear on evenings out after a big day in the hills. Petite testers also report that this shirt's smaller sizes fit brilliantly, so this might be a good choice if you find most hiking shirts tend to swamp your frame.
One of the lightest shirts on test is also great at keeping odors at bay – ideal for warmer walks
Specifications
Sizes available:
XS / S / M / L / XL
Colors:
Bright White Peacoat / Zen / Galaxy / Candy Pink
Compatibility:
A smart shirt for warmer walks
Reasons to buy
+
Super light
+
Work-ready looks
+
Antimicrobial
Reasons to avoid
-
Tailored fit won't suit all body types
-
Not very warm
You might be mistaken for thinking this was from a work wardrobe – a smart check makes the Mammut Aada look like a cut above your average hiking shirt. Available in either a long or short-sleeve cut, this shirt is more tailored than many other hiking shirts, so it'll suit slim or athletic builds best – the plus side is that it fits very nicely under fleeces and jackets.
If it does suit you, you'll like the lightweight, easy-care polyester material, which is easy to wash, quick to dry and doesn't need ironing to look smart. The Aada has decent sun protection of UPF 30+, and the fabric has an antimicrobial treatment that reduces odor, too – ideal if you're going to be walking far from the nearest washing machine for days on end.
9. Columbia Camp Henry shirt
100% cotton makes this shirt a light and breezy treat for hot dry weather
Specifications
Sizes available:
XS / S / M / L
Colors:
New Mint / Sun Glow / Faded Sky / Stone Green / Nocturnal Canyon / Where Stripe / Cedar Blush / Peach Cloud
Compatibility:
Look smart on dry summer trails in this versatile shirt
Reasons to buy
+
Very breathable
+
Smart patterns on offer
+
Lightweight
Reasons to avoid
-
Cotton lacks thermal qualities and is slow to dry once wet (not suitable for mountain or winter wear)
-
Sizes small
Another shirt catering to the trend for plaid patterns, Columbia's popular Camp Henry is a very versatile long-sleeve shirt. Despite its cosy flannel looks, the Camp Henry is surprisingly light, cool and breathable – ideal for hot summer hiking when worn alone, or easily popped over a base layer in chillier climates.
The sleeves roll up quickly and easily thanks to well-placed tabs and we found the shoulders sat nicely under a backpack, with no rucking up or rubbing. Various check and striped versions are available – the plain blue-striped incarnation of this shirt would be smart enough for the workplace, while the cheery checks look great on the trail.
This shirt is 100% cotton, so it's best used in dry weather, and this is yet another hiking shirt we'd recommend sizing up in to make sure you get a loose and unencumbered fit.
Choosing the best women's hiking shirt for you
There is a huge number of women's hiking shirts to choose from. Following are some factors it's worth considering before making a purchase.
Materials
There's a bigger variety of hiking and travel shirts on the market than you might think, and different materials are best suited to different kinds of adventure. Synthetic shirts made with fabrics such as polyester are quick drying and good for humid conditions, while lightweight, natural cotton is ideal for the heat, but doesn't dry fast when wet and offers no thermal qualities, so should never be worn in alpine or winter conditions. Blended materials such as those that use spandex are slightly stretchy and very comfortable to wear for long periods. Tencel has been around since the 1970s but is suddenly very popular in the outdoors market, and is delightfully cool and comfy to wear as well as being an environmentally-friendly choice. Hemp is also a great material to keep an eye out if you're trying to make planet-friendly purchases, as it has low carbon emissions and is better for the environment than cotton clothing.
Design
You'll see both button-down and tunic-style hiking shirts on the market. We recommend button-downs, as they're easy to pop on and off and double up as an outer layer when worn unbuttoned over a tank top (for more on layering, see Why is layering important?). You can also choose whether to go short- or long-sleeve. Short-sleeved tops are cooler and often easier to layer, while long-sleeved shirts will protect arms from the sun when you're hiking. We reckon a long-sleeved shirt that can easily be rolled up, ideally with buttons to secure the sleeves easily above the elbows, is the most versatile choice for walkers. When it comes to color, while white looks very smart it also tends to look dirty very quickly. Beige, sand and darker tones are ideal for travelling and hiking, as they disguise dirt and sweat. Plaid shirts are bright and fun to wear, and there are even smart striped shirts available that will double up as a work wardrobe when you aren't hiking.
Fit
We're sure you don't need us to tell you how to check that a shirt fits you properly, but if you're going to wear your new purchase for hiking for long hours at a time, it is worth getting the fit bang-on. Your new shirt shouldn't feel restrictive anywhere when you move or lift your arms. If you want to wear it with a backpack, check that there aren't seams on the shoulders that could dig into your skin when worn under rucksack straps. A looser fit tends to allow better ventilation and keep you cooler, and we recommend checking a shirt is long enough to tuck into your hiking shorts or trousers comfortably.
Insect and sun protection
A technical hiking shirt can be more than just something to pop on your top half – some of the best are designed to effectively block the sun's rays or even to repel biting insects. All shirts will block some sunlight, but some have a high UPF rating and are made with a dense material that is UV-protective – these are a great choice for hiking in hot countries and for trekking at altitude. Some shirts, such as Craghoppers' NosiLife range, have built-in insect repellent properties that will keep biting bugs away – ideal for tropical trails. If you're choosing a shirt specifically for hot weather and sun exposure, make sure the fabric is light and breathable enough to keep you cool.
All the latest inspiration, tips and guides to help you plan your next Advnture!
An award-winning travel and outdoors journalist, presenter and blogger, Sian regularly writes for The Independent, Evening Standard, BBC Countryfile, Coast, Outdoor Enthusiast and Sunday Times Travel. Life as a hiking, camping, wild-swimming adventure-writer has taken her around the world, exploring Bolivian jungles, kayaking in Greenland, diving with turtles in Australia, climbing mountains in Africa and, in Thailand, learning the hard way that peeing on a jellyfish sting doesn't help. Her blog, thegirloutdoors.co.uk, champions accessible adventures.