Hiking layers: everything you need to know to keep yourself warm in all conditions
Our guide to how and why hiking layers will keep you warm and dry while you're out hiking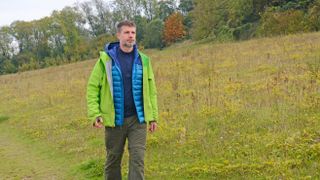 (Image credit: Jonathan Manning)
Knowing how to manage your hiking layers comes with practice. Keeping dry, warm, comfortable and protected in the hills requires a team effort from your clothing. No single item boasts silver-bullet properties to meet all these demands on its own. Instead, different layers perform different functions, working together so you don't drown in sweat, freeze in the wind-chill or dissolve in a downpour.
Mixing and matching these hiking layers is called 'layering', and requires different choices depending on the weather, the activity and your own personal comfort preferences. Some of us cherish heat while others would rather be cool, in the same way that some of us hunker down to sleep under a duvet and blanket while others are happy covered by no more than a sheet.
But when Mother Nature does bare her teeth there are layering techniques common to every walker in every environment. As the saying goes, there's no such thing as bad weather, just inappropriate clothing. For example, a deluge can be great fun, so long as you have your best waterproof jacket.
Broadly speaking, hiking layers split into three categories: base layer, mid layer and shell layer. Each has a different purpose and all are hiking essentials. Mixing and matching different layers creates a shield for every type of condition. And by wearing or carrying multiple layers you have the flexibility to pack away items you don't need, or wrap up in the face of a storm.
Base layer
The foundation of hiking layers, a base layer is the clothing worn immediately next to your skin. Its primary purpose is to draw sweat away from your skin, a process called wicking, so that you don't feel wet with perspiration.
Base layers include briefs, boxers and sports bras, all of which should be made from a wicking fabric, although the term typically applies to a long- or short-sleeved t-shirt.
This can be made either from manmade fiber, such as polyester, polypropylene and nylon, or from natural fibers like silk (forget any thoughts of Victoria's Secret), bamboo and merino wool.
Synthetic materials have the upper hand when it comes to wicking, weight and speed of drying. They can also be treated with UPF sun protection for hiking in sunny conditions.
On the other hand, merino wool has a natural warmth and softness next to the skin, plus antimicrobial qualities that mean it doesn't pong after a few days on the trail, but it does take a longer to dry.
There are different weights of base layer offering more or less insulation, with your choice dependent on the intensity of your activity and the prevailing temperature. There is also a growing series of hybrid fabrics than combine natural and manmade fibers to deliver the best of both worlds.
The one absolute no-no for a base layer is cotton, and this includes your briefs and boxers. Cotton acts like a sponge, soaking up and storing sweat next to your skin, and leaving you feeling clammy. It also has terrible thermal properties – when you stop walking you'll soon feel cold and uncomfortable. Cotton can actually be a killer when worn wet in cold conditions. Wet undergarments can also lead to chafing in areas where you definitely don't want raw skin!
Mid layer
A mid layer has two roles: firstly, to continue the work of the base layer in wicking sweat away from the skin so it can evaporate in the breeze; and, secondly, to provide some insulation, retaining your body heat in cooler conditions.
Polyester fleece is the most common mid layer, available in different weights (100, 200 and 300 – the higher the number the warmer the fabric). Not only is it light, but it's also highly breathable and retains its insulating properties when wet. It doesn't, however, offer any wind protection, so don't expect any effective insulation at the top of Mt Washington if you're only wearing a fleece jacket.
For colder conditions – think winter months, altitude, snow or ice – an insulated jacket can also serve as a mid layer. In terms of bangs for bucks, duck and goose down delivers the greatest insulating warmth for the lightest weight and smallest pack-down size. But a down jacket loses much of its insulating properties when it gets wet so it needs to be protected by a waterproof shell jacket over the top. Down jackets are particularly good to pull on during breaks in your hike or when belaying during a climb. We explain how to choose a down jacket in our expert guide.
Hydrophobic down, a treatment which helps feathers keep their loft (the air between) even when wet, offers more sustained insulation properties, but synthetic insulation is a surer bet for keeping Jack Frost at bay in wet conditions.
Shell layer
In many ways the most important of all hiking layers, think of the shell layer as the barrier between you and the elements. It may just be a wind-shirt fending off a biting gale, or it may be a full-on waterproof jacket defending you from the wind and rain. On a driech (Scottish for 'not very nice') day, you won't stay dry while hiking without one.
As with the base and mid layers, a shell should also allow moisture to escape so you don't 'boil in a bag' from your own sweat. Waterproof membranes such as Gore-Tex and eVent allow moisture to pass from your base and mid layer through to the outside, while blocking mist, rain and snow from passing the other way.
A shell jacket can be worn directly over a base layer in warmer temperatures and higher energy hikes when you want to stay dry in a downpour.
But when the mercury tumbles, the shell can also be worn over both a base and mid layer as part of a full three-layer system.
A waterproof shell jacket should have taped seams and storm zips to keep out the rain. These waterproof seals combined with a face fabric, membrane, and sometimes jacket lining, too, mean shells are rarely as breathable as they promise, but with an effective base layer wicking sweat away from your skin you can still feel reasonably dry and comfortable.
Three more layers
Hat: You lose a lot of heat out of your head, so it's worth having a decent hiking hat. It's obvious really, but a beanie under a waterproof hood is a layering system in its own right; a polyester or woollen hat traps heat and allows vapor to evaporate, while the hood provides 'umbrella' waterproof protection.
Gloves: The best hiking gloves have a double-layer construction that's warmer and more comfortable than standard winter apparel. Try a pair of thin, liner gloves, made from merino or a synthetic fabric, under a pair of waterproof mitts or heavier gloves. The double layer of materials traps air and provides more insulation to keep your fingers warm, although they can compromise dexterity.
Soft shell: If one outdoor item threatens the established layering system, it's the softshell jacket. A hybrid between a mid layer and a shell, soft shells offer the insulation of a fleece with some of the waterproof qualities of a shell. They tend to rely on a DWR (Durable Waterproof Repellency) coating to fend off mist and light showers, but don't have taped seams or waterproof zips. They do provide warmth and offer much more stretch than a traditional shell jacket, so for cooler, damper spring and autumn days they are definitely worth considering. But be aware that they are less breathable than a fleece and lack the full-on rainstorm protection of a waterproof shell.
How to pack your hiking layers
When it comes to hiking layers, knowing how to pack a backpack makes transitioning between layers much quicker, which is especially important in winter when you want to keep moving.
It might sound obvious, but a good tip is ordering your layers in the order you think you'll need them. Check the weather forecast before you stuff everything in. If rain is forecast, your waterproof shell should be towards the top. Of course, the reverse is true if wall-to-wall sunshine is on the cards, in which case your waterproof will hopefully just take up room in the bottom of your pack.
Another good tip (especially for winter hiking) is leaving everything unzipped when you pack it. This makes throwing on that down jacket in a blizzard much quicker. Remember, in winter, everything is more difficult. You'll have decreased dexterity due your gloves, there may be strong gusts blowing everything about and you won't want to be standing around for too long. Movement equals warmth. So having to pull your jacket out, fumble around to unzip it, put it on and zip it up again takes more time and costs more warmth than just pulling it on and zipping it up.
If, mid-hike, you decide to add layers under your outer shell, a good trick is to zip your shell most of the way down, take it off your shoulders and then leave it dangling from your waist. This way, you can put your smaller mid layer on without having to take the shell off fully. It's little efficiencies like this that will make you quicker and more accomplished on the hill.
Finally, dry bags are an excellent idea. When you come to plan a backpacking adventure, study the forecast. If it's going to be warm but wet, it's worth putting things like mid layers, gloves and hats into dry bags so that they do not get wet in your main pack. You might need them the further up you go or at night when you've pitched your tent.
All the latest inspiration, tips and guides to help you plan your next Advnture!
After spending a decade as editor of Country Walking, the UK's biggest-selling walking magazine, Jonathan moved to edit Outdoor Fitness magazine, adding adrenaline to his adventures and expeditions. He has hiked stages or completed all of the UK's national trails, but was once overtaken by three Smurfs, a cross-dressing Little Bo Peep, and a pair of Teletubbies on an ascent of Snowdon. (Turns out they were soldiers on a fundraising mission.)