Why is cotton bad for hiking?
We explain why you don't want to be hiking wearing a wet, heavy sponge, plus the best alternative fabrics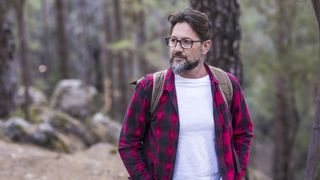 (Image credit: Simona Pilolla / EyeEm)
You've probably heard that cotton is bad for hiking, but like clockwork, when warmer weather rolls around, it's just too tempting to reach for your favorite soft cotton tee when you're heading out on the trail. It's comfortable, looks super hip and your outfit won't scream 'I'm a hiker' when you go to the bar after your hike to toast all those miles logged on your Garmin Fenix 7. So why is cotton bad for hiking, again? Let's run through this golden rule of hiking, again.
Cotton clothes are not your best friend when it comes to outdoor activities. They're down there on the naughty list alongside hiking in jeans, hiking in Vans and, to a slightly lesser extent, hiking in Doc Martens. And no, we're not the fashion police and this isn't because some gear snob has decided that outdoorsy people are above cotton clothing. The reason that cotton is bad for hiking – and basically any outdoor activity, actually – is all to do with the science of staying warm.
You see, cotton might have lots of great benefits – it's comfortable, it isn't clingy, and it's hypoallergenic – but it is also very good at keeping hold of water. Which is fine, except when you're in an environment where there's a lot of water. For example on a miserable, wet day on the hills when it's raining in all directions. Or on a warm humid day when you're sweating buckets and getting wet from the inside out. Or basically any time you're sweating. The cotton soaks up all that water like a sponge, and you're clothing becomes heavy, clammy and cold, if the weather is cool.
If you want to prove it, it's actually quite a fun activity – particularly if you're teaching kids. Get a bucket of water and two equivalent T-shirts: one synthetic and one cotton. Dunk both T-shirts in the water, then hang them out to dry next to each other. After an hour or so, come back to compare how damp the clothes are. The difference will be obvious.
The problem with this is twofold. Firstly, when the cotton is completely wet it's no longer keeping you warm. This might be fine if it's a scorching hot day, but less good most other times. Secondly, cotton has no moisture wicking properties. This means it can't move water (aka sweat) away from your skin into drier areas. If the weather is very cold or windy, you can get very cold by wearing cotton clothing. Particularly if you stop moving. Wet plus windchill is well on the way to hypothermia.
What are the best fabrics for hiking?
OK sure, people climbed most of the way up Everest in tweed jackets back in the day and lived to talk about it, but trust us, there are far more comfortable clothes nowadays, specifically designed for the outdoors. In fact, the best hiking pants, best hiking tops and best hiking socks these days are always made using breathable, moisture-wicking fabrics that transfer vapor away from your skin to keep you cool if you're sweating, dry quickly and still provide warmth when they get damp on cold days.
In fact, one of the best fabrics for hiking clothes is merino wool, which you might think sounds too scratchy and hot for a warm day on the hill but is soft and helps you regulate your temperature. Another natural option is bamboo, which isn't quite as technical but very soft, or for more durable clothes, you can choose from synthetic fabrics such as polyester and nylon – just look for recycled options to help offset the environmental implications, or course.
You might not look quite as cool on the trail as you thought you looked in your lumberjack shirt and jeans but hey, you'll live to tell the tale.
All the latest inspiration, tips and guides to help you plan your next Advnture!
An adventure writer based on Dartmoor, England, Emily is an active member of Mountain Rescue and a summer Mountain Leader, but loves all things adventure – before her third birthday she had lived on three continents. Founder of Intrepid magazine, she works to help break stereotypes about women in the outdoors. Her expeditions have included walking all Dartmoor's 119 tors in a single two-week outing, cycling to Switzerland and back, and riding the Rhine from source to sea.