Best hikes in Vail, Colorado: when the snow has melted, these ski slopes are a hiker's paradise
The best hikes in Vail, Colorado showcase forested hiking trails featuring carpets of wildflowers and turquoise alpine lakes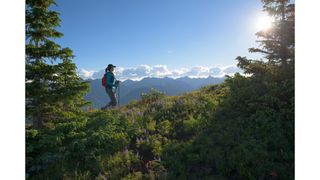 (Image credit: Jack Affleck)
Ask any local in Vail, Colorado how they got here and they'll probably tell you that they came for the winters and stayed for the summers. While this Rocky Mountain ski town is famous for its world-class ski resort buoyed by frequent and impressive winter storms, its summer conditions are the stuff of dreams. When the snow melts, the valley is transformed into an evergreen haven for hikers, bikers, climbers and kayakers and it tends to be a bit quieter and cheaper to visit than during the busy winter months. Here we've compiled our list of the best hikes in Vail, Colorado that will convince you it's not just a ski town.
Perched high at 8150 feet above sea level, Vail sits in the valley of the Eagle River which flows east to west, 100 miles west of Denver. The structure of the valley means Vail boasts hiking trails on three out of four sides: to the east is the fantastic Gore Range, to the south Vail Mountain rises up out of the ski village and to the north lies the Eagle's Nest Wilderness. Vail enjoys warm, dry alpine conditions in the summer that turn its dramatic slopes into lush, forested hiking trails carpeted with wildflowers that lead you to turquoise alpine lakes.
Unlike some hikes in other Colorado destinations we've covered, like Denver and Boulder, these hikes are all easily accessible from town, even without a car. In general, you can hike in Vail from June to October and the autumn is the most spectacular time to hike. All of these hikes are at high altitude, so you'll want to come prepared with your water bottle filled, and plan to hike in the morning as dangerous lightning storms often roll in during the afternoon. Lace up your hiking boots and grab your trekking poles and get ready for some incredible summer hiking.
Berry Picker Trail
Distance: 7.9 miles
Difficulty: Difficult
Berry Picker is easily one of the best hikes in Vail, Colorado. This trail is on Vail Mountain and therefore easily accessed from the resort. Its abundant wildflowers and views of the Gore Range make it popular with locals and visitors alike, while its proximity to the ski lift creates a variety of options for your hike.
There are a couple of points where you can start this trail, but we like starting from Lionshead Village. Cross over the ski bridge and follow the signposted trail as it begins its switchbacks up the mountain under the gondola. You'll weave in and out of aspen groves and evergreen pine and spot lots of wildflowers on the way up. This trail is for hikers only, so you don't have to worry about mountain bikers coming down, but do be careful when crossing any gravel roads. It's not unusual to spot bears on Vail Mountain, but with so many people on the trail they tend to keep a good distance. The views from the top of Vail Mountain are simply breath taking and because it's a resort, there are bars and restaurants up here too if you want a deluxe picnic experience. From here, you can hike back down or hop on the gondola for free and take the express route. Another popular option is to ride the gondola up and hike down, but you'll have to pay the hefty lift ticket price for this option.
Upper Piney River Falls Trail
Distance: 5.9 miles
Difficulty: Moderate
Piney Lake is extremely popular with tourists, partly because you can drive all the way to it, and partly because it is one of the most photogenic lakes in Colorado.
To get there, you'll need to drive about 45 minutes up Red Sandstone Road which is a rocky dirt road. Park for free at the ranch and follow the signs to the trail. The trail itself is reasonably mellow by Vail standards but the views of Piney Lake and Mount Powell are outstanding. Keep your eyes peeled for moose as you wind your way up along Piney River to the cascading waterfalls at the end.
Booth Falls
Distance: 4.2 miles
Difficulty: Moderate
Booth Falls is another fan favorite, offering spectacular waterfalls just a short distance from the village. You are likely to encounter crowds on weekends or if you don't get off to an early start. For this reason, parking at the trailhead has been closed to keep access open to nearby homeowners and you will need to take the free bus from Vail Transportation Center to the Booth Falls stop.
With all of that out of the way, the hike to Booth Falls is definitely worth it if you can leave early or go on a weekday. The trail along Booth Creek drainage winds through an aspen grove then alpine forest at a fairly steep climb but offers lots of shade and big rocks to rest on along the way. It's not unusual to spot moose here so keep your eyes peeled. Soon you'll begin to hear the roar of the falls and after a couple of miles, you'll find yourself overlooking the waterfalls. This is a great place to stop for lunch.
Optionally, you can keep going for another two miles and you'll reach Booth Lake. This high alpine lake feeds the creek and is perhaps the prettiest of several gorgeous lakes in the area. Far fewer people complete this part of the hike, so you'll enjoy much more peace and quiet, but should come prepared for a long hike.
Pitkin Lake
Distance: 10.5 miles
Difficulty: Difficult
Pitkin Lake is a stunning alpine lake one drainage east of Booth Creek drainage that makes for an adventurous day hike or a splendid overnight trip. It fills a large bowl at 11,362ft above sea level and is framed by dramatic granite walls.
You can take the free town bus to the Pitkin Creek stop or park at the trailhead on Fall Line Drive just east of town. Cross over Pitkin Creek at the beginning of the hike and follow it during a strenuous climb for the first half mile or so, but don't be discouraged. It does level out a bit and the hike through alternating shaded forests and wildflower meadows with the Gore Range up ahead is absolutely worth the effort. The view of Pitkin Falls about half way makes an excellent pit stop and the lake itself is truly a local gem.
Bighorn Creek
Distance: 6.9 miles
Difficulty: Difficult
The next drainage over from Pitkin Creek is formed by Bighorn Creek. While this one also follows a beautiful drainage up towards the Gore Range, it ends with a picturesque abandoned mining cabin rather than a lake. It's a shorter and slightly easier way to enjoy one of Vail's drainages.
Park at the trailhead on Columbine Drive or take the free bus from town and get off at the Columbine stop. The trail begins with a rather steep half mile climb but gets a bit easier after that as it takes you through forests and meadows to views of the Grand Traverse, a 12,000ft ridge connecting all the peaks and drainages of the Gore Range. Pause and enjoy Bighorn Falls a couple of miles in, then have lunch at the old mining camp in a large meadow.
Gore Lake
Distance: 12.1 miles
Difficulty: Difficult
Yet one more drainage to the east of Bighorn Creek is Gore Creek. The hike to Gore Lake makes for a pretty serious day hike, and it's a great challenge for an overnight trip as well. Take the free bus from town or park at the trailhead on Vail Pass – 10 Mile road. Gore Lake shares a trailhead with Deluge Lake, but both trails are well signposted.
The trail begins with almost a mile of strenuous climbing and has many more steep sections as you wind your way up the valley. You'll be treated to all the high alpine features of cool forests and alpine meadows, but one unusual feature of this hike is a set of two graves about four miles in. The graves are of the Recen brothers, two Swedish immigrants who came to the area to mine for precious metals in the late 1800s and had a cabin nearby. Keep going to finally arrive at this idyllic alpine lake nestled in a granite bowl.
Shrine Ridge Trail
Distance: 4.3 miles
Difficulty: Easy
Vail Pass is the 10,666-foot-high mountain pass that you'll drive over to get to Vail if you come from the east. Shrine Ridge Trail is one of the most popular hikes in the Sawatch Range. Beginning at well over 11,000ft in elevation you get all the gifts of a high alpine hike without much climbing at all.
Take exit 190 from I-70 and follow the sign to join Shrine Pass road. Follow the gravel road to the trailhead and begin walking towards Shrine Mountain Inn to join the trail to the left. Shrine Pass was originally a Ute Indian trail until it was taken over by silver miners. This hike ambles by two ponds and through alpine meadows with spectacular panoramic views of the surrounding mountain ranges, ending in Shrine Ridge which leads up to Shrine Mountain, named for its views of Mount of the Holy Cross.
All the latest inspiration, tips and guides to help you plan your next Advnture!
Julia Clarke is a staff writer for Advnture.com and the author of the book Restorative Yoga for Beginners. She loves to explore mountains on foot, bike, skis and belay and then recover on the the yoga mat. Julia graduated with a degree in journalism in 2004 and spent eight years working as a radio presenter in Kansas City, Vermont, Boston and New York City before discovering the joys of the Rocky Mountains. She then detoured west to Colorado and enjoyed 11 years teaching yoga in Vail before returning to her hometown of Glasgow, Scotland in 2020 to focus on family and writing.