7 mountains you should climb in the United Kingdom
The man who has climbed every peak in the British Isles spills the beans on his favourite mountains you should climb in the United Kingdom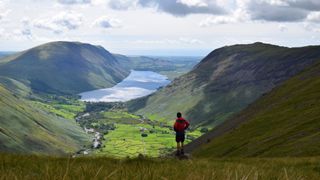 (Image credit: Edward Fitzpatrick)
It is a question hillwalkers love to ponder: what are the best mountains you should climb in the United Kingdom? Fiery debate is sure to ensue, with every participant convinced of the merit of their personal favourite. For some the remote and wild ruggedness of the Scottish Highlands cannot be beaten. For others the almost impossibly idyllic landscapes of the Lake District surpass all competition, while the rural charm of the Yorkshire Dales will claim the top prize for another group.
Various attempts over the years to settle on a definitive favourite have served up different results. A survey by Trail magazine in 2014 billed Tryfan – that towering pyramid of Snowdonian splendour – as the UK's favourite peak, while a vote organised by ITV in 2018 suggested Helvellyn – that twin-ridged adventure playground in the Lake District – was in fact number one in the hearts of the British public.
In truth, there is no right or wrong answer and there can never be a winner. Choosing a favourite mountain – or top 5 or top 10 – is a personal, subjective thing. While you might favour knife-edge arêtes and rocky drama, others may be drawn to rounded, grassy hills with quintessentially English countryside views. Perhaps you have an emotive or intimate reason for loving a particular mountain – maybe you walked it as a child with your grandad, or climbed it when you were dating your husband, or simply love it because it's on your doorstep, a never-changing background to your everyday life. Another possibility is that you're drawn to certain mountains because (by pure chance) you climbed them on a sun-drenched, heavenly summer's day, rather than encountering the usual rain, wind and all-encompassing hill fog.
Over the past three years, I've embarked on a crazy mountain climbing mission. I've bagged 1,001 peaks across the UK and Ireland, including all 282 Munros in Scotland and every 2,000ft summit across England and Wales. It's been the adventure of a lifetime and given me a truly intimate knowledge of the UK's amazing mountains. But I still always find it difficult to answer that common question: what were your favourites? Every time I give a different response. After all, it's a personal and subjective choice that breeds indecision. You might well disagree with my selection, but here they are anyway: my top seven summits in the UK.
1. An Teallach, 1,062m, Northern Scotland
Brutally built and terrifyingly sheer, An Teallach is probably Britain's gnarliest ridge scramble. Monstrous pinnacles, like the jagged backbone of a sleeping dragon, serve up a legendary grade-three scramble with spine-tingling exposure. By sticking to the spiky crest you encounter an epic alpine adventure, bagging two Munros along the way too. But the best way to experience An Teallach is to spend a few days at the charming Shenavall bothy. This'll give you the chance to explore more of the Fisherfield Forest – an untamed, rugged, far-flung landscape known as 'the great wilderness' of Scotland.
2. Snowdon, 1,085m, Snowdonia, Wales
Love it or hate it, climbing Snowdon – the highest mountain in Wales – remains a rite of passage for British hillwalkers. For some the experience is ruined by crowds of train-hopping, cafe-visiting tourists; others see only the grandeur and beauty of Snowdonia. Beginners can complete an easy loop of the Pyg Track and Miners Track, which is suitable for any reasonably fit walker. But my personal preference is to climb to the roof of Wales via Crib Goch, an exhilarating (and dangerous) razor-sharp ridge that leads to Snowdon's summit. The jelly-leg inducing scramble along the arête was one of the most adventurous, adrenaline-fuelled climbs of my entire 1,001-mountain challenge.
3. Cat Bells, 451m, Lake District, England
Responsible for hooking thousands of beginners into the world of hillwalking, Cat Bells is a classic Lakeland climb for first-timers that serves up enough drama to make you feel like an adventurer without making you fear for your life. The short, steep climb offers glorious views across Derwentwater and down the Borrowdale valley, and crescendos with a small section of scrambling to the bare, rocky dome summit. It was the first mountain I ever climbed, aged 8, with my mum, dad, little brother, granny and grandpa. It was the hill that hooked me on the great outdoors and led to a lifelong love of climbing mountains.
4. Buachaille Etive Mor, 1,022m, Western Highlands, Scotland
Star of a million postcards, Buachaille Etive Mor is the sentinel of Glen Coe: an iconic peak with a handsome pyramidal profile. Its domineering mass of knobbly outcrops and precipitous rock-faces, gashed by vertical gullies, look impenetrable - but thankfully its two Munro summits are well within the reach of the adventurous hillwalker. Known affectionately as just The Buachaille by many, it is perhaps Scotland's favourite mountain and has recently become a much-photographed Instagram star. The best way to experience The Buachaille is to stay at Lagangarbh, a former crofter's cottage owned by the National Trust for Scotland and run by the Scottish Mountaineering Club. It is a mountaineering hut, not a bothy, and it costs £15 a night per person. But that's a small price to pay for such an iconic location. The simple, whitewashed building is nestled in a beautifully solitary position underneath the grandeur of The Buachaille's bulk. It is stunningly idyllic, creating a poignant dichotomy between the rugged, imposing mountainside and the quaint, vulnerable refuge.
5. Rhinog Fach, 712m, Snowdonia, Wales
The Rhinogs are a range of nine boulder-strewn, heather-clad mountains in North Wales to the east of Harlech, centred on the gripping duo of Rhinog Fawr and Rhinog Fach. They offer some of the roughest, remotest walking across all of England and Wales; a place where you're more likely to see a feral goat than a fellow hiker. Rhinog Fach is perhaps the jewel in the Rhinogs crown – a rugged, dramatic mountain for the real adventurer. Climbing it was one of my favourite hillwalking experiences in Wales over the past few years. I can remember standing atop Rhinog Fawr and gazing over Rhinog Fach. It wasn't beautiful or postcard-perfect, like many of the places I'd walked. It was rough around the edges. But it felt wilder, more remote and more arduous than anywhere I'd been before. The sense of isolation, exploration and adventure was palpable – and I loved it.
6. Great Gable, 899m, Lake District, England
The clue is in the name. Great Gable is unquestionably one of the great Lakeland fells; an adventure paradise for hikers and climbers alike. A humongous, rugged mass of rock and crags and cliffs, Gable is captivating to look at: an unbroken, devilish pyramid from the south; the dome of a sleeping, curled-up giant from the north. It is a spiritual place too, its summit adorned with a poignant war memorial. Many also believe that the view from its Westmorland Cairn over Wast Water is the best panorama in all of Lakeland. Climb Gable from Wasdale Head and it's a sure bet for a fine day in the fells.
7. Bla Bheinn, 928m, Isle of Skye, Scotland
Skye's sublime outlier, Bla Bheinn might just serve up the best view in all of Scotland. From Loch Slapin, it is a steep scramble over grippy gabbro rock to the crown of 'The Blue Mountain' – and from here the jagged wonders of the Black Cuillin ridge rise deliciously into view ahead. The Black Cuillin is a spiky, toothed ridge of legendary alpine proportions. It's a 12km-long labyrinth of monstrous turrets, razor-thin arêtes and precipitous craggy obstacles – the UK's most iconic ridge and the Holy Grail for the British scrambler. But you don't have to venture onto the perilous and technically challenging Cuillin ridge to truly appreciate it. Instead climb Bla Bheinn and enjoy a grandstand view over the ridge instead.
All the latest inspiration, tips and guides to help you plan your next Advnture!
James is passionate about hill-walking, wild camping and peak-bagging, and describes himself as a 'self-taught adventurer' – which is a polite way of saying he gets lost a lot (he once walked for two days in the wrong direction on the GR20 hike in Corsica). The first part of his three-year mission to climb 1,001 mountains across the UK and Ireland (including all 446 'Nuttalls' in England and Wales, the 273 Irish 'Vandeleur-Lynams', and Scotland's 282 'Munros') is recounted in the book Mountain Man: 446 Mountains. Six Months. One Record-Breaking Adventure.