What is DEET, and is it safe?
What is DEET, and is it harmful to humans? We get all the DEETails on this common ingredient in bug sprays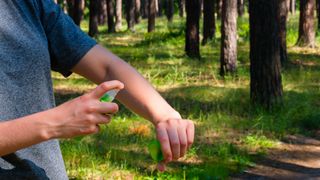 (Image credit: itakdalee)
Are you fed up with pesky pests feasting on your skin when you're hiking through the forest and camping down by the river? If so, you'll be on the hunt for the best insect repellent money can buy, and you may notice the term 'DEET' printed on quite a few labels as a mark of unbeatable deterrent. But what is DEET anyway? And is it harmful to humans? We investigate all the DEETails on this common ingredient in bug sprays to help you make the best choice for you, and keep those biting bugs at bay for once and for all.
What is DEET?
DEET (chemical name, N,N-diethyl-meta-toluamide) is a chemical compound that is the active ingredient in many insect repellent products, AKA the aspect that deters miniature menaces like mosquitos and ticks from feasting on your flesh.
According to the Environmental Protection Agency, DEET doesn't kill munching mites; rather, it makes it more difficult for them to smell you. Much like how you might be powerless to the smell of French fries wafting out the open door of In-N-Out burger and find yourself drawn inside in a trancelike state to devour their delicacies, animal style, insects primarily detect that lunch is nearby with their sense of smell. They might still land on you, but they won't nibble if you're doused in DEET.
DEET was developed by the US Army at the end of the Second World War and approved for use by the general public in 1957. Today, approximately 120 products by about 30 different companies containing DEET are registered with the EPA.
What are the benefits of using DEET?
Some insect repellents use DEET and others do not, but before we get into the alleged risks associated with using DEET-based products, let's start with why you might want to consider using a product containing DEET.
Insect repellents aren't just about keeping your lovely skin free from unattractive red welts, or preventing irritating itching. Many biting insects carry diseases that are seriously harmful to humans, such as Lyme Disease, West Nile Virus, Malaria and Yellow Fever, so protecting yourself from insect bites can have real implications for your health when you're adventuring in an area where these diseases exist.
A 2002 article published in the New England Journal of Medicine concluded that DEET-based products provide "complete protection" against insect bites for the longest duration of the seven products they tested (four of which contained DEET and three did not), meaning it provides the best protection against diseases that can be transmitted by bug bites.
What does DEET concentration mean?
When you're shopping for insect repellent, you'll have noticed that those which contain DEET also tell you the concentration, for example Ben's Wipes are 30% DEET while Pyramid Trek is 50%, but what does all that mean, anyway? According to the Centers for Disease Control and Prevention, the DEET concentration doesn't refer to how well the product will work, but for how long the protection will last. A 2018 article in Time Magazine elaborates on this, by explaining that a repellent with 7% DEET will last up to 90 minutes, and you may need to reapply for long periods spent outdoors, while one with 30% concentration lasts up to 10 hours. However, the CDC advises that concentrations over 50% provide no additional protection.
Is DEET harmful to humans?
Popular opinion is that DEET is toxic and bad for you, but is it true?
According to the article in Time, much of DEET's bad reputation might actually stem from reports in the 1980s of people dying after drinking DEET, so let's start with the obvious: don't drink insect repellent, ever. DEET is definitely harmful to humans if served up shaken, not stirred.
Beyond that, there are a few studies that point to possible health risks, but none are conclusive or totally applicable. For example, a 2009 study purported that DEET inhibits neurotransmitter activity in insects and animals such as hens and rats, however concluded that more research is needed to understand the implications for humans. Meanwhile, a 1991 study mentioned 17 children experiencing DEET-based encephalopathy, but also mentions the cases were circumstantial.
What's better accepted amongst health experts is that DEET-based products may cause skin rashes in some. The CDC advises that some people who use products containing a high concentration of DEET have experienced skin rashes, blisters, and skin and mucous membrane irritation, but then again, so do bug bites. However, if you have sensitive skin, you might want to avoid DEET-based products, or at least, save them for when you're hiking in the jungle when rashes caused by DEET might be the least of your worries.
In general, though, health experts who have studied DEET conclude that, when used properly, it is safe for the public and doesn't even seem to pose any environmental concerns. The World Health Organization recommends it against viruses like Zika and the bubonic plague, the EPA concluded that insect repellents containing DEET do not present a health concern in their 2014 review and the CDC maintains that, based on their research, it should not be harmful if label directions are followed and the product is used safely.
If you're still not keen on using DEET, Permethrin and Picaridin are synthetic pesticides used in some products that repel mosquitoes, deer ticks, and biting flies while there are natural repellents, including lemon eucalyptus, a scented oil derived from a tree native to Australia the Eucalyptus Citriodora.
How to use DEET safely
So far, the evidence seems to point towards DEET being safe, but like most things, only when used properly. Here are the recommendations from the CDC for using DEET safely:
Follow all directions and precautions on the product label.
Store DEET products out of reach of children.
To apply to your face, first spray the product onto your hands, then rub it onto your face.
Use only DEET products outdoors and wash skin with soap and water after coming indoors.
Use just enough repellent to cover exposed skin and/or clothing. Avoid over-application of the product.
DEET products may be used on adults, children, and infants older than 2 months of age. Protect infants from mosquito bites by using a carrier draped with mosquito netting with an elastic edge for a tight fit.
Do not allow children under 10 years of age to apply insect repellent themselves.
Do not apply to young children's hands or around eyes and mouth.
Do not breathe in, swallow, or get into your eyes (DEET is toxic if swallowed.)
Do not apply repellent to wounds or broken skin.
All the latest inspiration, tips and guides to help you plan your next Advnture!
Julia Clarke is a staff writer for Advnture.com and the author of the book Restorative Yoga for Beginners. She loves to explore mountains on foot, bike, skis and belay and then recover on the the yoga mat. Julia graduated with a degree in journalism in 2004 and spent eight years working as a radio presenter in Kansas City, Vermont, Boston and New York City before discovering the joys of the Rocky Mountains. She then detoured west to Colorado and enjoyed 11 years teaching yoga in Vail before returning to her hometown of Glasgow, Scotland in 2020 to focus on family and writing.