Hiking in the jungle: prepare for the adventure of a lifetime
We cover what to expect from hiking in the jungle, and how to prepare for heat, humidity, tangled forests and biting bugs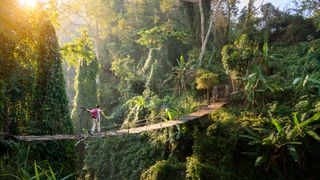 (Image credit: FredFroese)
The idea of hiking usually conjures up images of frozen alpine tundra on exposed, rocky summits, but many of the world's best hikes and treks actually take place in dense, tangled undergrowth of the jungle. Exotic locations like the Amazon rainforest, Costa Rica's Monteverde Cloud Forest and Thailand's Khao Sok National Park might spark the sense of adventure in you, but you may also be wondering what you need to know before you go. After all, if the stakes aren't higher when it comes to hiking in the jungle, they're certainly going to be different from alpine hiking. What do you wear? Will there be snakes? In this article, we cover what to expect from hiking in the jungle, and how to prepare for heat, humidity, tangled forests and biting bugs.
What's the difference between a rainforest and a jungle?
In case you're wondering, a jungle is a forest, but it's not going to be like the forests you've seen in Colorado with tidy trails through neatly spaced spruce and fir trees. No, the definition of a jungle is a dense forest with tangled vegetation and a tropical climate. It's not actually a scientific term for a distinct ecosystem, but a descriptive term that is used to describe areas meeting that criteria. Rainforests, on the other hand, aren't always hot – they can be tropical or temperate – and while they also feature dense, tangled undergrowth, they always have a canopy of tall trees that blocks out the sunlight.
Can you hike in the jungle?
You can definitely hike in the jungle. In fact, if you're planning on hiking in Central or South America, Southeast Asia, parts of Australia or Hawaii, there's a decent chance that's exactly what you'll be doing. But hiking in the jungle will definitely mean different conditions (and wildlife) from what you're probably used to, and therefore it does require some special preparation, particularly in terms of how to dress.
When you're hiking in the jungle, regardless of where you are in the world, you can expect uneven terrain, some bushwhacking, heat, humidity and lots and lots of bugs. The upside? You'll get to see and smell some of the most exquisite tropical plants that you've ever laid eyes on, wander amongst stunning waterfalls and mountains and get up close and personal with the sights and sounds of exotic wildlife that you've probably only read about in children's storybooks.
How do you walk through the jungle?
Hiking in the jungle can be enchanting and magical, but you'll want to be prepared. Use our tips below to make sure you carry the right gear and dress for success on your jungle treks.
1. Boots, not sandals
If you are thinking that a good pair of hiking sandals would be just the ticket for those hot days, you wouldn't be the first, but sandals are not appropriate for jungle trekking. Remember, you've got tangled undergrowth under your feet, plus all kinds of biting critters. Wear a good, sturdy pair of hiking boots for the jungle and make sure they are well broken in, as the damp conditions make you more susceptible to rubbing and blisters.
2. Prevent blisters
Speaking of rubbing boots, you'll want to wear breathable hiking socks that wick sweat and dry quickly, and consider wearing liner socks too if you're worried about rubbing. Our roundup of the best hiking socks has some good options.
3. Dress for heat and humidity
Dressing for hiking in the jungle definitely requires careful consideration. It's likely to be hot, however due to the humidity there will also be more bugs, so you want to keep your skin covered. Seek out lightweight, breathable and fast drying clothes that cover your skin – your best hiking pants with zipped vents and long sleeved running tops or base layers that aren't too tight. Avoid cotton, which once wet will stay wet and clammy, and look for clothes with added mesh ventilation panels.
4. Bring a bandana
One of the handiest pieces of kit you can carry with you in the jungle is a bandana or neck gaiter, which you can use as a headband, to wipe away sweat or wipe your hands before operating your camera. Read our article on uses for a neck gaiter for more ideas.
5. Carry rainwear
Depending on where you're going and the time of year, you may be in for some heavy rain, which can arrive like clockwork each day during certain seasons. Because it's so warm in the jungle, we think that quick drying clothing is key over waterproof clothing, since you're not likely to get chilled. That said, you should pack a waterproof jacket if it's rainy season, and wear it if you have your camera around your neck, and if you have anything in your backpack that could get damaged (lunch, camera, phone anyone?) then you should waterproof your backpack with a rain cover.
6. Beat the bugs
We've already mentioned the bugs, and you're likely to encounter a lot of them anywhere there is heat, humidity and plants. Many of these will be fascinating to see, and some will snack on you given the chance. Covering up your arms and legs with clothing will help, and you'll also want to bring a good insect repellent with DEET and some aloe vera to soothe any sore, itchy bites.
7. Watch for wildlife
In addition to those millions of tiny critters, you'll have a good chance of seeing some iconic jungle beasts too. What type of animal you're likely to see truly depends on where you are in the world – if you're in Panama, look out for sloths and howler monkeys whereas in parts of India you might get rhinos and lions. Regardless, you should be hiking with a guide who can prepare you, you might want to read our guide to what to do if you see a snake on the trail, and you'll definitely want to keep your camera close to hand.
8. Don't forget your poles
Because the nature of a jungle is dense, tangled undergrowth, you're going to want trekking poles. Not only will these help you keep your footing, but you may want them to move vegetation aside and help to push your way through the trees. For extremely tangled terrain, your guide may even bring a machete, but you probably won't get away with packing one of those in your carry-on, so let them wield that.
9. Purify your water
All the heat will have you sweating heavily and you'll want to stay well hydrated. Carry lots of water in your water bottle and also make sure you have a water purifier or tablets to safely purify any drinking water that you need to source from the wild so you don't bring home any nasty parasites.
All the latest inspiration, tips and guides to help you plan your next Advnture!
Julia Clarke is a staff writer for Advnture.com and the author of the book Restorative Yoga for Beginners. She loves to explore mountains on foot, bike, skis and belay and then recover on the the yoga mat. Julia graduated with a degree in journalism in 2004 and spent eight years working as a radio presenter in Kansas City, Vermont, Boston and New York City before discovering the joys of the Rocky Mountains. She then detoured west to Colorado and enjoyed 11 years teaching yoga in Vail before returning to her hometown of Glasgow, Scotland in 2020 to focus on family and writing.