America's toughest trail races: from Death Valley to Colorado and beyond
It's been an awful year for event organizers and competitive trail runners, but once races start up again, these are America's toughest trail races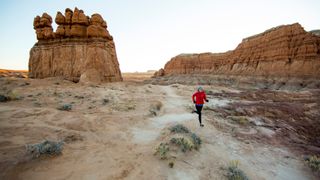 (Image credit: Getty)
Every country has its well-known, super challenging trail races. Runners recognize the Ultra Trail du Mont Blanc, the Marathon des Sables and The Munga in South Africa as some of the most brutal off-road running events you can take on. But in the United States, with its size alone, you will find perhaps the widest variety of altitude, twists, turns, and extreme temperatures to test your limits.
If the sound of these races intrigues, it's never too early to find elevation, varying temperatures, and practice your sleep deprivation game.
Covid-19 hasn't been good for running races in 2020, but as we cross our fingers that 2021 will be better, here are our picks for America's toughest trail races. With any luck, all will be back in business in 2021.
Badwater 135
If you've ever wondered what it feels like to run from the lowest spot in the contiguous United States all the way to the highest, the Badwater 135 is your race. Beginning in Death Valley – 282 ft (86 meters) below sea level – and ending at the feet 14,505-ft (4,421 meter) Mt Whitney, the tallest peak in the Lower 48, you'll cross through three mountain ranges en route to the finish. If the heat doesn't get you – temperatures frequently top out at 120 degrees and melt the rubber on shoes – the big climbs will. This one isn't for the faint of heart.
Dates: Usually early July
The Barkley Marathons and Big Dog's Backyard Ultra
There's probably no greater mental challenge than one of these two Tennessee-based, diabolical races, created and managed by Gary 'Lazarus Lake' Cantrell. Each brings with it a unique, albeit crazy, format that challenges the mind as much as the body.
The Barkley Marathons take place in early April, and in order to complete the race, runners must complete an approximately marathon-distanced loop five times, in less than 60 hours. For added fun, the loops are largely off official trails and the direction is reversed after every two loops you do. No one knows exactly when the race will begin – the sound of a conch shell at a random hour in the middle of the night signals it's time to go. To date, finishers still number fewer than 20, and no female runner has completed it. The get a better idea, watch the documentary: The Race that Eats its Young.
Big Dog's Backyard Ultra, by comparison, is simple in its design, but no less wicked in its mind-mangling mischievousness. It is 'the race with no end'. Every hour on the hour, runners must cover a 4.16-mile (6.65km) loop until one person is left standing. If no one completes a final loop on their own, no one wins. Maggie Guterl won the event in 2019, the first woman to do so, and in 2020 the last person standing in the US version was again a female runner, with Courtney Dauwalter covering nearly 300 miles. (The overall winner in 2020, when the event took place at various locations because of the Covid 19 pandemic, was Belgian Karel Sabbe).
Dates: Barkley Marathons early April; Big Dog's Backyard October
Hardrock 100
Taking place at elevation in the San Juan Mountains in Silverton, CO, the super challenging Hardrock 100 makes or breaks many an elite. Over the course of the race, runners ascend and descend 33,000 quad- and hamstring-burning feet (10,000 meters). Each year the course changes direction, keeping runners engaged and guessing. There is a 48-hour cutoff, so come prepared.
Dates: Mid-July
Moab 240
Taking place in mid-October, the Moab 240 race is as beautiful as it is tough. Runners compete on a 240-mile (384km) course that sends them across deserts, canyons and mountains in and around the red rocks of Moab, Utah. The route includes 29,467ft (8980 meters) of ascent and an equal amount of descending. The course is designed as one, single loop and runners have 112 hours to complete it. Only 200 runners are permitted on the course, although pacers can join in after mile 55. Because of the long distance and complicated logistics going into a race this long and this remote, the entry fee will cost you a pretty penny: $1,295 U.S. for the 2020 version.
Dates: Registration for the coming year opens on January 1, the race happens mid-October
All the latest inspiration, tips and guides to help you plan your next Advnture!
A US-based freelancer with a penchant for dirt, when she's not writing about the outdoors, Amanda is in it, running trails with two-legged and four-legged friends alike. You can find her work in the Washington Post, Outside magazine, REI's Co-op blog and many other outlets. Visit Amanda's website to read some of her latest pieces.