Covid-19 and running: enjoying events in the age of coronavirus
Is it possible to enjoy running events in the age of coronavirus? As the event industry is starting to come alive again, we explore whether it's safe to enter a race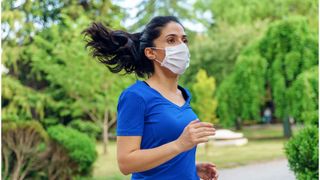 (Image credit: Getty)
Covid-19 and running races don't necessarily go together well, and there are currently very few running events in the age of coronavirus. The global pandemic has scuppered adventure events and running races all over the world, causing huge disappointment for people who have trained hard to be ready for them, and taking many event organisers to the brink of ruin. Gradually, however, races are starting to reappear on calendars (including some of America's toughest trail races), but how can you tell whether the event you're considering doing is Covid secure?
Covid-19 and running: what to look for
While we all wish Covid-19 would disappear altogether, and as much as we are trying our hardest to be positive, a lack of acknowledgement of the C word on an event's website is a big red flag. You need to know they have a well thought through plan in place, and that directions to competitors are clear and logical.
Bear in mind, though, it is difficult for organisers to strike a balance between maintaining a fun outlook and being seen to appropriately manage risk, without bashing people over the head with the safety stick. Try to evaluate the 'fun' and the 'safety' elements of the event separately, and remember that well-run events are still very much the positive experience that we all need right now.
Covid-19 and running: safety adaptations
The details will vary from location to location, even when events happen in close geographical proximity. There will be regional-level rules, but individual land owners are also often applying their own rules to events, so it is only natural for there to be variation. There are no absolute right answers.
Wearing a mask in any busy setting, even an outdoor one, is certainly not going to hurt. Smaller events may not reference face coverings, but mid-size to large ones certainly should, especially around things such as indoor number collection or bag drop facilities.
There should be references to the increased hygiene measures that the event is taking. This should include location of hand-sanitiser points, how you will interact with the race staff and volunteers, as well as details about additional cleaning schedules to help put your mind at ease. Bag drop will most likely no longer be available, or it will have been adapted to a self-serve (but supervised) system. Refreshments and medals will likely be available on the day, but again they will be self-serve and in sealed packets. (This is no different to picking up item off the shelf at a supermarket.)
Covid-19 and running: plan ahead
Most races will be moving to wave starts, possibly of quite small sizes. Races will also be limiting the amount of time you can be at the venue before the start and after you have finished your run. However, with a bit of planning, you can still arrange to book on to the same wave as your friends and still share in the race experience.
If you need to leave the venue earlier than normal, then make plans to catch up with friends at a local café or eatery (if they are open) and support another local business at the same time.
Covid-19 and running: be kind to yourself (and the organisers)
During Covid-19, most runners have struggled to keep up with their training. That morning run can become a casualty of a disturbed routine, or perhaps a lack of end goal will have knocked your motivation off a cliff. Either way, the vast majority of people are not at their fastest or fittest right now, and that is okay. Say that to yourself again, it is okay.
Attending an event in the time of Covid is not about achieving a new PB, it is about enjoying a slice of normality and positivity in an otherwise very difficult time.
Equally, while its fine to be critical if you think appropriate measures have not been taken to mitigate risk, try not to be too negative about changes an event organiser has put in place – the vast majority are simply trying to make the experience as safe as they possibly can in very challenging times.
Covid-19 and running: get ready to race!
Go into the race with no expectations in terms of your performance – instead, approach the event with a smile and an open mind. Be ready to go with the changes that the organiser has implemented to obtain the event permit and to keep you safe. There is no better opportunity than the next race you see publicised to take the first steps to regaining your fitness, and to have a very enjoyable day out at the same time.
All the latest inspiration, tips and guides to help you plan your next Advnture!
After competing professionally in triathlon from 2006 to 2011 – including two appearances in the 70.3 World Championships in 2008 and 2009 – Tom turned to writing and adventure-style event management. He organises trail, road, night and mud races in the UK under the name Relish Running, a company he set up to share his love of running, and all the secret trails he'd found while exploring the wilderness. He also wanted a career which was less tiring than being an athlete, it turns out being a race director was a terrible choice, it's exhausting.