Best hikes in Boulder, Colorado: experience high adventure on Rocky Mountain trails a stone's throw from city limits
Our guide to the best hikes in Boulder covers majestic peaks, stunning rock formations and historic landmarks for a quintessential Rocky Mountain experience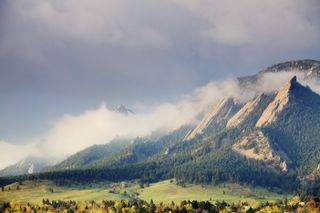 (Image credit: beklaus)
Nestled in the foothills of the Rocky Mountains in northern Colorado, the picturesque college town of Boulder offers a laid back culture of arts and music, a thriving food and microbrew scene, and best of all, virtually unparalleled easy access to the outdoors. With 155 miles of glorious hiking trails listed by the City of Boulder to choose from, it can be hard to know where to begin, so we set out to uncover the best hikes in Boulder, Colorado.
Without straying far from Boulder's bustling downtown, you can really run the gamut of Colorado hiking here, from Disney-esque wildflower meadows to dramatic jagged peaks. Though it was settled in the 1850s by gold miners, the Boulder of today is shaped by its progressive-leaning university, and teeming with tech start ups and creative industries. But one thing all Boulderites seem to have in common is an unrelenting fervor for the outdoor lifestyle, and it's no surprise, with hundreds of miles of surrounding unspoilt natural beauty including the iconic Flatirons, Eldorado Canyon and Rocky Mountain National Park.
Perched at over a mile above sea level, this high altitude town enjoys a dry climate and averages some 245 days of sunshine each year, translating into a high stoke environment where you can hit the trail on almost any given day and still be back on historic Pearl Street in time for some lively street performances and a gourmet dinner.
Here, we've compiled our list of the best hikes in Boulder, Colorado with descriptions of what to expect as well as details on difficulty level and trip length. Remember that all Colorado hiking is high altitude hiking and bear and mountain lion encounters are not uncommon. Plan ahead, pack plenty of water, sling on your best hiking boots, and seize the day.
Advnture's best hikes in Boulder, Colorado
Mount Sanitas
Difficulty: Moderate
Distance: 2.1 miles out and back or a 3.2 mile loop
With sensational views of Boulder and a heart-pumping ascent, this is the smallest of Boulder's five peaks and a favorite among locals. Beginning just a few minutes walk from downtown, this short hike packs a surprising punch in terms of difficulty and scenery.
Find the trailhead just west of the intersection of 4th and Mapleton, and take the first left to begin with a steep but shaded ascent where you'll pass several rock formations popular with the local bouldering community. The climb is largely unrelenting until you reach the summit, though don't be surprised to find locals sprinting past you on their daily run. At the summit, pick a rock slab to stretch out on and catch your breath while you soak in views of downtown Boulder, the Flatirons and Indian Peaks. Return the same way you came up, or continue on down the East Ridge Trail for a rewarding loop and enjoy views of the Flatirons from a unique perspective. Back at the trailhead, it's an easy walk back to town for a refreshing drink.
Bear Peak Trail
Difficulty: Challenging
Distance: 7.4 miles out and back or an 8.4 mile loop
Standing at 8,461 feet, Bear Peak is the second tallest of Boulder's five peaks and provides a strenuous challenge for even seasoned hikers. This one starts out as an idyllic stroll over Boulder Creek and through the wildflower meadows of South Mesa but don't be fooled – after the first mile it becomes a gruelling rocky climb that is popular with ultrarunners and other world-class athletes.
From the South Mesa Trailhead off of Eldorado Springs Drive just South of Boulder, head west towards Shadow Canyon. Take a left at each intersection until you emerge on the saddle between South Boulder Peak and Bear Peak. Follow the signs for Bear Peak and take your time on the short scramble to the summit. The granite summit offers a great spot to recover with splendid views of both the plains to the east and Rocky Mountains to the west, so it's well worth the grind if you're up for it. If you're feeling really ambitious, you can also summit Boulder's tallest peak, South Boulder Peak, on the way up and return via Fern Canyon for an adventurous loop.
Green Mountain Loop via Chautauqua Trail
Difficulty: Moderate - Challenging
Distance: 7.2 miles
No visit to Boulder is complete without taking in beautiful Chautauqua Park, a generous portion of wild land at the foot of the Flatirons that has been a preservation area since 1898 and boasts 40 miles of hiking trails. You can stop in at the Ranger Cottage and ask the friendly guides to recommend a hike, or try our top pick and tackle the Green Mountain Loop Trail via Chautauqua Trail.
From Chautauqua Trailhead, take the Meadow Trail to the bridge at the Gregory Canyon Trailhead. From here you can either go either way to enjoy the loop. With 2,400 feet of elevation gain, this hike offers a true peak experience culminating in panoramic views without actually leaving Boulder city limits. There are several different routes up Green Mountain, but we like this loop for its gentle beginning through a meadow of wildflowers and an unparalleled view of the Flatirons up ahead on the approach before a tough ascent leads you to breathtaking views of the Rockies to the west.
Flatirons Loop
Difficulty: Easy
Distance: 2.7 miles
When you picture Boulder, chances are you think of the fabulous Flatirons. These five slanted triangular slabs of sandstone that form part of the foothills west of town are the first thing you notice upon your approach into Boulder. They provide a paradise for climbers and hikers alike, and while you'd want ropes to get to the razor's edge tops of them, the Flatirons Loop Trail is a terrific way to experience them without gear or a massive climb.
Start from Chautauqua Trailhead and follow the signs for the Flatiron Loop Trail. You will enjoy the moderate two-mile trail that winds through the open meadow and ponderosa pine forest. Follow the signs for "3rd Flatiron Climbing Access" and "Royal Arch Trail" which will lead you to the base of the second Flatiron after about a mile, where you can get a true feel for the magnitude of these 290 million year-old rock formations. Return via Bluebell Road Trail for a rewarding loop.
Royal Arch Trail
Difficulty: Moderate - Challenging
Distance: 3.5 miles
Colorado's neighbor to the west, Utah, undoubtedly holds the title for most sensational sandstone rock arches and is worth a separate trip, but you can get a small taste of these geological phenomena with the Royal Arch trail which begins from the Chautauqua Park trailhead.
Follow the signs for the Chautauqua Trail to the Flatirons Loop Trail, then you'll see signs for the Royal Arch Trail. Begin this hike early in the morning and you'll have a better chance of sighting the birds of prey which nest in Bluebell Canyon through which you initially descend before attacking the steep, stair-stepper climb up to Royal Arch which is neatly hidden in the shadow of the Flatirons. This imposing, naturally formed sandstone arch beautifully frames Boulder in the background for a quintessential Colorado photo op, and if it's clear enough you'll be able to see Denver in the background, too.
Gregory Canyon
Difficulty: Challenging
Distance: 3.6 miles
With its ponderosa pine forests, stunning rock outcroppings, abundant wildflowers and clear creek waters, this pristine canyon offers a glimpse into Colorado's pre-settler past. The old mining road to nearby Black Hawk that ran through the canyon has long been closed in favor of a faster route, and the canyon is now a protected habitat that offers a respite from the bustle of busy Boulder only two miles east.
From Baseline Road, take Gregory Canon Road to find the Gregory Canyon Trailhead and follow the trail towards Realization Point. It's not unusual to encounter a bear or two on this trail, and while locals won't bat an eye, you will want to give them a wide berth. Like many local trails, this one makes up for its brevity with intensity – 900 feet of elevation gain in the first mile or so is likely to have you gasping for breath, but it also delivers you quite quickly to outstanding views of Green Mountain and the plains. Though the views are suitably breathtaking, the canyon itself is perhaps the main attraction, as it is home to abundant wildflowers and songbirds.
Rattlesnake Gulch Loop
Difficulty: Moderate
Distance: 3.6 miles
Located just south of town in Eldorado Canyon State Park, Rattlesnake Gulch Loop marries local history with natural beauty. Eldorado Canyon is world renowned among climbers who are enticed by its more than 500 technical climbing routes, but there's ample opportunity to explore the towering sandstone cliffs on foot.
Our pick is the Rattlesnake Gulch Loop which starts at the west trailhead of the Fowler Trail about 1/2 a mile into Eldorado Canyon. This route takes you via the canyon where you can pause to watch the rock climbers before continuing onwards to the ruins of the historic Crags Hotel, a hillside resort built in 1908 and reached by funicular that burned down in 1912. From there, continue on for the grand prize of sweeping views of the Continental Divide from which the state's drainage system divides into two flows leading to the Atlantic and Pacific Ocean Basins, giving you a real sense of how special Colorado's geography is.
Longs Peak
Difficulty: Extremely Challenging
Distance: 14.8 miles
For many visitors to Colorado, bagging one of the state's 53 highly coveted 14ers (peaks higher than 14,000 feet) can be top of the list. Long's Peak is the closest 14er to Boulder at just 24 miles away, but make no mistake: getting there from Boulder is the only easy thing about this hike.
With 3,825 feet of demanding elevation gain, Longs Peak is not for the faint of heart and can only safely be attempted during the summer months due to its high altitude. The trailhead is at the Longs Peak Ranger Station which is signposted from Colorado Highway 7 and the trail is well marked. Longs Peak is the highest point in Rocky Mountain National Park and its famed Keyhole Route takes you across treacherous boulder fields, hair-raisingly narrow ledges framed by dramatic steep drops and sheer vertical rock faces and then there's the long, steep scramble to the summit. If you do attempt this fantastic feat of a hike however, you'll be rewarded with some of the best views of magnificent Rocky Mountain National Park and its 415 square miles of superb alpine and subalpine terrain.
All the latest inspiration, tips and guides to help you plan your next Advnture!
Julia Clarke is a staff writer for Advnture.com and the author of the book Restorative Yoga for Beginners. She loves to explore mountains on foot, bike, skis and belay and then recover on the the yoga mat. Julia graduated with a degree in journalism in 2004 and spent eight years working as a radio presenter in Kansas City, Vermont, Boston and New York City before discovering the joys of the Rocky Mountains. She then detoured west to Colorado and enjoyed 11 years teaching yoga in Vail before returning to her hometown of Glasgow, Scotland in 2020 to focus on family and writing.