Rocky Mountain National Park will require reservations this summer
The fourth most-visited park in the US is trying to reduce extreme congestion at peak times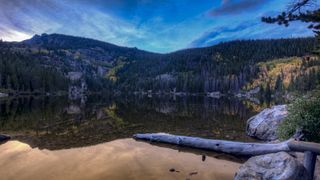 (Image credit: Getty)
If you want to visit Rocky Mountain National Park during peak times this summer, you're going to need a reservation.
Some of the trails, roadways and scenic areas within the 265,000-acre park about 75 miles (120 km) northwest of Denver has been plagued by extreme congestion for years, and with Covid-19 health and safety concerns still lingering and damage from last summer's forest fires and limited resources, park officials want to take steps to reduce overcrowding this summer.
Park officials are planning to implement a two-level, timed-entry reservation system from May 28 to October 11, one for access to the very popular Bear Lake Road corridor and the other for access to the rest of the park, according to Darla Sidles, Rocky Mountain National Park's superintendent. The plans, although not yet officially announced, were presented by park officials to the Estes Park town trustees in a virtual meeting on March 29.
Timed-entry reservations for the Bear Lake Road corridor would be required from 5 am until 6pm. Entry reservations for visitors wishing to visit other areas of the park would be required from 9 am to 3 pm. Like last year, entry reservations would be for two-hour windows. The park is open 24 hours a day, which means there will be times when entry permits aren't required.
Rocky Mountain National Park is the fourth most-visited National Park in the US, but it was the first to implement a seasonal reservations system last summer during the Covid-19 pandemic and is the first to do so this year. But efforts to reduce congestion in the park started several years ago, Sidles said.
"Interestingly, last year, even with our timed-entry pilot system – which was the first in the country, although several parks followed suit – and Covid-19 and with two of Colorado's largest wildfires all impacting the park, believe it or not we were still the fourth most visited National Park in the system last year," Sidles said in the virtual meeting. "It's a really amazing statistic when you realize that all of those things didn't make that much of an impact. So the congestion, the traffic jams, the resource impacts and the not-so-great visitor experiences are really what prompted us, back in 2016, to begin our visitor use management pilots in our heavy congested areas."
For years, the Bear Lake corridor has seen extreme congestion that often resulted in closures. The Bear Lake parking lot has only 200 parking spaces, but it remained crowded last year even with the reservation system imposed due to Covid-19 that was intended to restrict the number of vehicles to 60 percent of the park's parking capacity, according to a story in the Estes Park Trail Gazette.
"We were finding that corridor remained near full, or near capacity, throughout the day while the rest of the park was highly underutilized," said John Hannon, a specialist who works on the park's visitor-use management planning.
Aside from the Bear Lake area, the Alpine Visitors Center and Wild Basin have also faced extreme congestion during summer months. Park of the aim of the two-tier permit program is to reduce vehicle and pedestrian traffic in those areas as well.
"It certainly allows for greater numbers of reservations per day than what we did last year," Hannon told the town board in the virtual meeting. "This year, we're looking at somewhere in the neighborhood of 75 to 85 percent of the park's total parking capacity. It better utilizes the parking and trailheads by spreading the use throughout the day, but also throughout the park."
Last year, shuttle buses were restricted to 20 percent of capacity, Hannon said, and this year that number will start at 50 percent.
Reservations will go on sale at recreation.gov roughly a month in advance and a certain percentage will be held for sale 48 hours prior to the date of visiting. Both types of reservation passes will cost $2 in addition to the normal park entry fees.
Park officials have called the reservation systems "temporary solutions," but the park began restricting access to crowded areas such as Bear Lake at peak times in 2016. The park saw record visitation in 2019 of 4.6 million, a 44 percent increase since 2012, and officials have been working on what they call a "long-range visitor management plan".
Sidles said the park will hold virtual public meetings in May to begin the process of implementing a permanent visitor-use management system. They will compile a report after those meetings and then formally begin the process of long-range planning next year to meet the requirements of the National Environmental Policy Act, which would involve another round of public meetings.
Park officials have said they will use lessons from last year's reservation system in formulating their plans for a permanent system, which they call the Long Range Day Use Visitor Access Strategy.
Members of the Estes Park board commented during the virtual meeting Monday night but offered no objections to what they heard from park officials. The public was not invited to comment, and one vocal critic of the park's decisions found the meeting frustrating.
"To me, the big takeaway is that the superintendent outlined the process for a long-term visitor management system under NEPA guidelines," Estes Park resident Dan Denning told the Denver Post. "This means they've already decided they want to do it and are planning to do it. The public may have token representation in such a process. But it's window dressing and begs the question of whether limitations are necessary or desirable."
Hannon said many trails in the park were damaged last year by the East Troublesome and Cameron Peak wildfires, and impacts will be felt this year.
"On the west side of the park, we're expecting a lot of trails to remain closed for the season," Hannon said. "On the east side of the park, probably, many trails are staying closed initially and opening at different times during the summer."
All the latest inspiration, tips and guides to help you plan your next Advnture!
Brian is an award-winning journalist, photographer and podcaster who has written for Runner's World, The Times, Outside, Men's Journal, Trail Runner, Triathlete and Red Bulletin. He's also the author of several books, including Kicksology: The Hype, Science, Culture and Cool of Running Shoes. He lives in Boulder, Colorado, and loves to run, bike, hike, camp, ski and climb mountains. He has wear-tested more than 1,500 pairs of running shoes, completed four Ironman triathlons, as well as numerous marathons and ultra-distance running races.