Best hikes in Grand Canyon National Park: one of the world's natural wonders
The best hikes in Grand Canyon National Park cover short rim strolls and epic descents to take in the splendor of this geological marvel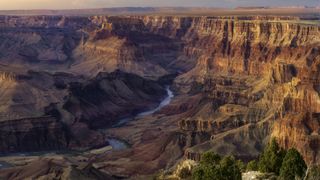 (Image credit: Dean Fikar)
The best hikes in Grand Canyon National Park range from short, easy strolls along the rim to epic overnight trips all the way down to the canyon floor and back up, and all of them take in the splendor of this geological marvel.
Grand Canyon National Park is located in Arizona and is about a three-and-a-half hour drive from Phoenix, four-and-a-half from Las Vegas. The canyon was carved by the Colorado River on its journey from the Rockies to the Gulf of California, though at over a mile deep you can rarely see it. The canyon is 277 miles long and up to 18 miles wide, making it one of the biggest canyons in the world. Scientists don't know how old it is, but some estimate parts of it may be 70 million years old. The Grand Canyon is home to the Hualapai, Hopi and Havasupai tribes, the latter of which live in the canyon's only town, Supai Village, an eight-mile hike from the canyon's rim.
We've no doubt that the Grand Canyon is already on your bucket list of places to see what with its world-renowned natural beauty and sheer magnitude. Though this iconic spot is easily one of the most photographed places in the world, there's nothing quite like standing on the canyon rim and taking it all in with your own eyes. There are lots of ways to explore one of the biggest canyons in the world – you can take a three week river trip through the sheer rock walls, fly overhead in a small plane or helicopter, or even ride a mule for a half-day descent – but needless to say, we're here to tell you all about exploring it on foot.
Grand Canyon National Park includes two sections: the South Rim, which is open year-round, contains most of the popular trails and amenities and draws the majority of the park's five million annual visitors, and the more remote North Rim, which sits at over 8,000 feet on the Kaibab Plateau and closes in winter. The two rims are five hour drive apart, so typically you'll just visit one unless you're planning on spending several days here. The Grand Canyon is a bit far from any major population center to make a satisfying day trip, but has lots of camping and lodging, so it's best to plan on at least a night or two here to make the most of it.
Here we've listed our favorite hikes on both rims – some of these are overnight backcountry trips requiring permits and experience when done in their entirety, however we've described how you can turn them into accessible day hikes.
Best hikes in Grand Canyon National Park: what you'll need
With trails ranging from paved to extremely rugged, you'll want your best pair of hiking boots and we recommend trekking poles for any trails that descend into the canyon. Remember that the Grand Canyon is in the desert, so read our article on desert hiking before you go and plan for extreme conditions. We also highly recommend you bring a good pair of binoculars so you can really feast your eyes on this massive geological wonder.
Best hikes in Grand Canyon National Park: South Rim
The South Rim is the more popular side, meaning more crowds but more services and spectacular views. Because it's open year round, it made our list of Best National Parks to Visit in Winter and it's worth considering an off-season trip here if you want a quieter experience.
South Rim Trail
Distance: Up to 13 miles
Difficulty: Easy
The most popular hike in the park, the Rim Trail stretches for 13 miles from the South Kaibab Trailhead near the visitor center to an area called Hermit's Rest. The trail is mostly flat, shaded and mostly paved, with a shuttle bus service that runs adjacent to it meaning you don't have to hike the whole way. You can hike out as far as you want then turn back or take the bus back, or even take the bus out towards the end then walk back. The trail hugs the rim of the canyon so however you choose to do it, you'll be treated to those panoramic views you've dreamed of along the way.
Bright Angel Trail
Distance: Up to 20 miles
Difficulty: Difficult
Bright Angel trail is a strenuous hike from near the village all the way down to the bottom of the canyon, and doing the entire thing in one day is an overnight backpacking trip and not a day hike. The trail begins just west of the Bright Angel Lodge and descends 4380ft to the river over ten miles of desert hiking with an average grade of 10%, and when you get to the bottom, there isn't an elevator ride back to the top. With a camping permit, you can turn this into an unforgettable overnight trip, however you can also simply hike a portion of the trail. There's a rest house 1.5 miles in, another at three miles in, or for a more challenging day you can navigate the gruelling switchbacks and make Indian Garden near the five mile mark your turnaround point for stunning tunnel views.
South Kaibab Trail
Distance: Up to 12 miles
Difficulty: Difficult
The South Kaibab Trail is another strenuous overnight hike to the bottom of the canyon that has little shade and no water but can be made into a day hike simply by turning around sooner so shouldn't be discounted as long as you're up for a bit of challenge. The only way to get to the trailhead is to take the shuttle bus to Yaki Point (you can drive it in winter). From here, expect a steep, switchback descent with non-stop views on the exposed trail. You can camp at the bottom with a permit, but for a day hike, consider turning around at Ooh-Aah Point for spectacular views at just under a mile in, Cedar Ridge at 1.5 miles or Skeleton Point at three miles in where you'll catch a first glimpse of the river far below.
Grand View Trail
Distance: Up to 9 miles
Difficulty: Difficult
Grand View Trail is a steep, rugged, precarious hike that descends into the canyon. The trail begins at Grandview Point, a 15 minute drive east of the visitor center on Desert View Drive and was built in 1893 as a mining route and is made up of large, uneven steps. The first few switchbacks tend to be busy with hikers and photographers, however the crowds soon thin out owing to the strenuous nature of the trail. Hiking all the way to Cottonwood Creek is not recommended for inexperienced hikers, but Horseshoe Mesa at three miles in offers spectacular views of the canyon and plenty of challenge. This plateau juts out into the canyon and was formerly a copper mine.
Dripping Springs
Distance: 6.8 miles
Difficulty: Difficult
Dripping Springs is the hike for you if you're looking to escape the crowds. It begins from Hermit's Rest, so you'll want to take the shuttle bus out there, about a 40 minute ride, where you'll find an incredible trail built over 100 years ago out of sandstone slabs. The steep, narrow hike takes you to a magnificent mossy hanging garden springs in a corner of the canyon. In the winter months, you can drive to the trailhead.
Best hikes in Grand Canyon National Park: North Rim
The North Rim is 1000ft higher than the other side and receives only about 10% of the Park's visitors, making it great for those seeking a road-less-traveled experience. There is only one campground and one lodge here, so plan ahead.
Bright Angel Point
Distance: 0.5 miles
Difficulty: Easy
This short, easy stroll leads you and the family to panoramic views of the canyon. Follow the signs from the North Rim visitor center along a rolling path to the point which juts out into the canyon where you can survey the South Rim trails snaking their way down to the river. With a good pair of binoculars you can see other hikers making their way down.
Cape Final Trail
Distance: 4 miles
Difficulty: Easy
Cape Final offers the best vistas of the Grand Canyon and the river from this side and is reached via a mostly flat, forested trail. The trail begins from the parking lot on Cape Royal Road, ending with a short scramble up to the viewpoint and delivers one of the most rewarding hikes this side of the canyon.
North Kaibab Trail
Distance: up to 28 miles
Difficulty: Difficult
North Kaibab Trail is the only maintained trail into the canyon from the North Rim, beginning about two miles north of Grand Canyon Lodge. Though it does descend all the way down to the canyon floor, this is not recommended, and it is not a day hike. For a short hike, go to Coconino Overlook at 1.5 miles in or for a more strenuous affair, Supai Tunnel at four miles in. Both of these will offer delightful views and a good physical challenge. Roaring Springs is a 9.4 mile round trip journey, making a difficult day hike to a beautiful waterfall.
All the latest inspiration, tips and guides to help you plan your next Advnture!
Julia Clarke is a staff writer for Advnture.com and the author of the book Restorative Yoga for Beginners. She loves to explore mountains on foot, bike, skis and belay and then recover on the the yoga mat. Julia graduated with a degree in journalism in 2004 and spent eight years working as a radio presenter in Kansas City, Vermont, Boston and New York City before discovering the joys of the Rocky Mountains. She then detoured west to Colorado and enjoyed 11 years teaching yoga in Vail before returning to her hometown of Glasgow, Scotland in 2020 to focus on family and writing.