Desert hiking: 8 top safety tips for trekking in arid climes
Our top tips for desert hiking help you prepare for a safe and successful hike in the desert, and respond to challenging situations with a cool head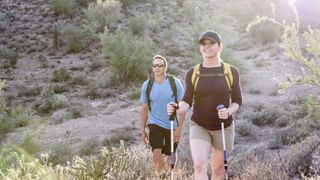 (Image credit: Kolostock)
Desert hiking is a way to see some of the most unusual and iconic landscapes in the US. After all, if you want to wade through the Narrows in Zion, survey Badwater Basin in Death Valley or sink into the soft white sand dunes of New Mexico, you'll have to be willing to cross the desert to do so. Desert hiking also requires a specific skill set to make sure you stay safe.
Desert environments can be quite diverse – for example, the Colorado and Mojave deserts are adjacent to each other but have entirely different ecosystems – however they all generally share some traits that can make them challenging for hiking. Unlike a well-marked forest trail that offers plenty of shade and nearby water sources, desert environments tend to be subject to wild temperature extremes, offer little in the way of shade or water, and their landscape can be harder to navigate without a lot of distinguishing features. Then there's the possibility of flash flooding in certain areas and some nibbling critters that you don't want to run into.
Our top tips for desert hiking help you prepare for a safe and successful hike in the desert, and respond to challenging situations with a cool head.
If you're staying overnight, you'll also want to check out our guide to desert camping.
1. Carry – and drink – lots of water
It should go without saying, but you are much more prone to dehydration when you're exerting yourself in a hot, arid climate. Furthermore, you may not be able to rely on a water source during the course of your hike. Just bringing your usual water bottle won't cut it, especially if you're going out on a longer hike.
For a long hike, bring the following:
Chug as much of one bottle at the trailhead as you can, then pack the empty bottle in your backpack. Leave the other full bottle in the car so you're not carrying too much weight. On your hike, make sure you're sipping frequently from your hydration pack, and if you come across a water source, use your water filter to refill your pack and the empty bottle as needed. You can dissolve electrolyte tablets in the bottled water as needed.
When you return to the trailhead, you can drink the remaining bottle of water and add an electrolyte tablet to replace vital salts lost through sweat.
2. Hike early or late
The basic rule of thumb when it comes to the desert is to avoid hiking in the middle of the day. The desert is not only hot, it is subject to temperature extremes and the overnight cold temperatures mean the early morning is quite a good time to hike. In Moab in September for example, the overnight low is usually around 50°F which means early morning temperatures are almost perfect for hiking. But leave it till 10:30 a.m. to set off and it could be up to near 90°F by lunchtime and then you're in trouble.
Set off early, even a little before sunrise using a head lamp, and try to get back to the trailhead before midday, or have a good shaded place to rest during the hottest period.
You can also wait until after the heat has dropped, around 5pm and go for an evening hike, just make sure you have your head lamp. The benefit of all this is that you get experience exquisite desert sunrises, sunsets and stargazing!
3. Dress in light layers
Keeping those temperature extremes in mind, you don't want to just dress for 90°F. You're likely to start out chilly if you hike early, or get cold towards the end of your hike if wait until evening, plus you want to protect your skin against the sun and possibly prickly vegetation and rock scrambling.
The best protection is a lightweight, long or mid-sleeved base layer on top and lightweight full length hiking pants (zip off versions that become shorts can be great too). These should be made from moisture-wicking, breathable fabrics like nylon, polyester or merino wool that draw sweat off your body to keep you cool, dry quickly and also provide some warmth when it's cold. Bring a light down jacket or fleece to layer on top, wear wool socks and if you know the temperatures are likely to drop near or below freezing, pack a beanie hat and gloves.
4. Protect yourself from the sun
Speaking of sun protection, don't depend on there being much shade on desert trails. While there may be large boulders, the odd gnarled tree and shaded canyons, you'll likely be exposed to significantly more sun than in a forest. Getting sunburned is dangerous and can increase your risk of heat stroke and even a little is just downright unpleasant. You absolutely have to pack the following items in your desert hiking gear kit:
Sun hat with a brim to keep the sun off your face
High factor sunscreen to apply to any exposed skin before and during your hike
Sunglasses to protect your eyes from the glare which can be worse in the desert
More and more gear companies are making their hiking clothes with SPF, so consider adding those to your kit.
Finally, take advantage of shade when you come across it. Choose those moments to stop and rest for at least a few minutes even if you're not tired rather than waiting until you become depleted and are forced to stop under the intense sunlight.
5. Use a map and compass or GPS
Many desert hiking trails are well-marked, particularly in National Parks, but some areas may entail crossing vast, relatively featureless landscapes. For these areas, it's important to bring a map of the area and a compass to orient yourself, and of course you'll need to know how to use these things.
Another option is to use your best GPS watch, but remember that these may not be so accurate in very remote areas, and can be subject to shutting down in extreme heat and cold. The safest option might be to bring all three.
6. Understand the risks of flash flooding
We know, a lot of the danger of the desert stems from how dry it is, but the desert is also prone to flash flooding. The dry soil doesn't absorb water well, so even a small amount of rain can lead to sudden dangerous flooding with no warning.
The first step here is to check the weather before you go. If there is a possibility of rain in the forecast, avoid hiking in areas like dried up ditches, riverbeds and lake beds which are low-lying and liable to flood first, and do not enter a slot canyon under any circumstances.
7. Know the dangers of desert wildlife
Despite its parched appearance, the desert is home to an amazing variety of wildlife and this is part of the appeal of desert hiking. That said, in certain areas you'll want to be alert for rattlesnakes. Dressing in long pants and hiking boots offers protection against bites, which tend to occur on your ankles, and generally speaking you want to be able to see where you're placing your feet so avoid tramping through low scrub. If you hear or see a rattlesnake, give it a wide berth and usually it will slither away. You can read more safety tips in our article on what to do if you meet a snake on the trail.
Another unwelcome critter is the scorpion which can be found in Arizona, California, New Mexico and Texas. While these are more of a concern when you're camping as they like to crawl inside comfy sleeping bags, if you're hiking and stop for a break, the best thing to do is keep your eyes open and stay aware of your surroundings. Like most wildlife, scorpions are not typically aggressive unless they feel threatened, so your best bet is to make sure you don't accidentally sit on or near one.
8. Recognize the signs of heat stroke
If you've followed the above steps, your chances of suffering heat stroke are definitely lower than if you sauntered out at 11 a.m. with half a bottle of water, but it's still a real concern in the desert. According to the CDC, an average of 658 people succumb to extreme heat each year in the US, and using these steps to prevent it from occurring in the first place is your best defense.
Heatstroke is caused by your body overheating, usually as a result of prolonged exposure to or physical exertion in high temperatures, and it requires immediate medical attention or you risk complications and even death. Signs of heat stroke include high body temperature, confusion, alteration in sweating, nausea and vomiting, rapid breathing, racing heart rate and headache.
All the latest inspiration, tips and guides to help you plan your next Advnture!
Julia Clarke is a staff writer for Advnture.com and the author of the book Restorative Yoga for Beginners. She loves to explore mountains on foot, bike, skis and belay and then recover on the the yoga mat. Julia graduated with a degree in journalism in 2004 and spent eight years working as a radio presenter in Kansas City, Vermont, Boston and New York City before discovering the joys of the Rocky Mountains. She then detoured west to Colorado and enjoyed 11 years teaching yoga in Vail before returning to her hometown of Glasgow, Scotland in 2020 to focus on family and writing.