Best hikes in Shenandoah National Park: a mid-Atlantic oasis
The best hikes in Shenandoah National Park deliver shaded forest trails, cascading waterfalls, rocky lookouts and sections of the historic Appalachian Trail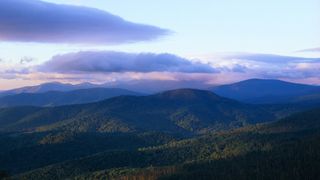 (Image credit: Ron Watts)
With over 500 miles of trails to explore in hiking boots, it's no surprise that scenic Shenandoah National Park made our list of the best National Parks for hiking. The best hikes in Shenandoah National Park deliver shaded forest trails, cascading waterfalls, rocky lookouts and ample opportunity to explore sections of the historic Appalachian Trail.
Just 75 miles from DC, Shenandoah delivers you from the hustle and bustle of the capitol to the startling tranquillity of Virginia's Blue Ridge Mountains in just over an hour. This long, narrow park is centered around a 70-mile stretch of the mountains, which make up part of the Appalachian Range. Intersected by Skyline Drive, the park protects part of the Shenandoah Valley to the west and the Virginia Piedmont to the east.
These lower elevation mountains range from just 500ft to over 4,000ft and as a result are rich in diverse vegetation and wildlife such as black bears. The rolling mountains are often shrouded in an atmospheric haze due to the humid climate here, and the best times to visit are spring and fall to avoid summer's inescapable heat. It's also one of the few National Parks that allow dogs on many of its trails, which is an extra bonus if you like to hike with your favorite canine companion.
Grab your best hiking boots and get ready to enjoy some scenic mid-Atlantic wilderness with the best hikes in Shenandoah National Park.
Hawksbill Summit
Distance: 1.7 - 2.1 miles
Difficulty: Easy/moderate
Take a jaunt to Shenandoah's highest peak and drink in panoramic views of the surrounding Shenandoah Valley, Blue Ridge Mountains and the Virginia Piedmont. You can start from the Upper Hawksbill parking area for a roughly two-mile round trip hike and hop on the Upper Hawksbill trail to the Birds Nest 2 Shelter, then follow the trail to the viewing platform which is a fabulous spot to enjoy lunch and soak in the view. Another option is to park at the Hawksbill Gap parking lot and take a short but steep and rocky hike along the Lower Hawksbill trail to the same point. With either option, from the shelter you can also use the Salamander trail to make a longer day with a lollipop loop.
Dark Hollow Falls Trail
Distance: 1.4 - 5.4 miles
Difficulty: Moderate
Dark Hollow Falls are some of the most beautiful waterfalls in Shenandoah, and this hike is also easy to reach from Skyline Drive, so this trail is typically well-traveled. However, the falls are worth braving the crowds for. Park at the Dark Hollow Falls parking area and take your time on this short but steep and rocky trail – you'll gain 440ft in elevation in just three quarters of a mile, so take care and don't bring your pets on this one. When you arrive at these lovely, multi-tiered cascades, you can relax or keep going on the Rose River Loop, which adds another four miles of forested climbing to your day but delivers another splendid waterfall plus opportunities to take a refreshing dip in several swimming holes along the way.
Old Rag Mountain loop
Distance: 9.4 miles
Difficulty: Challenging
If you're seeking real mountain adventure, you'll want to head for Old Rag Mountain, though be warned that this hike is quite strenuous and requires you to purchase an Old Rag day use ticket before setting off. This hike is the most popular in Shenandoah and delivers a spectacular rocky summit with 360-degree views of the surrounding area. There are several routes up Old Rag Mountain, and this loop begins at the Old Rag parking area. Take the Ridge Trail which involves a rocky scramble before descending on the Saddle Trail past Old Rag Shelter. Go right at the junction and right again onto Weakley Hollow Fire Road to return to the Ridge Trail and complete the hike. No pets on this trail.
Lewis Falls Loop
Distance: 3.3 miles
Difficulty: Moderate
Lewis Falls is an impressive 81ft waterfall that can be reached via a shady hike through dense forest. Set off on the Appalachian Trail from the Big Meadows Amphitheater parking and join the Lewis Falls trail where you'll head downhill through the lush forest, ferns and mossy rocks to the viewing platform. Enjoy a break overlooking the falls then begin your climb out, which requires almost 1,000ft of elevation in under two miles, so you'll be glad for the shade.
Bearfence Mountain Loop
Distance: 1.4 miles
Difficulty: Moderate
This relatively short hike delivers plenty of excitement, including a fun scramble at the top, stunning views of the Blue Ridge Mountains, and the possibility of joining up with the Appalachian Trail for a longer hike. Pick up the trail on Skyline Drive across from the Bearfence parking area and hike up to the scramble, pausing at a few viewpoints along the way to catch your breath and soak in the sights. After the Bearfence scramble, turn right on the connector trail and right again on the Appalachian Trail north, then head left at the trail junction to return to the parking area. Note that you should avoid this trail in rainy or icy weather, and dogs are not permitted.
Stony Man Trail
Distance: 1.5 miles
Difficulty: Easy
A short and pleasant stroll that is generally considered to deliver some of the best views in the entire park, Stony Man Trail is great for hiking and trail running. From the Stony Man parking area, take the Appalachian Trail to the Stony Man Trail to a rocky outcrop with sweeping views of the broad Shenandoah Valley. No pets allowed on this trail.
South River Falls loop
Distance: 3.3 miles
Difficulty: Moderate
South River Falls are 83ft tall and reached via a dense forest trail that offers wonderful wildflower viewing and bird watching. Pick up the loop in either direction from the South River Picnic Grounds comfort station and hike down through the woodlands along a stream to the observation point to enjoy these scenic falls, which are at their best in the springtime. After enjoying the falls, expect a fairly steep climb out to return to your car.
Mary's Rock
Distance: 3.4 miles
Difficulty: Moderate
Mary's Rock is another lovely rocky outlook over the Shenandoah Valley and Massanutten Mountain. There are several approaches, but the one from the Panorama parking area makes for a satisfying day hike. From the parking area, head to the Appalachian Trail and go south (left), then follow the signpost to the viewpoint. The best time to hike here is sunset, for its west-facing views.
Julia Clarke is a staff writer for Advnture.com and the author of the book Restorative Yoga for Beginners. She loves to explore mountains on foot, bike, skis and belay and then recover on the the yoga mat. Julia graduated with a degree in journalism in 2004 and spent eight years working as a radio presenter in Kansas City, Vermont, Boston and New York City before discovering the joys of the Rocky Mountains. She then detoured west to Colorado and enjoyed 11 years teaching yoga in Vail before returning to her hometown of Glasgow, Scotland in 2020 to focus on family and writing.
All the latest inspiration, tips and guides to help you plan your next Advnture!
Thank you for signing up to Advnture. You will receive a verification email shortly.
There was a problem. Please refresh the page and try again.