Best National Parks for hiking: 12 of the greatest to explore on foot
The best National Parks for hiking will keep you on your toes with unforgettable adventures spanning from rainforest to desert and from glacier to volcano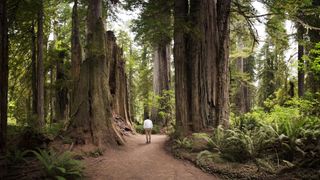 (Image credit: Carmen Martínez Torrón)
Here at Adventure, we're big fans of National Parks. These areas protect some of the most beautiful and precious ecosystems for the enjoyment of future generations, but when it comes to hiking, some of them are better than others. Whereas some Parks are located under the sea or focus more on cultural preservation than recreational trails, the best National Parks for hiking feature lots of dedicated hiking trails and take you through diverse and unique environments, from rainforest to desert and from glacier to volcano. It's time to lace up your hiking boots – whatever type of adventure you're seeking, you're bound to find it here in our list of the best National Parks for hiking.
1. Yellowstone National Park
Set on 2.2 million acres of land mostly in Wyoming, Yellowstone is massive (bigger than Rhode Island and Delaware combined), rugged and remote. It is widely considered to be the first National Park in the world and is famous for its unique hydrothermal and geologic wonders, including 500 or so geysers (erupting hot springs).
Hiking on Yellowstone's 1,000 miles of trails provides you with a chance to see its astounding geysers and hot springs, its 290 waterfalls, the largest high elevation lake in North America and the possibility of viewing its wildlife such as bears, wolves and moose. The park is open year-round but the best times to visit are spring and fall. Check out our guide to the best hikes in Yellowstone National Park.
2. Yosemite National Park
We've said it before and we'll say it again: Yosemite is one of the most spectacular places on earth. First protected in 1864, Yosemite's place as one of the most famous National Parks in the world is rightfully earned. The Park is located near Fresno, California and centers around Yosemite Valley, which was carved by glaciers and cuts 3,500ft deep into the earth and is walled by massive granite summits like El Capitan and Half Dome. The valley creates some of the longest and most stunning waterfalls you will ever see cascading over the edge of steep granite cliffs.
The Park's 1200 acres are also home to pine trees, tranquil lakes, colorful wildflower meadows and sun-dappled giant sequoia groves, all of which you can explore on foot on its 37 well-maintained hiking paths that range from easy to strenuous. The park is open year-round. The best time for waterfall viewing is in the spring during runoff season, while winter is a quiet and magical time to visit and hike in the Park. Check out our guide to the best hikes in Yosemite National Park.
3. Rocky Mountain National Park
Let's face it, when you think of hiking, you think of the dramatic rocky mountains, pine forests and high alpine lakes. Colorado's crown jewel, Rocky Mountain National Park, is the quintessential Rocky Mountain hiking destination. The Park sits near the scenic resort town of Estes Park in northern Colorado and its 415 square miles of stunning wilderness that attracts millions of visitors every year for good reason. It is home to more than 100 peaks over 11,000ft and only an hour and a half drive from Denver.
The best hikes in Rocky Mountain National Park range from family-friendly strolls with wildlife viewing of elk, bighorn sheep and moose to challenging-but-rewarding climbs to turquoise lakes and breathtaking peaks. The Park is open year-round, weather permitting, but spring and fall are the best times of year to visit.
4. Redwoods National Park
While we love the big, showy vistas of parks like Yosemite and Rocky Mountain National Park, there's nothing to really beat the quiet and solitude of a stroll through Redwoods National Park. Redwood National Park is located in northern California, close to the border with Oregon, and sees far fewer visitors than many other Parks – about 500,000 in 2019 compared to Yosemite's whopping four million – as it is miles from any metropolitan area. It is part of a partnership with four state parks which encompasses about 139,000 acres and protects almost half of all remaining old-growth coastal redwoods.
The best hikes in Redwood National Park are often relatively flat, but uniquely memorable. You can wander among the hulking trunks of the tallest living trees on earth, through temperate rainforests, ancient fern-lined canyons, waterfalls and even along rugged coastline. Due to the temperate climate, you can hike here year-round, however, the summer months when the weather is dry are often busier.
5. Arches National Park
A thousand miles away from the temperate rainforests of Redwoods, Arches National Park showcases the best of the Utah desert in otherworldly geological red rock formations. Located just outside the town of Moab in eastern Utah, Arches is famous for having over 2,000 natural sandstone rock arches as well as hundreds of other spectacular rock formations like pinnacles, fins and balanced rocks.
Hiking in Arches provides little in the way of shade as you travel on slickrock trails that range from short strolls to day-long primitive adventures that will take you up close and personal with 65 million years of geological evolution. The best times to visit are spring and fall to avoid the temperature extremes of summer and winter. Check out our guide to the best hikes in Arches National Park.
6. Glacier National Park
With 700 miles of hiking trails, Glacier is a true paradise for anyone seeking solitude in the wilderness. Set in Montana's Rocky Mountains, Glacier covers over 1500 square miles and hiking there takes you through glacier carved valleys and rugged peaks. The Park is bisected by the famous 50-mile Going-to-the-Sun Road and the hikes here take you to pristine lakes and forests with wildlife viewing from grizzly bears to mountain goats. Summer is the best time to visit.
7. Hawai'i Volcanoes National Park
Hawai'i Volcanoes National Park extends from the sea to a whopping 13,677ft, encompassing the summits of two of the world's most active volcanoes – Kīlauea and Mauna Loa. This UNESCO World Heritage Site, located on the Big Island, protects some of the most diverse and unique geological and biological landscapes in the world. Believe it or not, you can explore these volcanoes on foot. The Park boasts some 150 miles of hiking trails that take you through volcanic craters, scorched deserts and rainforests and ancient petroglyphs. Spring is the best time to visit.
8. Zion National Park
Down in the southwest corner of Utah lies another treasure trove of geological phenomena in Zion National Park. This famous Park centers around Zion Canyon, which frankly should be on everyone's bucket list. The Virgin River cut this 15 mile long canyon up to 2,640ft deep into the earth leaving high red sandstone walls, sparkling waterfalls, emerald rock pools and hanging gardens, creating a unique setting of red rock desert, and lush flora and fauna. The best hikes in Zion National Park include the hair-raising rock fin of Angels Landing and wading through the Narrows. The best times to visit are late fall, winter and spring.
9. Acadia National Park
Acadia National Park protects areas of coastal Maine, including 19 of its outlying islands. Southwest of Bar Harbor, the Park boasts rocky Atlantic headland and rugged beaches as well as lush forests and the highest mountain on the East Coast, Cadillac Mountain. It is one of the most-visited National Parks in the country and its 158 miles of hiking trails take you from sea level to summits while breathing the salty air. Fall is the best time to visit – however, if you love winter sports you might enjoy it in the cold months too.
10. Grand Canyon National Park
As one of the seven natural wonders of the world, it's clear that Grand Canyon National Park is worth a visit. Located in Arizona, about a three-and-a-half hour drive from Phoenix, this massive canyon was carved by the Colorado River on its journey from the Rockies to the Gulf of California. The canyon is 277 miles long and up to 18 miles wide, making it one of the biggest canyons in the world. The Grand Canyon is home to the Hualapai, Hopi and Havasupai tribes, the latter of which live in the canyon's only town, Supai Village, an eight-mile hike from the canyon's rim.
While many visitors might skip the hiking and just drive to the rim, or even take a helicopter ride overhead, we love the Grand Canyon for its hiking opportunities. While hiking all the way down to the bottom of the canyon is an overnight backpacking trips, you can hike partial descents or even enjoy a casual rim stroll with the best hikes in Grand Canyon National Park. The South Rim is open year-round while the North Rim closes in winter.
11. Olympic National Park
Olympic National Park is on Washington State's beautiful Olympic Peninsula. This sprawling park covers several diverse ecosystems, from glacial peaks to over 70 miles of rugged coastline with old growth forests in between. Hiking in Olympic National Parks is a true wilderness experience, whether you're walking down to the beach to see the famous sea stacks or hiking up to rocky peaks. Spring is the best time to visit when the scenery is at its most lush.
12. Shenandoah National Park
Just over an hour's drive from DC, Shenandoah takes you from the bustle of the capitol to the tranquility of Virginia's Blue Ridge Mountains, part of the Appalachian Range. These lower elevation mountains are rich in vegetation and wildlife and often shrouded in an atmospheric haze. Hiking here takes you to cascading waterfalls and rocky lookouts, pioneer settlements and even a section of the Appalachian Trail. The best times to visit are spring and fall.
All the latest inspiration, tips and guides to help you plan your next Advnture!
Julia Clarke is a staff writer for Advnture.com and the author of the book Restorative Yoga for Beginners. She loves to explore mountains on foot, bike, skis and belay and then recover on the the yoga mat. Julia graduated with a degree in journalism in 2004 and spent eight years working as a radio presenter in Kansas City, Vermont, Boston and New York City before discovering the joys of the Rocky Mountains. She then detoured west to Colorado and enjoyed 11 years teaching yoga in Vail before returning to her hometown of Glasgow, Scotland in 2020 to focus on family and writing.